Miami Marlins Logo: Marlins' New Look Makes Them Worst Dressed Team in MLB
November 12, 2011
At 9 p.m. ET, the Miami Marlins plan to officially unveil the release of the team's new logo and uniforms at their stadium.
It's not like the release will catch anybody off guard. Leaked photos of the logo surfaced long ago and now pictures of the uniforms are coming to light as well.
If these leaked photos are the real deal, then it brings up a very important question.
What in the world were they thinking?
It's very possible that this logo and attire, a weird rainbow matched with an orange top and black caps, may be the worst in the history of Major League Baseball.
What was wrong with the old uniforms and logo? I actually thought that the Florida Marlins had one of the best color schemes and coolest logos in the league.
The Miami Marlins just look goofy.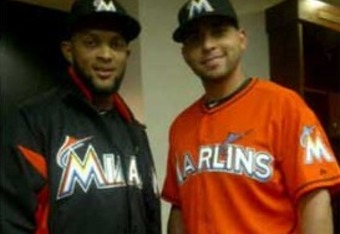 I'm sure all will be forgotten by Marlin fans if the team manages to land Jose Reyes and Albert Pujols.
But what happened to clean traditional looks?
Some of the best uniforms in all of sports are the clean, basic looks.
You have the Yankees with the pinstripes, Penn State with the blue and white and Notre Dame with the blue and gold.
There are so many more it's not worth going on.
Now we find a world with all these crazy retro looks. We have the new Nike and Under Armour uniforms in college football making players look like clowns.
You can't tell me you don't laugh when you see a Maryland football player on the field.
It seems like the Miami Marlins will be joining those ranks.