Every MLB Franchise's Biggest Cult Hero of All Time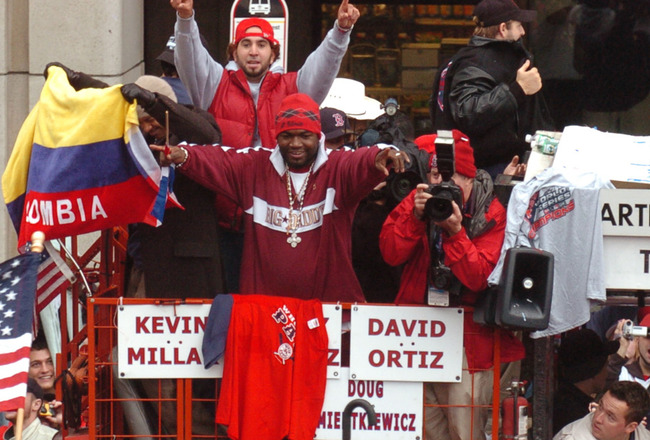 Gil Talbot/Getty Images
Every franchise has a baseball player that they can point to as a key part of their legacy, something that makes them stand out. The Yankees have Babe Ruth, the Indians have Bob Feller, the Cardinals have Stan Musial and the Tigers have Ty Cobb, to name a few.
Then there are those players that, in most cases, would never be in the hall of fame, yet are a key part of a team's lore. These cult heroes may not have been on the team long, or even in baseball long, but their accomplishments carry on.
Who is the biggest cult hero for each MLB franchise?
Baltimore Orioles: Boog Powell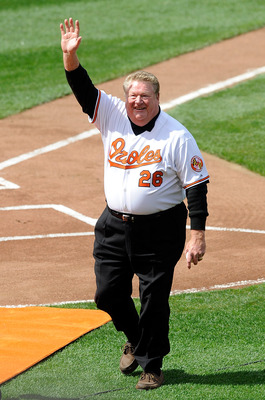 Greg Fiume/Getty Images
The Baltimore Orioles were at their best in the late 1960s and early 1970s, winning two World Series. The team had legends such as Frank Robinson, Brooks Robinson and Jim Palmer. Boog Powell, meanwhile, was just as significant a figure in Baltimore.
In 15 seasons with Baltimore, Powell won an MVP in 1970 and helped lead Baltimore to the two aforementioned series wins while hitting home runs with regularity. His presence and personality, however, is what made him stood out and revered with Orioles fans.
Boston Red Sox: David Ortiz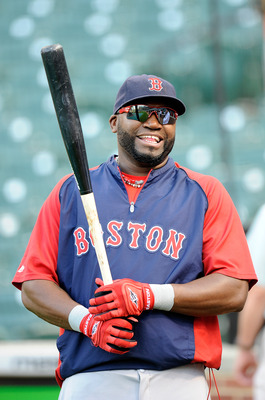 Greg Fiume/Getty Images
It's 2004, and the Boston Red Sox haven't won a World Series since 1918. They were led by a cast of characters that included Johnny Damon, Bill Mueller and Twins castoff David Ortiz, who made an impact in 2003 and only got better in 2004.
After a career year, he hit .545 against Anaheim in the ALDS, then hit .387 against the Yankees in the ALCS with three HR and 11 RBI. Most importantly, he hit the game-winning home run in Game 4 to keep the Red Sox in it, then hit a walk-off single in Game 5 in the 14th inning.
He has since remained a great player for the Red Sox, and is a no-brainer to be inducted into the Red Sox Hall of Fame.
New York Yankees: Lou Gehrig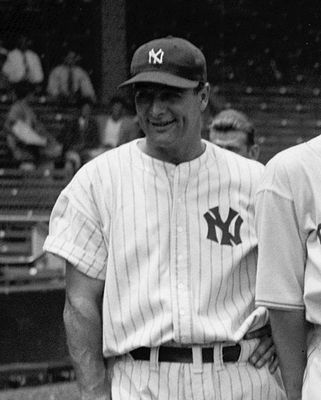 Babe Ruth is the superstar of the Yankees, and the superstar of baseball in general. As huge as he was both during his time and now, he wasn't necessarily the one who was the heart and soul of the Yankees and their fans.
That title belonged to Lou Gehrig. The original iron horse played 2,130 straight games, won the MVP the year Ruth hit his 60 HR and considered himself "The Luckiest Man on the Face of the Earth" in one of baseball's most well-known speeches.
His diagnosis with ALS and early death as a result led to him being the Hall of Fame's only unanimous inductee in 1939.
Tampa Bay Rays: Sam Fuld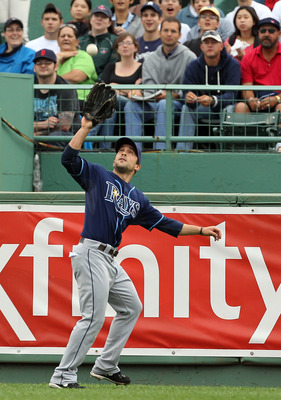 Jim Rogash/Getty Images
Perhaps this will be controversial, as Sam Fuld has now played a grand total of one year with the Rays. Having said that, in that one year, he has not only been able to make the Rays forget about Carl Crawford, but has turned into a defensive machine.
Sean Keeler of the Des Moines Register called Fuld "a crash test dummy with a death wish," which pretty much sums up his play style. Some of the plays he made, especially in April against the Red Sox, have to be seen to be believed.
Toronto Blue Jays: Joe Carter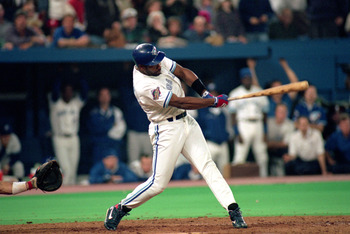 Rick Stewart/Getty Images
Sometimes, all it takes is one play to go down in team lore. That was just the case with Joe Carter. After joining the Blue Jays in 1991, he nearly won two straight MVP awards after back-to-back 30 HR and 100 RBI seasons.
He did the same in 1993 and had an OK series against the Philadelphia Phillies up until the last at bat. Down by two in Game 6, Carter stepped up to the plate and hit a three-run home run, giving the Blue Jays their second straight World Series title.
He remained a great power hitter for the Jays until 1997, but that moment is the one he will be remembered for.
Chicago White Sox: Ozzie Guillen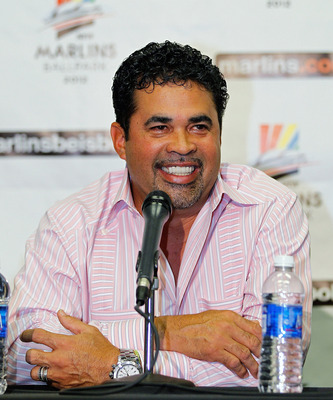 Mike Ehrmann/Getty Images
It's evident that Ozzie Guillen, especially in recent years, is the face of the White Sox, even if he is managing another team now. After all, 20 years on one team will do that.
Guillen was a fan favorite during 13 seasons in Chicago, where he had a nice career. Once he became manager in 2004, he turned into a major figure and was instrumental in breaking the curse on the White Sox, leading them to a World Series title in 2005.
Cleveland Indians: Rocky Colavito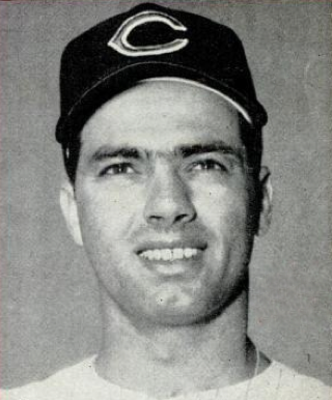 After the Indians lost the 1954 World Series and began their long descent into mediocrity due to the retirement of Bob Feller and others, they needed someone to grab onto, especially after Herb Score's injury cost him a career.
That came in the form of Rocky Colavito, who nearly won the MVP two straight years and became such a fan favorite in four years that the outcry when he was traded for the reigning AL batting champion was unprecedented.
In fact, the Indians greatly overspent to get him back many years later, as he was just that popular. Heck, a book was written called The Curse of Rocky Colavito; that said, his trade may have been the catalyst of 35 bad seasons in a row.
Detroit Tigers: Mark Fidrych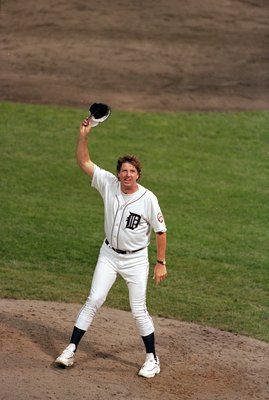 Ezra Shaw/Getty Images
Mark Fidrych is pretty good at finding a way on my slideshows, and likewise, he was good at capturing the hearts of Tigers fans in 1976. When he arrived on the scene, he immediately became an icon, complete with "Bird Watchers" coming to watch him pitch.
His pull was such that attendance during games he pitched equalled all other Tigers home games put together. While his career ended shortly afterwards, his appeal both to the Tigers and baseball as a whole cannot be underestimated.
Kansas City Royals: Buddy Biancalana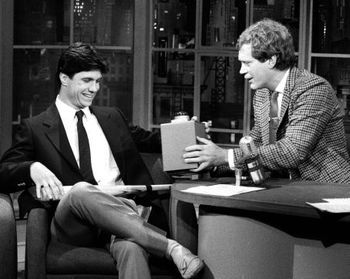 I'm sure you're first thought reading the name is "who?"
I would not blame you, as I had to look him up myself. The reserve infielder was a bench-warmer most of his career for the Kansas City Royals until September 1985.
At that time, starter Onix Concepcion was benched, and Biancalana came in, played great defense the rest of the way and played solid baseball in the playoffs. His play became a part of Royals lore, and in the offseason, he appeared on David Letterman.
Biancalana's quote, "I'm closer to Cobb than you are to Carson," failed to come true, as he was done by 1987, but he's well-remembered in Kansas City.
Minnesota Twins: Moe Berg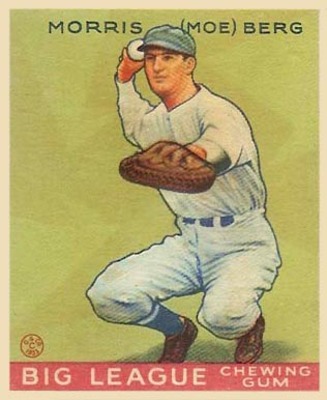 Moe Berg was a journeyman for several teams, with his largest stints being for the Red Sox, White Sox and Washington Senators. During his time with the Senators and after his career, he became a huge cult hero, and not for what he did on the diamond.
His three-year career with Washington was modest, playing 75 games in his best season, 1932, but he was a key figure that went on an All-Star ballplayers trip to Japan in 1933 and 1934, and he served as a spy for the U.S. Government in World War II, a second career that is more than worth looking through.
Los Angeles Angels of Anaheim: Jimmie Reese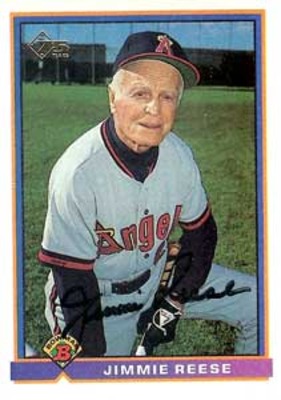 While I try to limit the slideshow to players who are cult heroes, Jimmie Reese's legacy on the Angels cannot be ignored. He only played in the majors three seasons in the 1930s and joined the Angels as conditioning coach in 1972.
He served as coach for 22 years and was known for hitting balls in batting practice precisely where they were meant to go, even from the pitcher's mound at times. He had his No. 50 retired, so that shows how beloved he was there.
Oakland Athletics: Mule Haas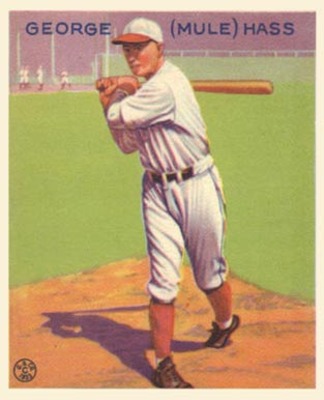 There area lot of cult figures in Athletics history, particularly given Connie Mack's semi-regular dismantling of teams, but if there's one player that had a moment that stood out, it's George "Mule" Haas.
Mule Haas played with the Philadelphia Athletics for six years as an unselfish hitter, regularly leading the league in sacrifice hits. He hit 16 HR in a career year in 1929, but his shining moment came in Game 4 of the 1929 World Series.
In the game, the A's were down by eight, and as they rallied back in the eighth inning, Haas hit an inside-the-park home run that scored three runs, capping a 10-run inning that gave them the win and helped them win the World Series that year.
Seattle Mariners: Ken Griffey, Jr.
Doug Pensinger/Getty Images
As much as I've tried to keep the slideshow towards those who normally don't get all the recognition, it's impossible not to include the player who was the cult hero in the 1990s not just for the Mariners, but for baseball.
When Griffey burst on the scene in 1989, he became the face of the franchise almost immediately, and helped turn it into a perennial playoff contender. Plus, the Mariners did re-acquire him in 2009, so he could end his career here.
Texas Rangers: Rusty Greer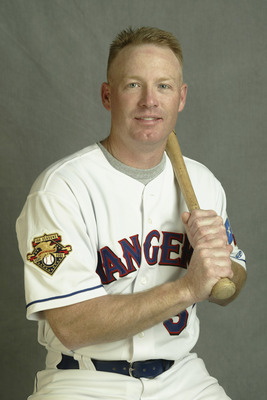 Brian Bahr/Getty Images
If the Rangers were able to win a World Series this year or last, perhaps it would be Nelson Cruz or Ian Kinsler on the list. Instead, we have a player who was definitely a fan favorite and cult figure in his time in Texas, Rusty Greer.
In his nine years with the Rangers, Greer regularly hit .300 and had 100 RBI to go along with his high-risk defensive play. In fact, his style of play was risky enough that it led to injuries which cut his career short. He was later name to the Texas Rangers Hall of Fame.
Atlanta Braves: Lew Burdette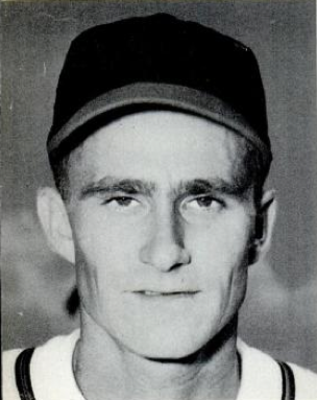 The Braves have a lot of figures that could be considered cult heroes throughout their history, so this was tough. Nonetheless, the player who perhaps single-handedly gave them a World Series title in 1957, Lew Burdette, has to be on the list.
The Braves won the National League thanks to leadership from Eddie Mathews, Warren Spahn, and Hank Aaron. In the series against the New York Yankees, however, Spahn struggled, while Burdette won all three games he started, only allowing two runs in 27 innings.
Not only is he a big cult figure, but perhaps a forgotten one to other teams, as his 200-game career is not often brought up.
Miami Marlins: Edgar Renteria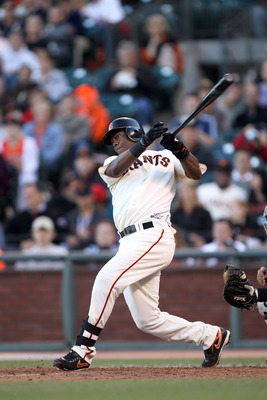 Ezra Shaw/Getty Images
Edgar Renteria is known everywhere for his postseason clutch performances. In 1997, however, he was simply the starting shortstop for the Florida Marlins, who were in their fifth year of existence.
He helped lead the Marlins to the 1997 World Series, and in Game 7, he hit the line drive to give the new team a Championship, while a team 90 years older had to wait for another day. Livan Hernandez won the Series MVP, but Renteria is the one remembered in Marlins lore.
New York Mets: Marv Throneberry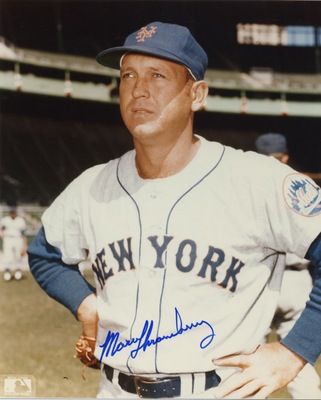 Marv Throneberry was a journeyman first baseman who joined the expansion Mets in 1962. Once there, Marvelous Marv came out as not only the Mets' first cult hero, but perhaps the greatest.
Throneberry's status among Mets fans is legendary, even though he only played two seasons there. From T-shirts with "vram" written on them to many other anecdotes, some of which may be false, he was someone the fans could latch onto while the Mets were still getting their feet wet and losing 100 games.
Philadelphia Phillies: Lenny Dykstra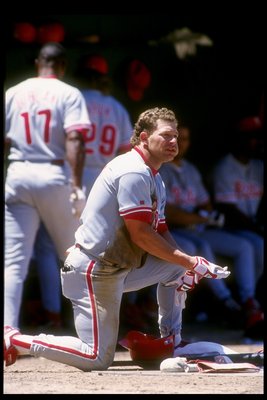 Otto Greule Jr/Getty Images
The 1993 Philadelphia Phillies definitely had an air about them that's tough to explain, but one that achieved cult status in its own right. Leading that charge was center fielder Lenny Dykstra, who was more of a cult anti-hero in Philly.
The often-injured, tobacco-chewing man was finally healthy for a full season in 1993, and played well enough to finish second in MVP voting. He also has a great World Series despite the loss, and his wild side ended up fitting perfectly, if just for that one year.
Washington Nationals: Coco Laboy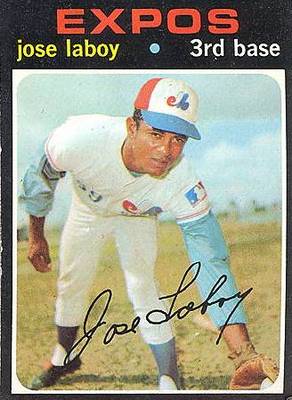 While the Mets had Throneberry during their expansion 1962 season, the Montreal Expos had Coco Laboy in 1969, the now mostly-forgotten third baseman.
A rookie at 30, Laboy was known for his daily doubles, where he would kick a ball on a routine grounder, then when he went to pick it up, he would kick the glove off his hand. Injuries limited his career to five seasons, with only the first one good, but he was the first player Expos fans could really grab onto.
Chicago Cubs: Harry Caray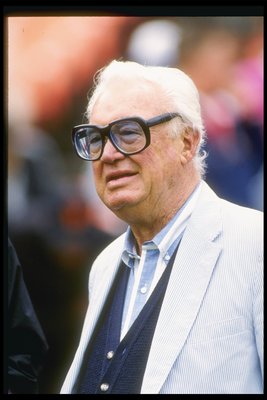 Otto Greule Jr/Getty Images
The Chicago Cubs have had so many great players in their time that may cult figures came and went. Despite my limits to keep this to players, it would be wrong for me not to include Harry Caray.
The play-by-play announcer from 1982 to 1997 had an immediate impact in Chicago and was universally loved. He became larger than the team at times, having the kind of cult fame most broadcasters don't come close to.
Cincinnati Reds: Rob Dibble
Stephen Dunn/Getty Images
The Cincinnati Reds seem to have two major waves of cult heroes. There's the Big Red Machine in the 1970s, then there's the Nasty Boys in the early 1990s. The leader of the latter was Rob Dibble.
The Reds closer for six seasons helped lead the team to a championship in 1990, and he led a group called the Nasty Boys. Dibble's temper in particular elevated him, and in one example, he tried to hit a player with the baseball as he ran down the first base line.
Like Dykstra, Dibble was more of a cult "anti-hero" since he played well enough that his antics were OK.
Houston Astros: Charlie Kerfeld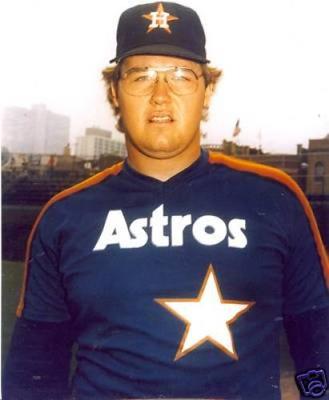 For whatever reason, in the 1980s, Houston Astros fans could not seem to get enough of Charlie Kerfeld, the reliever who became a cult figure, especially after a 11-2 season in 1986.
In his four seasons with Houston, his antics were cause for laughter, which included adding a stipulation for 37 boxes of Jell-O in his contract, pouring beer on Nolan Ryan in a celebratory postgame interview and more.
His weight and other injuries got the better of him, and he was traded and done by 1990.
Milwaukee BrewersL Bob Uecker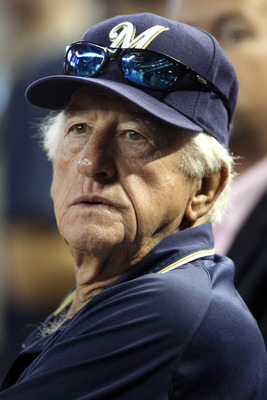 Christian Petersen/Getty Images
When it comes to baseball players, it doesn't seem that the Brewers have many cult heroes. They have their great Hall of Fame hitters in Paul Molitor and Robin Yount, yes, but not much in the way of cult figures.
If there's one person that can change that,it's Bob Uecker, the Brewers play-by-play announcer who Johnny Carson called "Mr. Baseball." This, combined with the Miller Lite commercials, gave Uecker cult status on a national scale.
Pittsburgh Pirates: Bill Mazeroski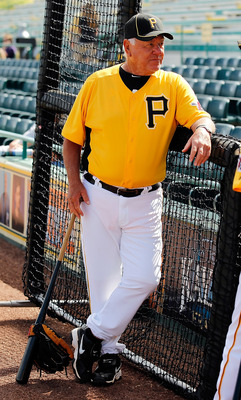 J. Meric/Getty Images
One of the greatest defensive second basemen of all time happens to be the Pirates' greatest cult hero. In the Pirates' case, many of their top players were also cult figures, and Mazeroski was no exception.
He played 17 seasons with Pittsburgh and made 10 All-Star teams, but his shining moment came in Game 7 of the 1960 World Series. New York brought the game to a 9-9 tie, and when Mazeroski came up to bat, he hit a game-winning and Series-winning solo shot, putting an exclamation point on one of the all-time greatest World Series.
St. Louis Cardinals: Enos Slaughter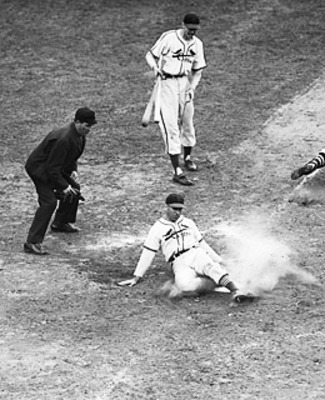 The St. Louis Cardinals teams of the 1940s had their share of heroes, including Stan Musial, Marty Marion and others. The one that stands out on the cult figure side, however, was Enos Slaughter.
Slaughter spent 13 years on the Cardinals in his Hall-of-Fame career, but was sets him apart was his mad dash in the 1946 World Series. In the eighth inning, he was on first base with two outs. The next batter, Harry Walker, hit the ball to left field.
After that, the Red Sox threw it to the shortstop, and Slaughter just rounded third base and headed for home. The shock of him doing so led to no throw, which meant he scored the winning run.
Arizona Diamondbacks: Luis Gonzalez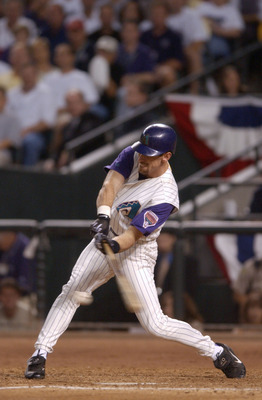 Harry How/Getty Images
In 2001, the still new Arizona Diamondbacks came out of nowhere to dominate the National League as they faced the New York Yankees in the World Series. Likewise, Luis Gonzalez cam out of nowhere to hit 57 home runs and have a career year.
The two forces meshed together as the Diamondbacks won the World Series, with Gonzalez driving in the game-winning run in Game 7. He became a national star and part of Arizona's lore.
Colorado Rockies: Troy Tulowitzki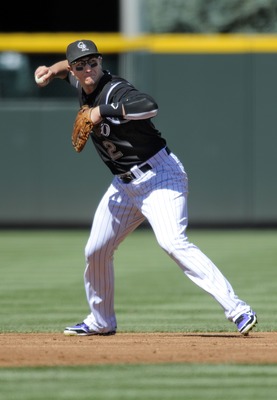 Jack Dempsey/Getty Images
At 27, Troy Tulowitzki is still young, yet he has already cemented himself as the Rockies' greatest cult hero. In 2007, he finished second in Rookie of the Year voting and was instrumental in helping the Rockies win 21 of 22 straight games to make it to the World Series.
In 2010, his legacy reached another level when he hit 15 HR and 40 RBI in the month of September, numbers only equaled by Babe Ruth. He's under contract through 2021, so he can only add to his cult heroics.
Los Angeles Dodgers: Kirk Gibson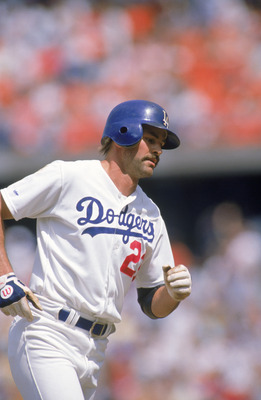 Mike Powell/Getty Images
The Dodgers have had many mythical players in their time, including Jackie Robinson and Sandy Koufax. When one looks at cult figures, though, Kirk Gibson has to come up for the Dodgers.
Gibson joined the Dodgers in 1988 and immediately won the MVP Award. He injured himself in the NLCS, so he was sitting out Game 1 of the World Series. Gibson was put in as a pinch hitter to face Dennis Eckersley, and the walk-off home run as he limped around the bases is etched in both Dodgers and baseball lore.
San Diego Padres: Sterling Hitchcock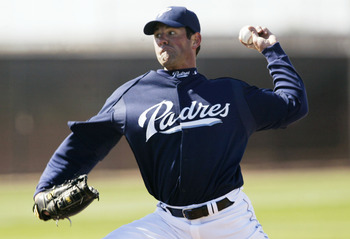 Stephen Dunn/Getty Images
Sterling Hitchcock is one of those players that never did much during the regular season, but once his team got to the playoffs, he lit up. Such was the case for the San Diego Padres in 1998, which gave them a cult hero.
Hitchcock went 9-7 with a 3.93 ERA in the regular season, but in the playoffs, he allowed three earned runs and had 32 strikeouts in four starts, going 3-0 and winning NLCS MVP.
The Padres did not make it back to the playoffs, and as such, Hitchcock did not get back to that level of excellence with them.
San Francisco Giants: Cody Ross
Tony Medina/Getty Images
In 2010, the Giants had not won a World Series since 1954, and were on the way to win one. Who was the player instrumental in making that happen? None other than Cody Ross, a guy who the Marlins put on waivers in August 2010.
After the Giants picked him up, he played solid baseball throughout the regular season. After hitting well against Atlanta, he exploded against the Phillies in the NLDS, hitting .350 with three home runs. He was named the NLCS MVP, and was heralded not just for his performance, but for a guy being let go by his previous team just a couple months prior.
Thanks in part to his Giants lore, he is likely to get a nice free agent contract this offseason.
Keep Reading