NFL Week 10 Predictions: Must-Win Games for 8 Playoff Hopefuls
November 10, 2011
Thearon W. Henderson/Getty Images
As the NFL rounds the corner before the final stretch, the playoff picture is just beginning to take form.
Though indefinite and guaranteed to change, the playoffs, just about two months away, are now such that we can begin to meaningfully discuss who will be in, who will be out and more.
From here on out, that picture will come gradually more into focus with each passing week as contenders solidify their bids and separate themselves from chasers.
Week 10 has a handful of key games that could be considered must-win for certain teams. The playoff chances of those teams are about to take shape, and how those teams fare this week will go a long way in sorting out the playoff picture.
Here are five teams that need to win in Week 10 to improve their playoff hopes.
Philadelphia Eagles (3-5)
The Eagles have messed around long enough. It's time to get serious for Andy Reid's bunch, hailed "The Dream Team" not long ago. 
With eight games to go, the Eagles are tied for third in the NFC East, with 4-4 Dallas and 6-2 New York ahead. There are currently five teams ahead of the Eagles, only two of whom will earn Wild Card spots. Lucky for Philly, four of those teams hail from two divisions and play each other at least one more time this season.
Also in their favor is that the Giants, three games ahead, have a nightmare second half schedule to endure, which means that the Eagles will have plenty of chances to close the divisional gap they have right now.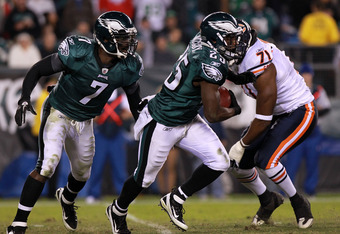 Nick Laham/Getty Images
The Eagles are pretty healthy, LeSean McCoy is looking like the best back in the league, and the 2-6 Cardinals come to town this week. Being upset at home by the Cardinals would deal a likely fatal blow to the Eagles postseason ideas, so they would do well to win convincingly and gain some momentum for Week 11's showdown with the Giants.
Tampa Bay Buccaneers (4-4)
The Bucs have played one of the tougher schedules in the NFL thus far, so 4-4 might not be all that bad of a first half in hindsight. Their losses thus far have been to Detroit, Chicago, San Francisco and New Orleans, all likely playoff teams. 
Houston comes calling this week, which is a huge test for the Bucs, who lost DT Gerald McCoy for the season this week. Albert Haynesworth, freshly cut by the Patriots, will step in to try plugging the holes that the fantastic Texans' line regularly creates for Arian Foster and Ben Tate. How well Tampa stops the run in this game will go a long way in determining the result.
With a win to get to 5-4, the Bucs will put themselves in fairly good position to go 9-7 with games against Tennessee, Jacksonville and Carolina (twice) remaining before a Week 17 game of utmost importance against Atlanta.
Pittsburgh Steelers (6-3)
It's hard to consider a Week 10 game against the Bengals a must-win for the Steelers, but when you consider that the Steelers are third in the AFC North, that Cincy precedes them in the divisional standings and that Baltimore has beaten them twice and holds any tiebreaker, this game becomes very important for Mike Tomlin's team.
This is a must-win with a caveat: The Steelers have significantly more room for error than the other teams on this list. The schedule sets up nicely for Pittsburgh to finish 10-6 or 11-5 with two games remaining with the Browns, St. Louis and Kansas City. 
Throw in the Week 11 bye, and the Steelers should have rather less to worry about in the injury department than other teams. 
This is the difference that Week 10's trip to Cincinnati makes: if they win and go to 7-3, they've got a great shot at the division title and a bye. If they lose, it will likely mean a somewhat tenuous Wild Card berth. 
Oakland Raiders, Kansas City Chiefs, San Diego Chargers (4-4)
It's fitting to group these three AFC West foes together because they've all had lackluster first halves. One could argue that the Chiefs are exceeding expectations after losing three of their best players for the season early on, but remember, this is the same team that won this underwhelming division last year.
The Raiders have looked the part of a division champion at times, then turned around and looked awful, as in their 28-0 no-show against KC a few weeks ago and last week's fall-from-ahead loss to the Denver Tebows. Playing without star runner Darren McFadden is killing them, as is the continued presence of new QB Carson Palmer. 
Oakland desperately needs to win in San Diego tonight to keep their shot at this division alive, because the Bears, Packers, Lions, Chiefs and Chargers all await them in the second half.
The Chargers are going to win this division, but not because they've been impressive on the field. Star QB Philip Rivers has been off all year and leads the NFL in turnovers. They've shown an inability to beat a good team, with losses to Green Bay, New England, New York Jets and a real letdown in Kansas City two weeks ago.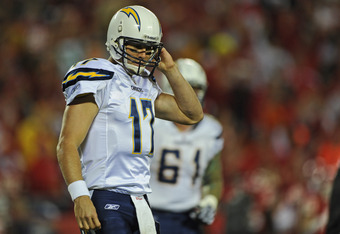 Peter Aiken/Getty Images
Even in their wins they've looked bad. They squeaked out Ws at home against Minnesota, Miami and the Chiefs, and at Denver. 
They lost to Green Bay, but competed the whole way and even got some life from Rivers, who clearly makes this team go. They're notorious for taking six weeks to warm up, but once they find their stride, they're tough to beat.
A win tonight against the Raiders puts them in the driver's seat, while a loss will make things just a little bit harder for the AFC West favorite.
Chicago Bears (5-3)
The Bears dramatically enhanced their playoff chances by winning in Philly last week. Not only did they put themselves two games ahead of the Eagles in the Wild Card instead of being tied, but they now own the tiebreaker they might need to clinch that second Wild Card spot in the NFC. Huge win for Jay Cutler and the Bears, who have beaten Atlanta, Tampa Bay and Philadelphia already.
Sunday's matchup at home against Detroit is immensely significant. They'll either tie the Lions for second in the NFC North and stay at the top of the Wild Card picture, or they'll fall two games back of the Lions and land squarely in the hungry pack of NFC South and East contenders. 
The latter place is not where they want to be. 
All in all, things look pretty good for the Bears in terms of playoff positioning and second half scheduling, but a win over the Lions on Sunday would add to their resume of impressive upsets and give them a hammer lock on a Wild Card spot.
Ronald Martinez/Getty Images
Buffalo Bills (5-3)
This could have been the Patriots or the Jets as well, but of the three, I feel Buffalo occupies the most tenuous spot. Yes, they have opportunities remaining to beat the Pats and Jets, though both on the road, but the Jets are just now hitting their stride with three straight wins and the Patriots will be tough to beat at the end of the season with a division title or Wild Card spot on the line.
The Bills were fun when they shot out of the gates, but I look for the experienced and grizzled rosters of New England and New York to take control of this division in the last quarter of the season. 
Buffalo must win at Dallas this week while the Pats and Jets clash in the Meadowlands. A tie for the division lead with whomever wins that game will look much, much better than a tie for second and a cluster of 6-3 or 5-4 teams from the North and West divisions.