NFL Week 10 Predictions: Maurice Jones-Drew and the Top Breakout Performances
November 10, 2011
Al Messerschmidt/Getty Images
It's Week 10 in the NFL season, and by now, teams and players are what they are.
Standout performers have established themselves, the disappointing and slumping have repeatedly let us down, and little deviation from those courses should be expected at this point.
However, the tide of today's NFL is prone to change without a moment's notice, and the next breakout player or surprise team is always around the corner. 
Who is set to break out in Week 10's full slate of NFL games?
Read on to find out.
Maurice Jones-Drew, Jacksonville Jaguars RB
One on hand, there have been few players as steady and consistent as MJD this season. He's gained less than 84 yards just once and has gone over 100 just twice.
On the other hand, he hasn't had that breakout, dominant performance that most of his positional peers have enjoyed in 2011. He and his team have not converted well in the red zone, with the workhorse RB only collecting three touchdowns in eight games thus far.
This week against the hapless Colts is high time for a Jones-Drew touchdown spree. The Colts, per usual, are dismal against the run, allowing a startling 146 yards rushing per game, which is 31st in the league.
The Jags, coincidentally, aren't a threat to pass, with rookie Blaine Gabbert still struggling to shed all his wrapping paper since coming out of his NFL draft box.
Look for MJD early and often as the Jags look to control the clock.
Projection: 26 rushes, 138 yards, 2 TD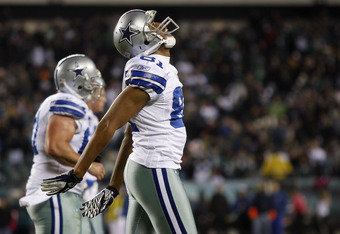 Rich Schultz/Getty Images
Laurent Robinson, Dallas Cowboys WR
Robinson, the first-year Cowboy, has improbably become Tony Romo's favorite target on the outside.
Dez Bryant and Miles Austin have been maddeningly inconsistent or injured all year long, which might be a by-product of Romo's unpredictability. 
Robinson has steadily gained Romo's and head coach Jason Garrett's trust over the last few weeks, which is evidenced by how many targets he's garnered. Robinson has caught 10 balls on 13 targets in the last two games and found the end zone in both. 
This week, there are three more reasons to love the Romo-Robinson combo—Dallas is up against the wall in a must-win situation and they draw the buttery Buffalo Bills' pass defense.
The Bills are 25th in the league in total defense, 24th against the pass and allow 21.8 points per game (all those numbers are skewed by their Week 8 shutout and complete domination of the Washington Redskins).
To boot, top WR Miles Austin is out 2-4 weeks with a hamstring injury, leaving Robinson with plenty of opportunity in his wake. 
Projection: 7 catches, 122 yards, 2 TD
Chris Ogbonnaya, Cleveland Browns RB
There's very little from Ogbonnaya's body of work that warrants a forecasted breakout, but everything about his situation points to a strong performance this Sunday against the lifeless Rams defense.
Ogbonnaya is the likely starter with both Peyton Hillis and Montario Hardesty injured ahead of him, and he'll have plenty of motivation to run well in Week 10.
The third-year man out of Texas was drafted by the Rams in 2009 and would love to stick it to his former team. St. Louis' dead-last run defense and Cleveland's crumbling depth chart afford him a great opportunity to do just that.
Projection: 18 rushes, 104 yards, 1 TD