Yoennis Cespedes Yankees Rumors: Yanks Should Chase Cespedes, Free Up Options
November 9, 2011
Jeff Bottari/Getty Images
"It's hard to find anybody who doesn't like him,'' a scout said. "He looks like Bo Jackson and ran a 6.3 60 [-yard dash]. He has big power. During the workout at Santiago, he hit balls out of the stadium.''
So goes a quote from an unnamed scout regarding Cuban sensation Yoennis Cespedes, an outfielder who is currently starring in his own YouTube video while working out for a number major league teams, including a contingent of well-placed Yankee scouts and executives.
Heady stuff, without question, and the kind of feedback you're hoping to hear when your organization is severely lacking in offensive prospects.
Brian Cashman, the Yankees GM, has staked his reputation—and his contract status for that matter—on the belief that pitching wins championships. He is no fool to be of this opinion, needing only to point to his own organization's success over the better part of the last two decades.
When the Yankees were consistently winning championships in the late 1990s, they did not possess a lineup that sported multiple 30-HR hitters or future Hall of Fame candidates, Derek Jeter being the exception. The lineup was deep, versatile and selfless, no doubt, and there was a tremendous amount of talent, however it was successful because the sum of its parts overshadowed the individual components themselves.
What contributed to the Yankees' success most, indisputably, was a rotation and bullpen that was stacked year in and year out with multiple go-to options. Jimmy Key, Roger Clemens, David Cone, Andy Pettitte, David Wells, Orlando (El Duque) Hernandez, Mariano Rivera, Mike Stanton, Jeff Nelson—the list goes on. These were big-game pitchers, and each one was capable of a shutdown performance when the situation called for it in a tight series.
The organization strayed from this pitching-first approach for much of the 2002 through 2008 period, never fully recapturing the depth of pitching that is required to consistently succeed. The focus was on marquee bats, with Jason Giambi, Gary Sheffield, Alex Rodriguez and others being acquired in what proved to be a futile attempt to return to the winner's circle.
In and around this time frame, Cashman wrestled control of the organization's strategic vision away from a small cabal in Tampa, boldly threatening to walk away from the franchise if his request for full control wasn't granted. Once it was granted, in 2006, specifically, Cashman then went about a full re-imagining of the organization's structure and began a move towards a pitching-first emphasis in terms of scouting, drafting and its approach to free agency as well.
The organization is seeing the fruits of that approach now, or at the very least the promise that the approach suggests. There are as many as a dozen or so homegrown pitchers either on the active roster or in a position to compete for a spot as the 2012 season approaches. This is a remarkable number for any franchise, almost miraculous considering its the notoriously impatient Yankees we're discussing.
With this said, however, the Yankees find themselves in a position where they are dangerously low on offensive talent in the system. Heading into play last season, the Yankees had just four of the top 200 prospects from all of baseball in their organization according to Scoutingbook.com. If you're keeping score at home, the organization has a grand total of two percent of the high-end offensive prospects across all of baseball.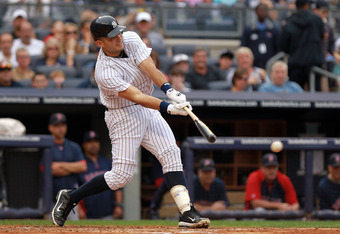 Nick Laham/Getty Images
Of these four prospects. specifically Jesus Montero, Gary Sanchez, Austin Romine and Slade Heathcott, just Montero seems to be a lock to play a significant role with the big club in 2012. Austin Romine does have a legitimate chance of being the backup catcher, of course, however there are doubts about his bat based on a lack of progress year over year.
The remaining two prospects mentioned, Sanchez and Heathcott, are a minimum of two years away, more than likely three at best. Stated clearly, the Yankees do not have the ability to supplement their lineup from within for a number of years, and this is where Yoennis Cespedes enters the discussion.
According to some estimates, Cespedes will demand anywhere between $30 million and $60 million for five to seven years. These are substantial amounts for an unproven player, of course, though certainly not beyond the limits of the Yankees' budget. All in all, they surrendered $52 million for Kei Igawa, the Japanese pitcher who has spent less time in the majors than your average bat boy, however this reality should not cloud their decision as it relates to their pursuit of Cespedes.
More than likely the number for Cespedes will settle in closer to the $30 million mark than the $60 million, and the length closer to five than seven years. If this is the case, and they're looking at $40 million for five years, the Yankees would be wise to lock up the powerful and speedy Cuban prospect.
The free-agent crop for 2012 is not what one would refer to as overflowing with outfield options. There is Matt Kemp, of course, whom we have advocated the Yankees pursue in this space previously and who remains the target of choice. However, Kemp will demand somewhere in the range of three times the number that Cespedes could ever hope to request.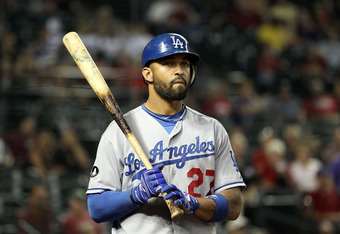 Christian Petersen/Getty Images
This does not remove Kemp from the discussion so much as it ramps up the need to have a viable option already in place. Nick Swisher, for whom the Yankees just picked up the last remaining option, cannot be considered the solution beyond 2012 and may not survive the entire 2011 offseason as it stands depending on how the Yankees choose to fill out their rotation, i.e. via trade or free agency.
When all the speculation is removed, however, one clear reality presents itself: The Yankees need to supplement an aging lineup sooner rather than later if they are intent on competing for the title next season. There are too many questions surrounding key position players and few, if any, options exist to unload the dead or slowly dying weight.
Brian Cashman is no doubt aware of these realities, and so his decision to sincerely scout Cespedes is a testament to his understanding of his organization's needs. Yankees fans should hope he pulls the trigger on this potential phenom, possibly invigorating his near-term lineup and long-term strategic options in the process.
follow me @jbrownesportsNY