2012 MLB Offseason: Rating the Top 15 First Basemen According to TPR
November 8, 2011
Kevork Djansezian/Getty Images
Welcome to the second edition of the total player ratings (TPR). This time we will look at the best and worst first basemen in the game.
This is reminder that we are combining hitting, fielding and baserunning rankings from Baseball Prospectus, Fangraphs and Baseball Reference. So, the run totals you see are all compared to the average.
If you divide the total by three you will get a more accurate representation of the number of total runs that each player has earned for their team in comparison to the average MLB player. Offensive numbers and baserunning numbers are compared to the league average, while fielding numbers are compared to the positional average.
A quick word should be said about how players are selected for the final rankings.
First, players will only be selected for one list. Some players qualify at a number of positions, so they have been selected at their most natural position. Secondly, there is no DH position, so DHs are placed at their most natural position.
15. Billy Butler, Kansas City Royals
Fielding: -4.6
Hitting: 62.0
Base Running: -12.1
Total Player Rating: 45.3
Like I said in my last edition, DH is not a position, it is a gimmick that stuck. So, players that played primarily at DH will be placed at the natural position they would most likely play. Butler has been a steady if not unspectacular hitter as a Major Leaguer.
He came in with a lot of fanfare, but has never produced the power numbers of a truly elite first baseman. Still, he is quite productive.
14. Jesus Guzman, San Diego Padres
Fielding: 5.5
Hitting: 41.8
Base Running: 4.1
Total Player Rating: 51.4
The pundits are ready to hand the Padres' first base job to Anthony Rizzo. While it is true that the former Red Sox product is long on talent, Guzman actually produced last season. Guzman will force them to find a spot for him somewhere if he continues to play like he did last year.
13. Gaby Sanchez, Florida Marlins
Fielding: 17.7
Hitting: 36.2
Base Running: -1.7
Total Player Rating: 52.2
Sanchez is among the new guard of Marlins. He and Mike Stanton bring both hitting and fielding to the fold when prior generations of Marlins were butchers with the glove. He isn't a big-time hitter, but he is a good all-around player.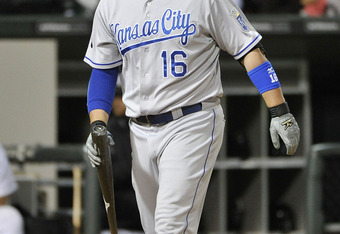 Brian Kersey/Getty Images
12. Casey Kotchman, Free Agent
Fielding: -0.8
Hitting: 62.5
Base Running: -8.2
Total Player Rating: 53.5
He may very well price himself out of the market if he isn't careful. The Rays would love to have him back, but it has to be at the right price. Meanwhile, teams like the Phillies might be interested as well, but it would have to be a one-year deal.
11. Todd Helton, Colorado Rockies
Fielding: 28.3
Hitting: 40.3
Base Running: -5.3
Total Player Rating: 63.3
What was once new is new again. Todd Helton used to be a top-five overall player back in his prime. That was some time ago, but as you see here, he still has tremendous value because he can field and hit well. For a first baseman, he is average on the basepaths.
10. Mark Teixeira, New York Yankees
Fielding: 6.4
Hitting: 63.6
Base Running: -5.8
Total Player Rating: 64.2
A low BABIP knocked Tex down several pegs. I'd look for him to jump up near the top five in 2012. Word of superior fielding ended up being greatly exaggerated, but he is still solid. The hitting numbers should jump back to career norms.
9. Michael Young, Texas Rangers
Fielding: -16.6
Hitting: 75.9
Base Running: 6.2
Total Player Rating: 65.5
Young has officially played everywhere in the infield. He spent more time subbing for Adrian Beltre than anywhere else, but when the chips were down he was playing first base. The Rangers are probably looking to deal him because he doesn't fit anywhere and he's due to come back to earth offensively.
8. Paul Konerko, Chicago White Sox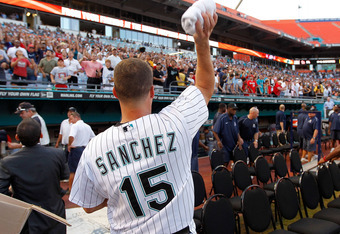 Mike Ehrmann/Getty Images
Fielding: -11.2
Hitting: 103.4
Base Running: -21.4
Total Player Rating: 70.8
Konerko almost became the first player-manager since Pete Rose. Cooler heads prevailed and Robin Ventura was tabbed instead. This has little to do with Konerko personally, it's just that players shouldn't be asked to do both. He has been very steady over the past five years and he should be good for another few seasons.
7. Michael Morse, Washington Nationals
Fielding: -18.7
Hitting: 96.8
Base Running: 2.5
Total Player Rating: 80.6
Morse fits at first base and at left field. He played more at first, but Adam Laroche is in the last year of his contract. If he returns to health he would be the better defensive choice, and Morse would plug a revolving door in left field.
6. David Ortiz, Free Agent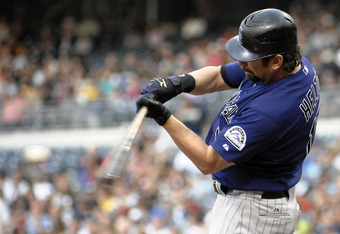 Denis Poroy/Getty Images
Fielding: -0.1
Hitting: 118.3
Base Running: -13.5
Total Player Rating: 104.7
Those who think the Red Sox should let him go are nuts. Yes, he isn't the same slugger who dominated in the mid-2000s, but he is still better than just about every hitter out there. If they let him go to the Yankees, it would be horrible.
5. Prince Fielder, Free Agent
Fielding: -13.4
Hitting: 152.5
Base Running: -13.7
Total Player Rating: 125.4
It's a crap-shoot as to where he will end up. The Brewers want him back, but may not be able to afford the price. The Yankees and Red Sox are full at those spots, so a cast of many come into the breech. Stay tuned, sports fans.
4. Albert Pujols, Free Agent
Fielding: 24.6
Hitting: 111.1
Base Running: -4.5
Total Player Rating: 131.2
It would be a shock if Pujols didn't end up back in St. Louis. They have the means and they have the desire to bring him back. He may get wined and dined, but I think his heart is in St. Louis. It is difficult to envision him in another uniform.
3. Adrian Gonzalez, Boston  Red Sox
Fielding: 33.9
Hitting: 146.6
Base Running: -18.3
Total Player Rating: 162.2
It would have been a magical season in Boston for Gonzalez had they made the playoffs. As it stands, some people blame him for cooling off down the stretch. Putting blame on him is like blaming the field goal kicker when you lose 70-0. He is far down that list.
2. Joey Votto, Cincinnati Reds
Fielding: 28.1
Hitting: 144.6
Base Running: -9.3
Total Player Rating: 163.4
If the whispers about Votto possibly being traded are true, it is the most underplayed story of the offseason. Whoever geys Votto would arguably be getting a better and younger player than the winners of the Pujols and Fielder sweepstakes'. Yonder Alonso can play first, but trading someone this good takes guts.
1. Miguel Cabrera, Detroit Tigers
Fielding: -24.0
Hitting: 202.1
Base Running: -5.5
Total Player Rating: 172.6
Whether he is holding a bat or a bottle of Hennessey, he is a dangerous man. Cabrera seemed to put those problems behind him and had yet another brilliant campaign. He is content to let the other guys grab all the headlines.
Bottom Feeders
Adam Dunn, Chicago White Sox
Fielding: -14.4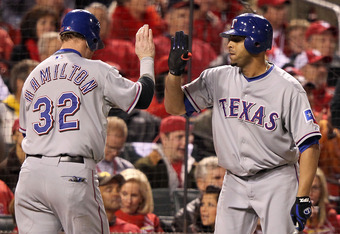 Jamie Squire/Getty Images
Hitting: -65.5
Base Running: -14.4
Total Player Rating: -92.3
It is hard to imagine any DH being worse than Dunn. He got a few opportunities to play first and performed horribly. He was an anvil on the basepaths, and he got there so infrequently that it really didn't matter much. Ventura can throw him back out there with the knowledge that it really can't get any worse.
Justin Morneau, Minnesota Twins
Fielding: 3.0
Hitting: -29.7
Base Running: -3.4
Total Player Rating: -30.1
Terry Ryan has taken over as the GM for now. Morneau didn't cause Bill Smith's demise single-handedly, but he surely didn't help. He might again return to health and if he does the Twins will be markedly better. Otherwise, Chris Parmelee appears ready to take over at first.
Aubrey Huff, San Francisco Giants
Fielding: -1.9
Hitting: -17.5
Base Running: -9.3
Total Player Rating: -28.7
A study of Aubrey Huff's career shows that he is the girl with the curl. He is either really good or really awful. Brandon Belt is penciled-in to play left field, but the Giants need to reconsider. Belt is naturally a first baseman, and corner outfielders aren't that difficult to find.