MLB CBA Talks: Why They Are Going More Smoothly Than NBA Negotiations
November 8, 2011
Jamie Squire/Getty Images
Negotiations for Major League Baseball's new Collective Bargaining Agreement has been underway for a few months. Just about everything has been addressed.
The last major issue that has not yet been resolved pertains to the draft. While talks are winding down for the MLB, the opposing sides of the NBA CBA negotiations show few signs of any agreement in the near future.
Issues in the CBA talks for the National Basketball Association have been heated from the beginning. The first 100 games of the season are already cancelled. NBA commissioner David Stern has set an ultimatum for the players to agree to the owners' latest proposal. The entire CBA fiasco has been profiled and shared with the public, which could have a big impact on the way it has been drawn out so long.
Michael Jordon was called out via Twitter. Tweets between All-Star Danny Granger and first-round draft pick Klay Thompson express feelings of frustration toward the Charlotte Bobcats' owner.
Jordan's businesslike approach, rather than one of empathy toward the players, has been called into question. He sides with the owners calling for players' share of the income to be decreased from 57 to 47 percent. Regardless of one's view on the matter, those keeping up with the CBA talks constantly have a general idea of what is going on.
Everything is being well documented in the media. As games get cancelled, the media coverage only increases.
That cannot be said for those dealing with Major League Baseball's CBA. It's safe to say there are a good amount of people unaware of any negotiations currently in progress. That is because said negotiations are staying behind closed doors.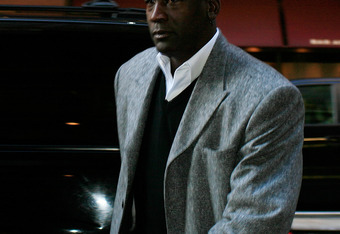 Patrick McDermott/Getty Images
Signing bonuses in the MLB drafts remains the major obstacle in settling a deal, according to ESPN's Jerry Crasnick. This news is some of the first that has made headlines throughout the process. Decisions that can be made without the media will get done quicker.
Agreements are settled without each side having to go to the press to tell their side of the story and make sure they are painted in a good light. These are the types of things the NBA has been dealing with since the end of the 2010-2011 season.
As long as Major League Baseball can continue to work on their CBA without daily updates in the news, they should be able to finish up way before the NBA is even close to finalizing their plans.
Ally Williams is a B/R MLB Featured Columnist. To contact, leave a note below or follow Ally on Twitter for updates and a constant sarcastic interpretation of the sports world.