Every MLB Team's Most Irreplaceable "Can't-Miss" Prospect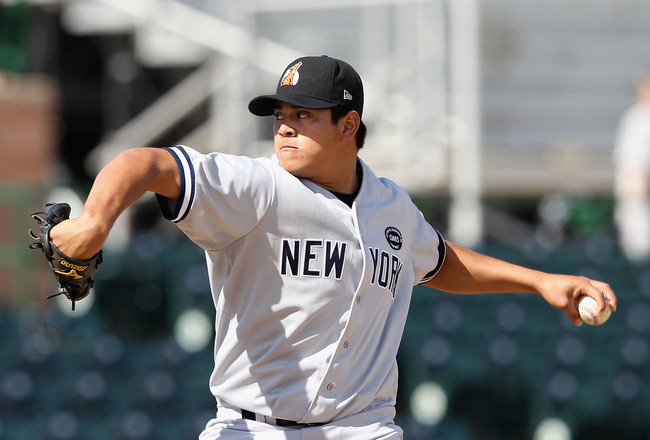 Christian Petersen/Getty Images
In baseball, just as in any other sport, there is only a handful of true, legitimate "stars."
For every middle-of-the-lineup slugger like Alex Rodriguez (does he still qualify?) or Miguel Cabrera, there are five or six Eduardo Nunez's or Ryan Raburns, solid everyday regulars just hoping to stick with their current team. For every staff ace such as Roy Halladay or Tim Lincecum, there's three or four relievers on each squad whose professional lives rest on whether or not they preserve victories for said stars.
At the big-league level, it's easy to separate the "stars" from the "everybody else."
Albert Pujols. Yes.
Skip Schumaker. No.
Down in the minor leagues is where the real challenge lies. Trying to figure out who's a "can't miss" prospect is slightly less treacherous than a game of Russian roulette. There are so many ways to predict future success or failure: walk and strikeout rates, batting and earned run averages, stolen base and caught stealing percentages.
In the end, however, predicting "stardom," or the exact opposite, at the big-league level is all about guts. What do your instincts tell you about a guy, whether that be a pitcher or hitter?
My instinct tells me that these are the guys who have future stardom in them.
Arizona Diamondbacks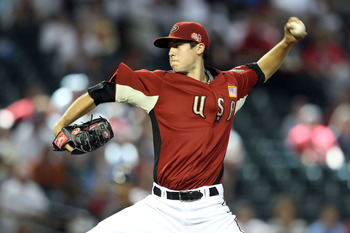 Skaggs was one of the top pitchers in the minors this season, but could drop to third in his own organization heading into 2012.
Christian Petersen/Getty Images
Arizona's farm system made gigantic leaps in 2011 and it is now in the upper half of baseball in terms of talent.
Two additions from this past draft certainly helped that. Trevor Bauer, for one, is an immensely talented right-hander, capable of throwing 8-10 different pitches at differing velocities. He put together one of the most impressive seasons ever by a college pitcher in 2011, tossing complete games in each of his final nine starts. His performance easily trumped that of his teammate at UCLA, and eventual No. 1 overall pick, Gerrit Cole.
Bauer signed relatively quickly after being tabbed with the third overall pick and almost forced his way onto the big-league roster, but considering the amount of innings he pitched surpassed that of any other college pitcher, the D-Backs erred on the side of caution and shut him down after he successfully reached Double-A.
Bauer became famous for his quirky pitching exercises, his complicated philosophy on pitching dynamics and most of all, his unorthodox delivery that reminded many scouts and fans of Tim Lincecum. Bauer may not have Lincecum's ceiling, but there's no doubt he's going to be special.
Joining the organization four picks after Bauer was another "can't miss" talent, Archie Bradley. Bradley got little attention after being drafted, but he didn't seem to mind. After all, he seems comfortable playing second fiddle, seeing as how he had to ride shotgun to fellow Oklahoman Dylan Bundy all season long.
As Bundy was racking up 16 and 17-strikeout performances and touching 100 mph, Bradley was quietly tossing two and three-hitters, while consistently sitting in the mid-to-high 90s. In any other year, he could have been a number one pick. Keep in mind too, that it was Bradley, and not Bundy, who led his squad to the state championship.
Unlike Bauer, Bradley has the prototypical pitcher's frame and has the potential to be not only a staff ace, but an innings eater capable of pitching at least 200 innings per season.
And last but not least, the lone "can't miss" prospect who actually began the season as a Diamondback, left-hander Tyler Skaggs.
Skaggs was the darling of the Arizona farm system in 2011, rising from High-A to Double-A, winning league honors and earning a trip to the Futures Game, where he earned the start in his team's home ballpark, along the way.
He was one of the most consistent pitchers in the system, and paced the organization in strikeouts. You could make the case that Skaggs is one of the top three lefties in the game, along with Texas' Martin Perez and Tampa's Matt Moore.
Atlanta Braves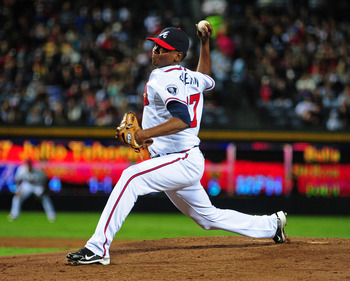 Scott Cunningham/Getty Images
While the Atlanta system houses many impressive talents, there's only one that I truly consider a "can't miss" prospect, and that would be the pitcher who had arguably the most impressive campaign of any minor league pitcher in 2011, Julio Teheran.
Teheran began the season as one of baseball's top prospects and he backed up all the talk with his most impressive season yet. Pitching in Triple-A, just one stone's throw away from the majors, Teheran dominated. He won 15 games, posted a 2.55 ERA and allowed just five home runs. Even more impressive was the fact that he put together those kind of numbers while shuttling back and forth between Atlanta, where he didn't perform as well.
In terms of pure stuff, Teheran is probably the top pitching prospect in baseball. His mid 90s fastball is sublime and he used his time at Triple-A to sharpen his breaking pitches, especially his changeup, which has become one of the better ones of its kind in the minor leagues.
With the Braves rotation being as stocked as it is, it's going to be hard to find a spot for Teheran heading into 2012, but he's the kind of talent that you make room for, just like the team did with Tommy Hanson.
Baltimore Orioles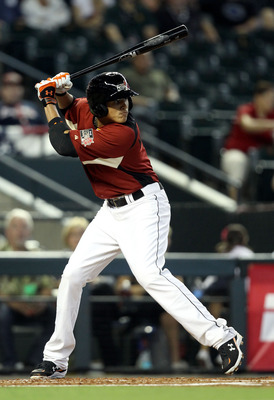 Christian Petersen/Getty Images
For the first time in a long time the Orioles have two elite prospects in the fold.
Manny Machado, the team's shortstop of the future, was added back in 2010 as the third overall pick in that year's draft. He is considered one of the top young shortstops in the game, and is widely considered the best and most complete from the minor league ranks.
At the plate he offers above-average hitting ability and has the chance for slightly above-average power. He has yet to grow into his own body yet and has he continues to add bulk he could become a real special hitter.
In the field he has all the makings of a shortstop who could challenge for Gold Gloves. He has a rocket arm and solid footwork. He can make all the routine plays and is capable of making some really special ones as well.
His speed is his biggest question mark, but considering he's so good in every other area, the team is willing to sacrifice some stolen bases.
Then there's Dylan Bundy, arguably the top high school pitcher to emerge from the draft in at least a decade.
His combination of incredible velocity and a stunning arsenal of pitches made him one of the most sought after draft prospects. Rumors about his signability and the wealth of depth in this past year's draft allowed him to slip all the way to the fourth pick, where the O's happily scooped him up, reuniting him with his brother, Robert, who joined the O's several years ago.
Due to Bundy's incredibly polish, stunning work ethic, and determination, it's likely that he'll be one of the first high schoolers from this year's draft to reach the majors, possibly as early as 2013.
Boston Red Sox
Christian Petersen/Getty Images
There was a reason that the Red Sox agreed to shell out $2.5 million to sign high school catcher Blake Swihart, the 26th overall selection in the 2011 MLB Draft.
He's really, really good.
Not only does he offer above-average defensive potential, but he's also a switch-hitter with the chance for above-average power.
He was, without a doubt, the top catcher prospect in the draft class and could have been a top five selection in any other year where the pool of talent wasn't as deep.
Simply put, the Sox have found the heir apparent to Jason Varitek...and it isn't Ryan Lavarnway.
Will Middlebrooks is another guy who had a sensational season, swatting 23 homers and driving in 94 runs. He was the very model of consistency and rose from Double-A to Triple-A by the end of the season, nearing major league readiness.
As good as Middlebrooks is at the plate, there's the feeling that he's even better in the field. He committed fewer errors in 2011 and made some highlight reel plays that proved to the organization that he's likely their third baseman of the future.
Look for him to arrive in Boston sometime late in the 2012 season.
Chicago Cubs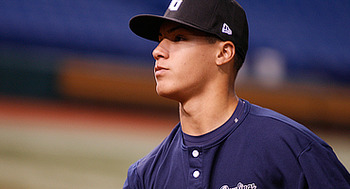 The Cubs have several prospects with potential to become solid everyday players, including Brett Jackson, Matt Szczur and Trey McNutt, but nobody has as much "can't miss" potential as the team's most recent first-round pick, Javier Baez.
As noted by just about everyone who scouted Baez during his final high-school season, the youngster plays with an unusual chip on his shoulder, one that occasionally leads to some on, and off-the-field altercations. He had more than his fair share of run-ins with umpires and opposing players this past season, resulting in the far-reaching opinion that he has some maturity issues.
Still, as anyone who's seen him swing the bat can tell you, he's a special player. He had arguably the quickest bat of any player drafted this year, including Anthony Rendon, Bubba Starling and Kolten Wong, and should develop into an above-average hitter with borderline above-average power.
He's also an incredible athlete. He's likely to start his career at third base, but scouts who have seen him play extensively agree that he could handle second base, or possibly even catcher. His footwork is that good.
Baez got very little playing time in 2011 due to signing so late, but he figures to be a breakout star for the Cubs in 2012.
Chicago White Sox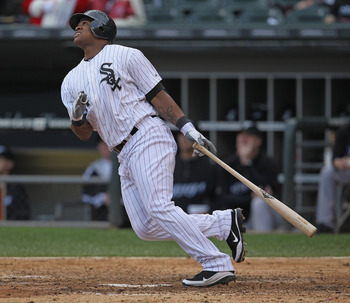 Jonathan Daniel/Getty Images
The White Sox have gotten glimpses of Dayan Viciedo's potential the past two seasons during late-season promotions, during which the Cuban defector has hit a combined .282 with six homers and 19 RBI in 206 at-bats.
Believe it or not, Viciedo has the potential to hit much better than that, and in 2012 it's likely that he's going to get a chance to prove he can stick in the big leagues.
His bat has never been a question. He has as much raw power as any player in Chicago's system, Major or minor leagues. He has also shown incredible patience over the past season and a half, cutting his strikeout numbers while experiencing a big boost in his walk totals.
The one question plaguing Viciedo is where he plays in Chicago, where the Sox have franchise icon Paul Konerko lodged at first base. The team decided to give Viciedo some time in the outfield last season and he responded well. Well enough to warrant a long-term move there, opening up a spot for him on the big league roster next season.
Cincinnati Reds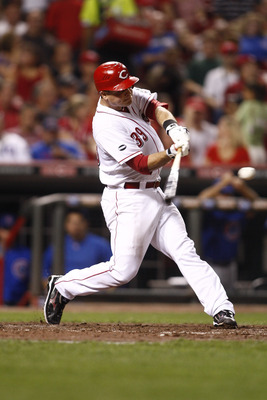 John Grieshop/Getty Images
The Reds always had high hopes for Devin Mesoraco, who they selected in the first round back in 2007, but it wasn't until last year that he proved the team right, hitting .302 with 26 homers and 75 RBI, easily the most impressive offensive campaign put together by any full-time catcher.
Even more impressive was the fact that he continued to shine behind the plate, posting a 41 percent caught stealing rate.
This past season, Mesoraco continued his run through the minors, this time taking on Triple-A, where many a Reds prospect has stalled, just one step away from the big leagues. Mesoraco didn't have as impressive a campaign, but he did still set numerous offensive highs, including doubles, hits and walks.
More important, he played a career high 120 games, hopefully putting to rest any injury concerns the team once had about him.
He received a late-season promotion to Cincinnati, but looked overmatched. He'll head to spring training with a shot to lock down the full-time catching job, assuming the Reds don't go out and sign a catcher in free agency.
Cleveland Indians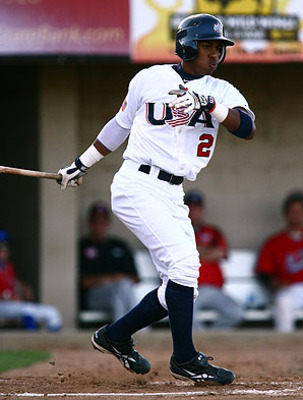 The Indians had a few "can't miss" worthy prospects heading into the 2011 season, but both Drew Pomeranz and Alex White ended up on the wrong side of a trade with Colorado leaving 2011 first round pick Francisco Lindor as the only "can't miss" player left.
Lindor was hands down the top shortstop prospect in this most recent draft class. He combined impressive offensive skills with some of the top defensive tools from a shortstop in quite some time. He makes every play look easy, including the sensational ones. The only knock on his defense is that he sometimes gets lazy with the easy plays, something that will almost certainly get coached out of him during his brutal time in the minors.
At the plate, Lindor offers the benefit of being a switch-hitter. He's shown some impressive power in the past, but doesn't figure to be much more than a 10-15 homer guy in the majors.
Still, with a lightning quick bat and sterling defensive skills, he's a star in the making. Think Starlin Castro, but with more potential pop.
Colorado Rockies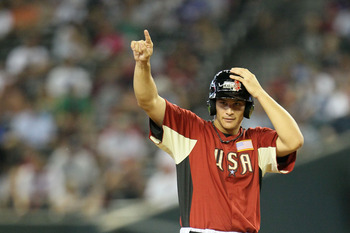 Jeff Gross/Getty Images
Since joining the Rockies organization, Nolan Arenado has been consistently overlooked in favor of the higher profile prospects, but over the past two seasons no Colorado farm-hand has produced as consistently as the 20-year-old.
He followed up a sterling 2010 campaign, in which he hit .308 with 41 doubles in 92 games, with a tremendous showing in 2011. He led all minor leaguers with 122 RBI and coupled that with a career-high 20 homers. He maintained his high average (.298) and showed some of the most impressive plate discipline in the organization (47-to-53 BB:K).
One time considered a long-term first baseman due to his body type, Arenado worked hard to keep in shape and has continued to beat the odds by remaining at third base, where his defensive play was sterling.
The only thing that remains to be seen with Arenado is how much his performance in 2011 was aided by playing in the hitter-friendly California League. He'll take his game to Double-A next season.
Detroit Tigers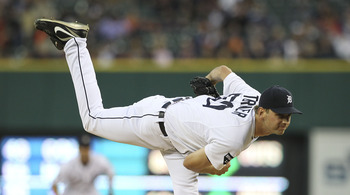 Leon Halip/Getty Images
If I had to pick just one "can't miss" player from Detroit's system it would be an obvious selection, right-hander Jacob Turner. Luckily, however, I get to pick more than one, allowing one of my favorite top prospects to get some love. But first, to Turner, who had a tremendous year which culminated with several opportunities to prove himself at the big league level.
He looked incredibly poised in a midseason start in Detroit, but crumbled during a late-season cameo. Still, the season was an all-around success for the former first rounder (2009). He posted a 3.44 ERA in 20 starts, spread out over Double-A and Triple-A. He posted a strong 110-to-30 K:BB ratio and tossed a career high 131 innings.
Turner's production is a result of his incredible stuff, including a low-to-mid 90s fastball and a sensational curveball. He's also poised beyond his years, showing the composure on the mound of a 10-year big league veteran.
Turner will likely join the rotation at some point during the 2012 season.
And now...to my man crush, Nick Castellanos. Castellanos was consistently ranked as one of the top pure hitters in the 2010 draft class. Due to signability concerns, however, he slipped all the way to the supplemental first round, where the Tigers scooped him up.
They had to shell out $3.45 million to get him to sign, but now that he has he's proven to be worth nearly every penny. He had a sensational campaign in 2011, hitting .312 with 36 doubles and 76 RBI in 135 games in the Midwest League. He put up these numbers as a 19 year old!
Castellanos hit only seven home runs, but the power is clearly there for him to be a 15-20 homer per year kind of hitter. And he's already proven that he's one of the top hitters for average out there. I'm such a believer in Castellanos that I think he's got at least one big-league batting title in him.
How's that for "can't miss?"
Florida Marlins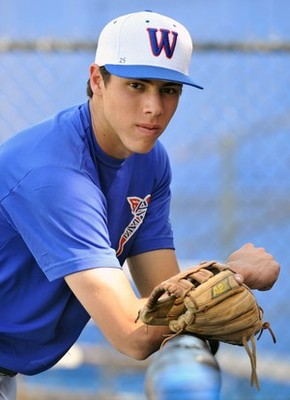 Anyone who got to see Christian Yelich play in 2011 got to witness the beginning of a meteoric rise and the birth of a top 20 prospect.
That's right, I'm throwing Yelich out there as a top 20 player, up there with the Harpers, Trouts and Monteros.
Did you see the kind of season he put together...as a 19-year-old? For starters, he hit .312 which is impressive at any level, but for a guy less than a year removed from high school is fantastic. He also rapped 32 doubles, crushed 15 homers and drove in 77 runs, proving himself capable as one of the best offensive hitters in the South Atlantic League.
And don't forget the 32 stolen bases!
And to complete the five-tool pentagon, Yelich looked better than average in the outfield, a position he was new to after playing first base in high school.
Yelich very well might outgrow center field, but he'd be a perfect fit for a corner spot.
Houston Astros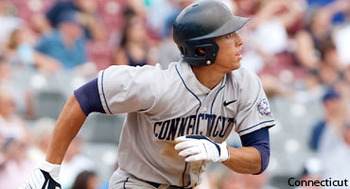 It's pretty rare for potential five-tool players to sneak past being drafted out of high school, making George Springer all that more special...and all that more important to Houston, the team that drafted him 11th overall this past June.
Springer put together back-to-back historic seasons at UConn, where he'll go down in history as one of the school's top offensive players. He hit at least 12 homers in each of his three seasons as a Huskie and twice stole 30 or more bases. He also hit .346 for his career.
Like few other players drafted out of college, Springer legitimately has five tools. He is a solid hitter at the plate with great plate discipline. He has exceptional footwork and blinding speed. And in the field he is an above-average defender with a great arm.
But it's the power that truly sets him apart. Even if he was average in every other aspect of his play, his power would be enough to make him an everyday player. He's likely to lose some of his speed as his body continues to mature, which means he'll be forced to slide over to a corner outfield spot, but that shouldn't halt his path to the Majors.
Kansas City Royals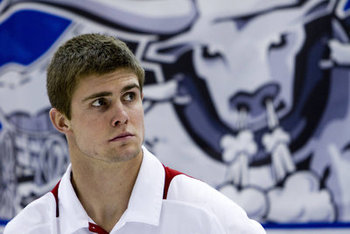 If you had asked anyone before the season about the Royals potential "can't miss" talents you might have received seven or eight different candidates, and while two of those players, Mike Moustakas and Eric Hosmer, have graduated to the big leagues, the rest of the Royals group of elite prospects took a major hit in 2011.
For starters, John Lamb, arguably the team's top pitching prospect, was sidelined with a major injury. Chris Dwyer had a terrible year, as did Wil Myers who some scouts favored over super-prospect Mike Trout. Worst of all, their top remaining starter, Mike Montgomery finished the season with 11 losses and a 5.32 ERA.
Still, he screams "can't miss" thanks to incredible athleticism and top-notch stuff. He throws in the mid-to-high 90s and complements his fastball with one of the top curveballs in the system. As a former basketball player, he has great footwork and is a solid fielder.
Despite his terrible campaign, Montgomery still took a major step forward in his development. He remained healthy, remained determined and kept trudging out to the mound every five days. As a result, he set career-highs in starts and innings.
Newcomer Bubba Starling arguably has all the skills of top-prospect Bryce Harper...and then some, and if he can bring his all-around game into perfect harmony, he's going to be an insanely special player.
As anyone who has seen him play can testify, Starling's tools are worth drooling over. He can hit a baseball about as far as any high schooler and has blinding speed to complement his power stroke. In the field he utilizes a rocket arm that made him a top quarterback prospect and his quickness cannot be overstated.
The only thing standing between Starling and stardom is the inevitable crush of minor league life. As a relatively raw prospect, Starling will likely require four or maybe even five seasons of minor league seasoning.
Los Angeles Angels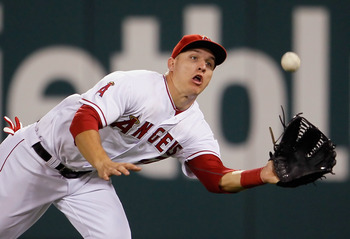 Jeff Gross/Getty Images
Everyone already knows about Mike Trout, the uber-prospect who has taken the world by storm the past two season, but he isn't the only "can't miss" player in the Angels organization.
2011 first-rounder C.J. Cron is also plenty talented, and has the combination of power and hitting ability to make him a star in the big leagues. He dominated his brief run in rookie ball this past season before suffering an injury that shut him down for the remainder of the season.
He should be 100 percent healthy for spring training and should start out in at least High-A ball, if not Double-A. I don't think he'll have a problem reaching the Majors by 2013, when the Angels have hopefully figured out their first base situation (Kendry Morales, Mark Trumbo, and Cron?).
Los Angeles Dodgers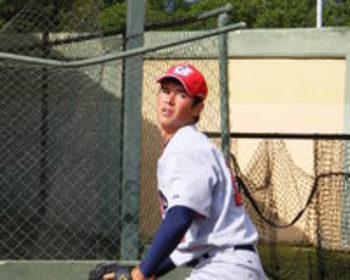 Whether Frank McCourt is responsible or not, the Dodgers farm system simply ain't what it used to be. Gone are the days of Andre Ethier, Matt Kemp and Clayton Kershaw.
Nowadays the system comprises of many mediocre former first-round pitchers and talented but flawed position players. One standout is 2010 first-rounder Zach Lee. Lee garnered $5.25 million in a bonus last year, which could be interpreted as yet another poor financial decision by the McCourts, but so far he's proven to be worth every one of those 525 million pennies.
He had an exceptional year, posting a 3.47 ERA, winning nine games and striking out 91 batters in 109 innings. Furthermore, he impressed scouts, fans and coaches alike with his sensational poise on the mound. He pitched more like a 28 year old than a 20 year old.
Lee's stuff is easily the best of any pitcher in the system. His fastball, while not as impressive as Rubby de la Rosa's or Chris Withrow's, is electric and he complements the 91-95 mph pitch with two great breaking balls.
Lee's mature approach on the mound should allow him to move quickly.
Milwaukee Brewers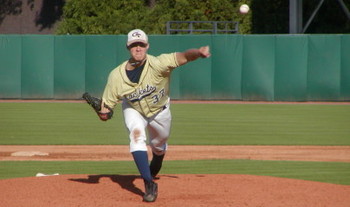 Thank the sweet Lord for Jed Bradley and Taylor Jungmann!
If not for those two additions, the Brewers minor league system would be hands-down the worst in baseball. Now it's just in the running for the bottom five.
Make no mistake, both pitchers added in the 2011 MLB draft are exceptional, and both have what it takes to be stars in the majors.
Let's start with Jungmann, the Dick Howser College Player of the Year. Jungmann went 13-3 with a 1.60 ERA during his junior season at Texas, putting to bed any rumors about his unconventional pitching mechanics. He was the epitome of clutch and nearly pitched Texas into the College World Series.
In addition to his stellar line, Jungmann also has the stuff to justify his status as a "can't miss" prospect. He throws in the mid-to-high 90s and has a solid collection of secondary pitches.
Simply put, Jungmann is a winner.
His fellow draft-mate, Jed Bradley was once-upon-a-time considered a top five sleeper pick. Some scouts felt that his repertoire of pitches was the most impressive of any college pitcher in the 2011 draft class. Even so, he slipped to 15th spot, where talent starved Milwaukee happily scooped him up.
It's easy to see why scouts were so high on the lefty. He throws in the low-to-mid 90s and features two potential above-average pitches, a slider and a changeup.
If he can throw all three pitches with the same kind of consistency he showed in 2011, he'll be pitching in Miller Park in no time.
Minnesota Twins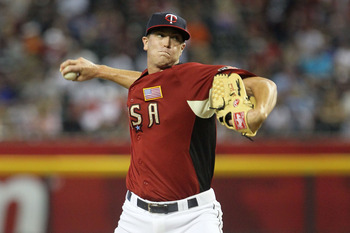 Jeff Gross/Getty Images
In Kyle Gibson and Miguel Sano, the Twins have one of the more underrated pitcher-hitter combos in the minor leagues.
Let's start with Gibson, the team's first round pick in 2009. Despite an arm injury before the draft, the Twins were undeterred in their belief that the right-hander was one of the better prospects available. In fact they felt he was a superior pitcher to his former teammate Aaron Crow, who was twice drafted in the top 10, and who has gone on to a career as a reliever.
Gibson had a tremendous season in 2010, and while he put forth a stinker in 2011, he's still largely the same pitcher who posted a 126-to-39 K:BB ratio and a 2.96 ERA in 26 starts two years ago. Or at least that's what the Twins are hoping with the 24-year-old set to have Tommy John surgery, sidelining him until at least his 25th birthday.
Gibson, when healthy, is exactly the type of pitcher that Minnesota loves. Tons of control and plenty of poise.
Speaking of control, few prospects were in as much control of their game at the plate than Twins slugger Miguel Sano who is coming off of a 20-homer campaign in just 66 games with the Elizabethton Twins rookie ball squad.
Sano is without a doubt the most highly regarded international prospect to come through Minnesota since Johan Santana, and has the potential to be a 40-homer guy at the big-league level. So far, he's also shown above-average ability hitting for average, putting together a .299 mark through his first 127 games.
While he played mostly third base this past season, the belief is that Sano will work his way to the outfield, where he'll fit in a corner spot.
Within two or three seasons, Sano could develop into one of the top prospects in all of baseball.
New York Mets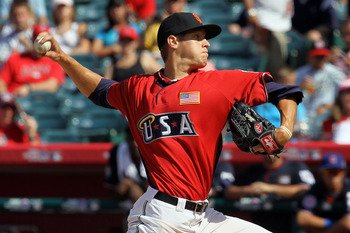 Stephen Dunn/Getty Images
While the Mets still have a ways to go to catch their cross-town rivals, they have quietly put together an impressive cache of prospects, starting with newcomer Zack Wheeler, who they acquired from the Giants in exchange for Carlos Beltran.
The former first-round pick was the darling of the Giants system, but became expendable when the big-league squad put together one of the most fearsome rotations in the majors en route to winning the 2010 World Series.
Wheeler improved upon his debut campaign of 2010, winning nine games this season, while posting a 3.52 ERA and racking up 129 strikeouts in 115 innings. He was especially good after coming over to New York, posting a 31-to-5 K:BB ratio in 27 innings, while holding down a 2.00 ERA.
The Mets coveted Wheeler for his mid-to-high 90s fastball and his two potential above-average pitches.
The Mets doubly benefited from the Wheeler trade because they already had some talented in-house options on the mound, including international superstars Jeurys Familia and Jenrry Mejia. While both of those starters have showed flashes of brilliance, they can't hold a candle to former UNC ace Matt Harvey who carved up the Florida State League this past season before earning a promotion to Double-A.
Like Wheeler, Harvey thrives with a mid-to-high 90s fastball. He also throws both a curveball and a slider, although the former is the one that has the real makings of a sensational offering.
After a so-so showing in the Eastern League, Harvey might begin back there in 2012, although he'll almost certainly earn a big league call-up at some point during the season.
New York Yankees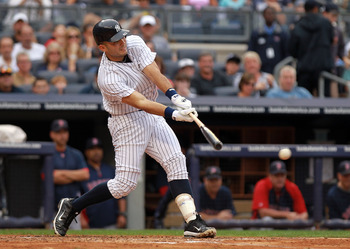 Nick Laham/Getty Images
For his age, Manny Banuelos was one of the top pitchers in the minors this year.
He began the year as one of the youngest pitchers in the Eastern League and performed incredibly well, striking out a batter an inning and holding batters to a .263 average. He earned a spot on the Eastern League midseason All-Star team and likely would have earned a spot on the postseason squad as well had he not been promoted.
The Yankees aggressively advanced the 20-year-old to Triple-A, where surprisingly he's held his own, posting a 4.19 ERA in seven starts and showing the ability to compete at the highest level of the minors.
Banuelos has some of the best stuff in the Yankees' system, despite being one of its least imposing (5'11", 155 pounds) players. His fastball sits in the mid-90s and he complements it with an impressive curveball.
Banuelos will likely challenge for a rotation spot this spring training, hoping to build upon the solid impression he made last spring, when he was arguably the team's best pitcher.
While Banuelos had a strong showing in the minors, top prospect Jesus Montero struggled a bit in the minors, but truly shined during a late-season call-up to the Majors. He hit .328 with four homers and 12 RBI in 18 games and provided a much-needed boost down the stretch for New York.
Montero has been one of the top hitters in the minors for at least two years now, and appears to have finally earned his spot on the big league roster. The only thing standing in his way of super-stardom is his defensive limitations, which are great.
There are very few experts who think he'll ever be a serviceable catcher and the Yankees always have a number of bench players capable of filling a full-time DH role, so Montero will have to hit like crazy to keep his spot.
Oakland Athletics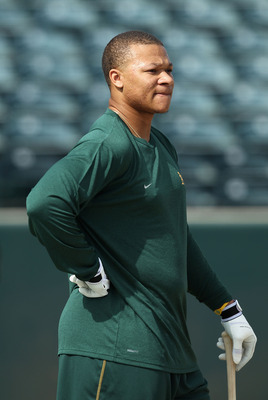 Christian Petersen/Getty Images
Despite the fact that the A's have one of the worst big-league teams, and one of the poorest collections of talent in their farm system, they still rival any other team with three "can't miss" prospects, staring with 2011 first round selection Sonny Gray.
Gray joins the A's after a sensational career at Vanderbilt, where he put up numbers worthy of a first rounder. He features mid-to-high 90s velocity and one of the most impressive curveballs from the 2011 draft class.
While some have their doubts about Gray sticking as a starter, and view him as a potential top-notch closer, the A's will no doubt give him the chance to shine in a starting role.
Gray's predecessor as a first-rounder, Michael Choice has arguably as much raw power as any player in baseball, Majors or minors. He showed off his skill this past season, slugging 30 home runs, an average of one every 15 at-bats. Yes, he put up these numbers in the Cal League, but there are very few who have doubts about Choice's ability to put up those kind of totals in any league.
Choice improved his plate discipline from the year before and while he still figures to be a strikeout machine, his power will offset any negatives.
Last but not least, Choice's predecessor as a first-round pick, Grant Green.
Green is arguably the most seasoned offensive shortstop in the minors right now, and while his ceiling may not be as high as Manny Machado or Jurickson Profar there's no denying that he's going to be one of the top offensive players at his position for many years to come in the majors.
Green slugged just nine home runs in 2011, down from 20 in 2010, but he still hit at a respectable clip (.291) while showing improved patience.
Philadelphia Phillies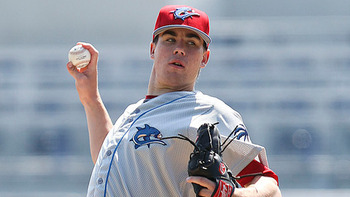 The Phillies got rid of two potential "can't miss" guys during this past season, sending Jarred Cosart and Jon Singleton to Houston in exchange for Hunter Pence.
That leaves their system with very little elite talent, save for Trevor May, who put together one of the best seasons of any minor league pitcher. He was one of only three players to crack the 200-strikeout mark.
Striking people out wasn't all May did well. He also contributed 151.1 innings and tossed three complete games, two of which were also shutouts. He held hitters to a .221 batting average and surrendered just eight home runs. Most of all, he emerged as a staff ace and a force to be reckoned with in coming years.
May has consistently ranked behind both Cosart and fellow prospect Brody Colvin, but 2011 seemed to be the year that he leapfrogged both, fully utilizing his low 90s fastball and potential plus curveball.
Pittsburgh Pirates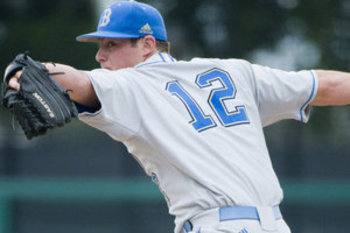 The Pirates have added more elite talent over the past two seasons than any organization in baseball. Their run began with Jameson Taillon, who the Pirates famously favored over top overall pick Bryce Harper.
Taillon is the perfect pitching specimen, with great size, amazing velocity and a bevy of secondary pitches that all combined make him one of the top pitching prospects in baseball. The fact that he was as advanced as he was in high school has the front office having wet dreams about his potential as a pro.
He put together a solid rookie campaign in 2010, despite the pitch count and inning restrictions the team put on him. Those reigns will be off in 2012, and Taillon will attack High-A ball.
They added another franchise cornerstone piece with the first overall pick in this year's draft, former UCLA star Gerrit Cole. Cole and Taillon are very similar in that they both deal in the mid-to-high 90s and throw numerous off-speed pitches that have above-average potential.
Cole, however, has the drawback of having pitched pretty poorly this past season. Despite having one of the best teams in college baseball, he struggled to a losing record and numbers that were far inferior to the ones he posted in 2010.
Still, he has performed at a very high level in college ball, which is more than can be said for Taillon.
Last but not least, the Pirates took a flier on Josh Bell this past June. Bell strongly proclaimed that he didn't want to be drafted, but two months of negotiations and $5 million later, Bell was happy to sign on the dotted line, giving the Pirates the biggest boost of any team drafting.
Bell has received some pretty lofty comparisons, most notably to Ken Griffey Jr. Like Griffey, Bell's bat oozes power, and in time he should prove to be a very good hitter for average too.
On defense, he's a stud. He's quick enough to play center field right now and has more than enough arm to play a corner spot.
On top of it all, he has great makeup. The main reason he wished for teams to not draft him was so he could attend the University of Texas and earn his degree.
St. Louis Cardinals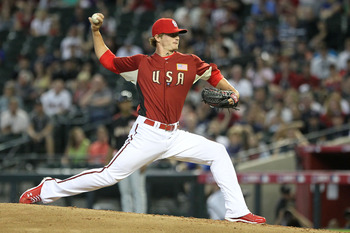 Jeff Gross/Getty Images
While the Cardinals have many talented prospects, including Kolten Wong, Zack Cox and Tyrell Jenkins, only two are so talented that they basically define the term "can't miss."
The first of those is Shelby Miller, who is arguably the top right-handed pitcher in the minor leagues. Not only is he considered one of the most advanced, seasoned pitchers in the minors, but he has the stats to back up his status. This past season, Miller shined at two levels. He began the year in High-A ball, and struck out 81 batters in 53 innings before earning a promotion to Double-A.
He struck out another 89 batters there, giving him 170 for the season. He finished the year with 11 victories and a 2.77 ERA in 25 starts. And for the latter part of the season, he had to fight off rumors that he was going to be called up to join the big league roster.
Turns out they didn't need him.
The second "can't miss" pitcher is Carlos Martinez. This scrawny right-hander from the Dominican has an even higher ceiling than Miller and at times has been compared to a young Pedro Martinez. While it seems like a lofty comp, just watch Martinez pitch and you can see his arm is electric.
He struck out a whopping 98 batters in a mere 84.2 innings this past season and allowed just two home runs all year. This was coming on the heels of his breakout season in 2010, in which he struck out 78 in just 59 innings for the Cardinals Dominican squad. In 12 starts, he surrendered just one home run and posted an 0.76 ERA.
Like Miller, Martinez has great velocity, with his fastball sitting 94-98 mph, occasionally scraping 99.
With a few more years of experience, Martinez will likely be one of the top pitching prospects, if not the top one, in all of baseball.
San Diego Padres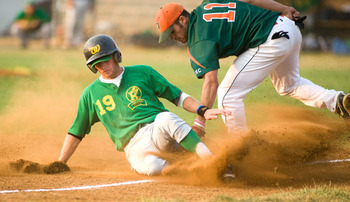 While the Padres have many impressive prospects, so many of them have had experienced their fair share of troubles over the past few seasons. Drew Cumberland was forced to retire due to concussion-related issues, Simon Castro had a terrible year, and Casey Kelly didn't show the same killer stuff that he did while with Boston.
As such the only really sure thing in their system right now has to be 2011 first-rounder Cory Spangenberg. The Padres went against the grain and took Spangenberg, a likely late first-rounder with their first pick, confident in his speed and hitting ability.
He proved both during his 72-game trial with the Padres Low-A squads, hitting .316 over two levels, while swiping 25 bases. With short-season Eugene he posted a 31-to-14 BB:K ratio and he scored a ridiculous 35 runs in just 47 games with Low-A Fort Wayne.
Without a doubt, Spangenberg is the top hitter in the Padres system, and is likely to be their franchise cornerstone at second base.
San Francisco Giants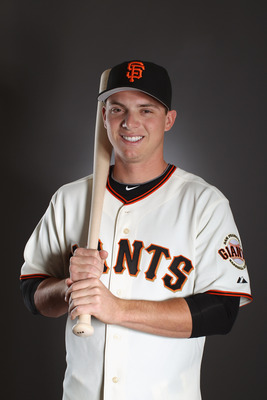 Ezra Shaw/Getty Images
The Giants got quite a gem in Gary Brown, their first round pick in the 2010 draft.
Not only did Brown prove to be a constant threat on the basepaths like they assumed he would be, stealing 53 bases in 131 games, but he also showed he has the skills to be a top-notch hitter, swatting 14 homers while maintaining a .336 average.
Brown already offers the Giants above-average defensive ability at a premium position (center field) so any power is an added bonus.
As noted in previous slideshows, Brown's first-year numbers are eerily similar to Mike Trout's debut campaign, making many Giants fans giddy to see what kind of season Brown is going to put together in 2012.
Will he, like Trout, reach the majors in his second full season?
Seattle Mariners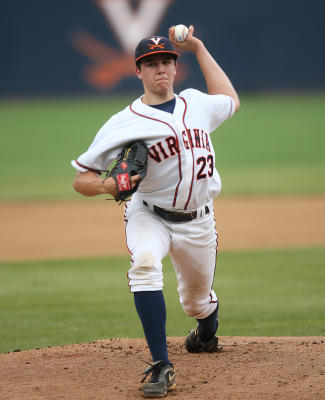 It's pretty easy to label Danny Hultzen as a "can't miss" prospect.
The left-hander took the college landscape by storm in 2011, dominating like never before and earning his way into the top five, where he ended up going No. 2 overall to Seattle, who was so smitten with Hultzen and his front line potential that they ended up giving him a $8.5 million big-league contract with a guaranteed invite to spring training.
While it's unlikely that he'll earn a spot in the rotation out of the gate, he's not necessarily a long shot to join the starting five at some point in 2012.
With the uptick in his fastball velocity and the sharpening of the rest of his repertoire, Hultzen will be a very tough pitcher to face for many years to come in Seattle.
But Hultzen isn't the only top-notch prospect pitcher that the Mariners have in their cache.
Right-hander Taijuan Walker proved that going a bit off the deep end in the draft can sometimes pay off in a very big way in 2011.
After being tabbed as one of the rawest first-round selections from the 2010 draft, Walker went out and dominated like few high schoolers have done in the Midwest League, striking out 113 batters in 96.2 innings while posting a 2.89 ERA.
More impressive than his stats is the polish he showed. He certainly didn't look like an overmatched 18-year-old, rather like a poised veteran with seasoned command of his pitches.
Tampa Bay Rays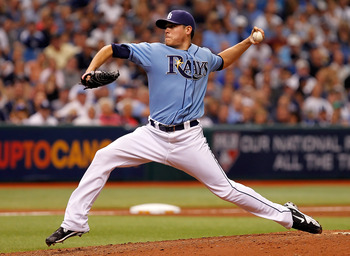 J. Meric/Getty Images
Much like in Atlanta, for all of the talent that Tampa has in their system, they have only one true "can't miss" talent, Matt Moore.
Moore showed the nation just how special he is with an amazing performance against Texas in the ALDS. He shut down one of the most impressive offensive teams in baseball for seven shutout innings en route to a Game One victory.
When he wasn't winning playoff games for the Rays, he was down in the minors doing what he does...dominating. He topped the 200-strikeout mark for the second consecutive year and narrowly missed out on leading the minors in strikeouts for the third consecutive season.
He also threw a complete game, nine-inning no-hitter, posted a sub-2.00 ERA and allowed just 11 home runs in 155 innings.
As hard as it is to crack the Braves rotation, it's even harder to break into the Rays starting five, but Moore seems all but assured a spot for 2012.
Texas Rangers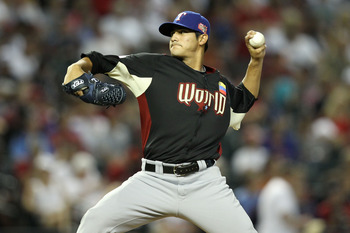 Christian Petersen/Getty Images
Texas houses two of the most impressive prospects at their respective positions in left-hander Martin Perez and shortstop Jurickson Profar.
Let's start with Perez, arguably the top lefty pitcher in the minors. For years now, everyone has been hearing how good Perez's stuff is, but the results just haven't been there to back up that belief. He changed that in 2011 and proved that when he's acclimated, he's as good as any pitcher in the minors.
He posted career highs in strikeouts, innings and victories in 2011, and dropped his ERA below 5.00 for the first time since early 2009.
His stuff is light-years ahead of the rest of his game, with a low-to-mid 90s fastball that he complements with two above-average offerings, a curve and a changeup.
Perez reached Triple-A in 2011 and could conceivably see time with the big-league club next season.
Like Perez, Profar is arguably the top player at his position in the minors, with Manny Machado the only player standing in the way of total shortstop dominance.
Profar astounded scouts and fans alike with his performance in 2011. In 115 games, he hit .286 against players one, two and even three years his senior. He ranked near the top of the leaderboard in doubles (37), triples (eight) and runs scored (86). His walk-to-strikeout ratio of 65-to-63 has to be considered one of the top marks in all of baseball this year.
In case you were wondering how old this Rangers wunderkind is, he played the entire season at age 18!
Toss in the fact that right now Profar checks in at 5-foot-11 and 165 pounds and that makes his season even more impressive.
Toronto Blue Jays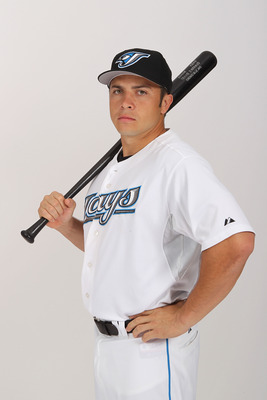 Nick Laham/Getty Images
I've been beat up pretty bad for leaving Travis d'Arnaud off of my postseason top 50 prospects list so I'll give him his due here.
He is without a doubt the most seasoned all-around prospect hailing from the Toronto system, and easily a "can't miss" prospect who could eventually force current catcher J.P. Arencibia from behind the plate, despite having less offensive potential.
What d'Arnaud does have is amazing defensive skills. He has posted a career .990 fielding percentage behind the plate in five minor league seasons and just as recently as 2010 threw out 30 percent of attempted base thieves.
At the plate he's been just as good. This past season he hit .311 in 114 Double-A contests and slugged 21 homers, driving in 78 runs in the process. His plate discipline (33-to-100 BB:K) could use some cleaning up, but d'Arnaud has proven to be a solid offensive presence every season he's been healthy.
He'll start the 2012 campaign at Triple-A, and Arencibia will have to put together a truly magnificent season to keep his job.
Washington Nationals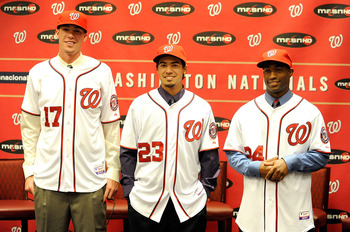 Bryce Harper may get all the attention, but the Nats have another budding superstar in Anthony Rendon (center).
Greg Fiume/Getty Images
Everybody knows the name Bryce Harper, and to be quite honest, that's how it should be. This man-child is just 19 years old but he has already mastered Low-A ball and has proven to be decent at the Double-A level.
His bat oozes power, his right arm is a legitimate plus-plus tool and he has decent speed. Yeah, he strikes out a lot, but so does Ryan Howard and nobody seems to care because he averages 36 homers per season.
Harper will likely spend a good chunk of the year in Double-A and might end up jumping a level again, straight to the big-leagues. It will likely give the Nats the same kind of boost (in attendance and national attention) they received when they promoted Stephen Strasburg back in 2010.
As good as Harper is, there's a player in the Nats system who many, including Baseball America's Jim Callis, seem to think is every bit as good as Harper...and then some.
That man in question would be Anthony Rendon, the team's first first-round pick from last year. Rendon made a living tearing the cover off the ball at Rice...when teams would dare to pitch to him that is.
As a pro, he's expected to offer above-average hitting ability, above-average power and Gold Glove caliber defense. Where he plays seems to be the long-term question, with Gold Glover Ryan Zimmerman already occupying Rendon's natural position, third base.
Nobody doubts that Rendon has the athleticism to switch positions and a slide over to second base seems the most likely. First base and the outfield are also options.
Two other Nats farm-hands fall short of "can't miss" status: left-hander Matt Purke, for his injury history, and right-hander Alex Meyer, seeing as how guys as big as he is seem to sometimes have troubles staying healthy and pitching with decent command.
Keep Reading