Matt Barkley: Did He Just Make a Case to Be Denver Broncos' Next QB?
November 5, 2011
Justin Edmonds/Getty Images
While watching last night's USC drubbing of Colorado—42-17 at Folsom Field in Boulder—it occurred to me that Matt Barkley would be a great fit wearing Denver Bronco Orange and Blue next season.
He was 25-39 for 318 yards and six TDs with one INT during the Trojans' Pac-12 road contest Friday night. Those six TDs set a USC record for the most in a single game. So far this season, Barkley has 2,608 yards on 229-342 attempts and a 67 percent completion percentage.
He has season stats of 28 TDs against only 6 INTs and a college QB rating of 154.5. That translates to two more TDs and 6 fewer INTs already in this season over last year.
He is decent size at 6' 2", 221 pounds and although he only has one rushing TD, he is mobile enough to move out of the pocket and throw on the move.  He seems to be durable with only a shoulder bruise, wrist surgery and a minor ankle injury in his three-year college career.
Barkley was a four-year starter in high school and a starter as a true freshman at USC.
He plays in a pro-style offense under Lane Kiffin and has shown a lot of improvement this year from last season.
Barkley's a California boy, just like Broncos legend John Elway was, and seems to be a natural leader who makes good decisions. Furthermore, he has a very good arm and a quick, accurate release. Oh, and Barkley can play under center or out of the shotgun with equal comfort.
A devout Christian, Barkley would also satisfy all those current fans of Mr. Tebow.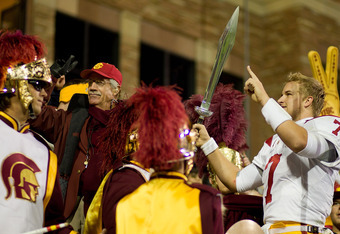 Justin Edmonds/Getty Images
And he brings an additional skill in being able to direct the marching band at halftime.
The draft gurus, assuming he opts to skip his senior season, have him going anywhere from the second to maybe the seventh pick, depending on how the final order works out and the most critical needs of those high selectors. The Broncos will be one of those "lucky" top five or six.
I am not sure he is a better choice than Oklahoma's Landry Jones but, regardless, he sure would be a welcome sight here in Bronco-land.
After all, he had two more TD passes last night in one game than Denver's current starter, Tim Tebow, has had in 2 1/2 games.
So, as proven last night, the mile high air must agree with Mr. Barkley and I would love to think there is a future at Sports Authority at Mile High stadium for this young signal-caller.