NFL Power Rankings Week 9: Who Are 2011's Most Surprising Teams?
November 4, 2011
Thearon W. Henderson/Getty Images
Part of what makes the NFL so popular is the parity that is so common in the league. Although there are a few perennial Super Bowl contenders and a few perpetual cellar dwellers, most teams tend to fluctuate.
The feeling with almost every NFL team is that they have a fair chance to contend every year.
This explains why there is almost annually a feel-good worst-to-first story. Nearly every year, 50 percent of the playoff field opens up to new teams. And so far, 2011 looks like no exception.
It's too early to be talking playoff seeding and clinching scenarios. However, we are almost exactly halfway through the regular season so standings are very important now. And at this point, there are some surprising teams that deserve credit for doing better than anyone had expected.
Who is this year's most surprising team? Several teams make a good case—a few even looking like they could pull off the worst-to-first story. The teams below are the ones I think are the most surprising.
San Francisco 49ers 6-1 (First in NFC West)
Here's the most blatantly obvious one. Although they play in the joke that is the NFC West, few people had the 49ers winning the division and those who did had them winning by default at 7-9 or 8-8. It's no surprise given that the 49ers blew a tremendous opportunity when they were favored last year and instead finished third in the division at 6-10.
Does new coach Jim Harbaugh make that much of a difference? He's got everyone playing good on a roster that's barely any different from last year's. Yet the biggest surprise might be that Alex Smith, last year considered among the NFL's worst quarterbacks, is starting for them and playing well.
Can the magic continue in the Bay area? At 6-1, the 49ers look not only positioned for their first playoff berth since 2002, but possibly also a first-round bye. It helps that the rest of their division is still dreadful and their schedule is relatively easy the rest of the way.
Detroit Lions 6-2 (Second in NFC North)
Admittedly, this one isn't as much of a surprise since the Lions were a popular preseason playoff pick this year. Expectations were that, with their brutal front defense and a healthy Matthew Stafford, this team could finally challenge for a wild-card spot or even a division title. Well halfway into the season, those expectations look right as the Lions are 6-2 and leading the NFC wild-card hunt.
Yet there are still worries with this surprising team. They have had some difficulties running the ball and stopping the run. They also play second fiddle in their own division to the otherworldly Green Bay Packers.
Still, if the Lions can fix their run problems, a playoff berth seems likely. Their schedule gets considerably more difficult as six of their remaining games are against teams with winning records. It will be exceedingly hard for them to catch the Packers, but it certainly looks like the Lions will be in the playoff picture for the rest of the year.
Cincinnati Bengals 5-2 (Second in AFC North)
I am shocked at how little attention and respect the Bengals are getting this year. After a disastrous 4-12 season last year, they were figured to be possibly the league's worst team this year. Instead, with a rookie quarterback under center, the Bengals are 5-2 and only a half-game out in the brutal AFC North.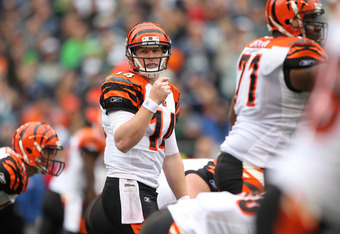 Otto Greule Jr/Getty Images
The Bengals are getting ahead in their rebuilding effort with the help of their defense. They are currently ranked second in run defense and ninth in pass defense. On the other side of the ball, young playmakers like quarterback Andy Dalton and receiver A.J. Green have been off to great starts.
The Bengals still have a lot to prove however. They have yet to face the Baltimore Ravens and Pittsburgh Steelers—until those games happen, it is impossible to say where the Bengals stand in their own division. Those four games will likely determine the fate of the 2011 Cincinnati Bengals since most of their other games are easier ones against far inferior opponents.
Buffalo Bills 5-2 (First in AFC East)
The Bills continue to shock NFL fans as, halfway through the season, they hold the lead in the AFC East. No one had them winning in a division with the New England Patriots and the New York Jets—especially since last year, the Bills were 4-12 and were among the worst teams in the NFL.
Yet somehow, they've figured out how to win this year.
Quarterback Ryan Fitzpatrick has proved himself a franchise quarterback with his play this year and running back Fred Jackson is making a case for best running back in the league. They have an explosive offense and an opportunistic defense that thrives on forcing the other team to make mistakes.
Admittedly, the Bills have only had one division game so far this year so they remain slightly unproven. Between the Patriots and the Jets, it's going to be difficult for the Bills to win this division. Yet their chances look good as long as they beat their lesser opponents and play well against their division opponents.
Week 9 Power Rankings
1. Green Bay Packers
2. San Francisco 49ers
3. Pittsburgh Steelers
4. Detroit Lions
5. Baltimore Ravens
6. Cincinnati Bengals
7. New York Giants
8. Buffalo Bills
9. New England Patriots
10. New Orleans Saints
11. Houston Texans
12. Tennessee Titans
13. Chicago Bears
14. Tampa Bay Buccaneers
15. Atlanta Falcons
16. Kansas City Chiefs
17. Oakland Raiders
18. New York Jets
19. San Diego Chargers
20. Philadelphia Eagles
21. Dallas Cowboys
22. Washington Redskins
23. Cleveland Browns
24. Seattle Seahawks
25. Denver Broncos
26. Minnesota Vikings
27. Carolina Panthers
28. Jacksonville Jaguars
29. St. Louis Rams
30. Arizona Cardinals
31. Miami Dolphins
32. Indianapolis Colts