NFL TV Schedule Week 9: Coverage Maps for All CBS and Fox NFL Action
November 3, 2011
Doug Pensinger/Getty Images
We're at the midway point of the 2011 NFL season, but we still have a long ways to go until we get to the postseason. Because of that, you should probably keep watching.
Ah, but watch what? Unless you have that fancy satellite package, that's the big question. Some of us have no idea which NFL games are going to be broadcasted in our area, much less which station is carrying them and which announcers will be calling the action.
Luckily, these things aren't a mystery. All you have to do is take a look at the coverage maps below, which come via the506.com. They detail which games are going to be shown where and on what station.
We'll start with CBS. Among other games, they've got the New York Jets at the Buffalo Bills in the early afternoon and the Denver Broncos at the Oakland Raiders in the late afternoon. If you must see Tim Tebow, CBS has your back.
Check it out: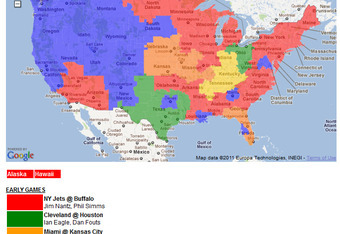 As for FOX, they have a number of intriguing early games they'll be showcasing, including the San Francisco 49ers at the Washington Redskins and the Tampa Bay Buccaneers at the New Orleans Saints.
Here's the map for the early games only: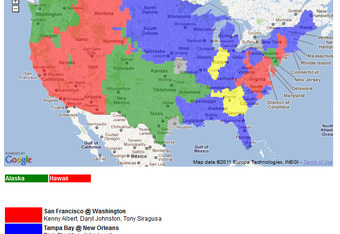 Later in the afternoon, FOX will be carrying the showdown between the New York Giants and the New England Patriots, as well as a couple of other good matchups.
Here's your map for those games: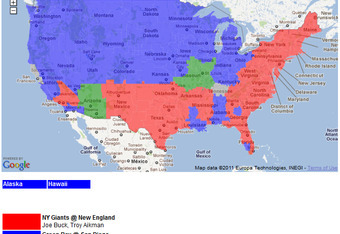 The Sunday night game is an AFC North clash between the Baltimore Ravens and the Pittsburgh Steelers, and it will be shown on NBC at 8:20 p.m. ET.
The Monday Night Football matchup for Week 9 is a clash between the Chicago Bears and Philadelphia Eagles. It will be shown on ESPN at 8:30 p.m. ET.
That just about does it for this week, folks. Enjoy your couch-potatoing.