Does Ryan Fitzpatrick's New Contract Guarantee Success from Buffalo Bills QB?
November 3, 2011
Rick Stewart/Getty Images
Now that Buffalo Bills quarterback Ryan Fitzpatrick has signed his new seven-year contract extension that is worth over $62 million, what amount of success can be generated or guaranteed for the organization? 
The Bills have been searching in vain for a franchise quarterback ever since Jim Kelly announced his retirement following the 1996 season. The Bills might not have realized that Fitzpatrick had the wherewithal to become the Bills' franchise quarterback when they initially signed him as a free agent in 2009. He was brought here to serve as a backup to starter Trent Edwards, but things really started to click for Fitzpatrick once the Bills brought in head coach Chan Gailey. 
Fitzpatrick was able to grasp the concepts of Gailey's spread offense and make it work, while Edwards was not. Gailey needed someone with the ability to quickly decide where to go with the ball and determine where the best matchup existed for each play. It also meant standing in the pocket and taking many hard hits with minimal protection. Those were all things that Edwards struggled with. 
Just because Fitzpatrick has signed a huge contract does not automatically guarantee any degree of success whatsoever. All you have to do is look at the current production of Tennessee Titans running back Chris Johnson after signing his big contract (six-years, $55.26 million—of which $30 million is guaranteed). Right now, Tennessee has $55 million reasons to regret deciding to meet Johnson's contract demands.
In the first game immediately following the signing of the new deal, (which mandates that Fitzpatrick will earn at least $24 million guaranteed), Fitzpatrick uncharacteristically fumbled a snap from center that gave the Washington Redskins ideal field position. It was the first fumble lost by the Bills this season. Was that just poor timing, or was it a reflection on the new pressures that the deal adds on Fitzpatrick's shoulders?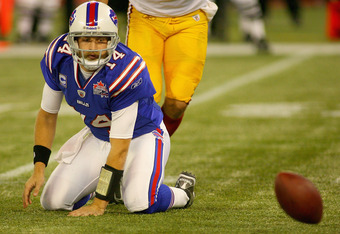 Rick Stewart/Getty Images
Fitzpatrick also threw an interception in the end zone to London Fletcher. For the day, the Bills only went one out of four in their various red zone scoring opportunities. The lack of red zone production was interesting to see, as it was Fitzpatrick's first chance to show that he was worthy of the huge new deal. Bills fans know that Fitzpatrick also threw two interceptions in the previous game against the New York Giants, when he underthrew Steve Johnson on similar passes, leading to a Bills loss. 
For the time being, about the only thing we are guaranteed is that Fitzpatrick is the Bills' starting quarterback, for better or worse. The Bills are now "all in" on Fitzpatrick. Additional deals made in the wild 2011 offseason resulted in Tyler Thigpen and Brad Smith coming to Buffalo, so they have solid depth at the position. 
Fitzpatrick has played like a top 10 NFL quarterback this year, and his current ranking in categories like QB passer rating bears that out. He is ranked No. 6 in the NFL with a 97.8 rating, which is his highest career mark. Of course, the other gauge that quarterbacks are measured by is how much their team wins. Well, since the Bills are sitting atop the AFC East, tied with the New England Patriots for first place with a 5-2 record, it is safe to say that Fitzpatrick is earning his big payday. 
Still, with each passing game, Fitzpatrick exposes himself to some horrific hits. We can still vividly recall the hit that James Harrison of the Pittsburgh Steelers laid on Fitzpatrick in their 2010 contest. There was a certain degree of flashback late in the first half last Sunday, when London Fletcher laid him out with a big hit just after Fitzpatrick launched a pass to Fred Jackson.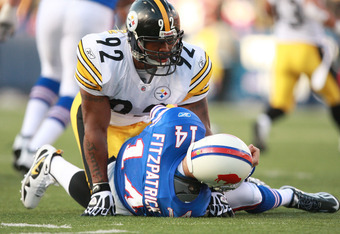 Karl Walter/Getty Images
Fitzpatrick stands there and doesn't flinch in the face of adversity. He leads by example and isn't afraid to throw his body around when a block will allow a teammate to pick up additional yards. He has a linebacker's mentality, which is very much like how Jim Kelly played the position. 
So, what degree of success can be guaranteed with Fitzpatrick at the helm? We can guarantee that he will be well-prepared each week. He will have thoroughly scouted the opponent and will come in to each game with a solid idea of how they want to attack their opponent. He won't be closing down bars or nightclubs throughout the city on the eve of a game. Fitzpatrick comes to work each week and wants to see the Bills become a winning team. 
Outside of that, is there any other kind of guarantee that you could want, or hope to ask for? Rex Ryan guarantees Super Bowl appearances, but fails to deliver on his bold predictions. I would rather have Fitzpatrick, and take my chances with him. What do Bills fans think?