What Is Wrong with the Denver Broncos? More Than Just Tim Tebow
November 3, 2011
Justin Edmonds/Getty Images
There are a lot of reasons why the Denver Broncos are 2-5 and in last place in the AFC West. Believe it or not, it doesn't all fall on Tim Tebow. Many people don't see it, but the arrow on this team is pointing down—and it's doubtful they'll be a Super Bowl contender for years to come.
A lot of the problem starts with the ownership. Pat Bowlen went from giving the Super Bowl-winning Mike Shanahan complete control to firing him for his poor decision making regarding defensive draft picks and the hiring and firing of defensive coordinators. 
The ironic thing is, Bowlen fired Shanahan and then hired the young and brash Josh McDaniels and allowed him to try to re-make the Broncos in the Patriot way. McDaniels blew up a top five defense, traded away a Pro Bowl quarterback, a Pro Bowl wide receiver and squandered the picks acquired in exchange for Cutler. 
The Broncos looked like a team on the up and up when Mike Nolan transformed the defense into a hard-hitting 3-4 defense headlined by Elvis Dumervil and the extremely consistent Champ Bailey. Then, Josh McDaniels and Nolan couldn't get along and he was gone.
After a 3-9 start, McDaniels was gone, too.
However, McDaniels left a wake of devastation behind him. In the 2009 draft, McDaniels drafted linebacker/defensive end Robert Ayers and running back Knowshon Moreno in the first round and traded their 2010 first-round pick to select cornerback Alphonso Smith in the second round.
Moreno is always injured and has failed to become a consistent producer. Smith fell out of favor and was traded to the Lions, and Ayers has recorded all of one and a half sacks in three seasons.
The next year McDaniels drafted Demaryius Thomas ahead of Dez Bryant and that looks like a big mistake. He also traded up in order to get Tim Tebow, leaving Kyle Orton and Tim Tebow as the only options at quarterback after he was fired.
The only decent draft pick McDaniels made was taking wide receiver Eric Decker in the third round. He poisoned the Broncos young talent pool for years to come.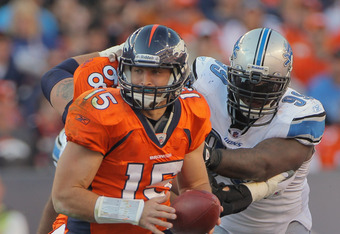 Doug Pensinger/Getty Images
Pat Bowlen then made another crucial mistake by allowing John Elway to essentially take over the Broncos football operations. John Elway is a Hall of Fame quarterback and easily one of the best of all time. That being said, Elway had no experience in football operations outside of being a player and running an Arena Football team.
After the horror of the McDaniels experience, it seems like Elway and Bowlen went out of their way to make sure they hired the anti-McDaniels.
It's unbelievable that John Fox got that job after he had a 2-14 record with a Panthers team that, outside of the quarterback position, was chock full of talent (such as Jordan Gross, Jonathan Stewart, Steve Smith and Jon Beason). Fox mailed it in during 2010 and was rewarded with the Broncos head coaching job.
Not a good way to rebuild your franchise.
While it's too late to call the Broncos season over or Fox's tenure as head coach awful, it's not looking good.
To compound the issues on defense, Fox and Elway chose linebacker Von Miller over Marcell Dareus. While Von Miller is a physical specimen and an incredible athlete, he is much better suited in a 3-4 system as opposed to Fox's 4-3 defense. Von Miller has six sacks and looks like he will be an awesome pro, but Marcell Dareus looks very good as well and would certainly help the Broncos stop the run.
Tim Tebow has heart and raw athletic talent, but he looks in over his head as a starting NFL quarterback. Kyle Orton had his struggles and was not the long-term answer in Denver, but Fox and Elway caved to the fans and started Tebow.
Now Tebow has to struggle through at least a few more weeks so everyone can be convinced he is not a franchise quarterback.
The Broncos made another dumb personnel move by trading Pro Bowl receiver Brandon Lloyd to the St. Louis Rams for a lowly sixth-round pick in the 2012 draft when they likely would've gotten more in a compensatory pick if Lloyd signed with another team in the offseason.
The logic of personnel moves as well as coaching and scheme changes has to be questioned. A team that was in the AFC Championship Game six years ago has fallen far from grace.