Bob Gibson, Allen Craig and the Cardinals Prove There Are Clutch Players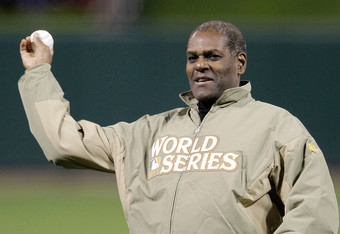 Pool/Getty Images
Bob Gibson beat the New York Yankees in the fifth game of the 1964 World Series when his good friend, Tim McCarver hit a three-run home run in the 10th inning. Gibson, of course, didn't need a closer and he completed what he had started.
On two days rest, Gibson started, completed and won the seventh game as the Cardinals defeated the Yankees for the World Championship.
In 1967, Gibson beat the Boston Red Sox three times in the World Series. Gibson was working on three days' rest, but Jim Lonborg started the seventh game against the St. Louis Cardinals on two days rest as Gibson had done three years earlier. Lonborg was great, but he was no Gibson.
The next year, against the Detroit Tigers and 31-game winner Denny McLain, Gibson struck out 17 Tigers in the opening game of the World Series. It took a misplay by center fielder Curt Flood, one of the great defensive players of all time, to beat Gibson in the seventh game.
It requires a certain mental makeup to do well in critical situations. The 2011 World Champion Cardinals were such a team. They were made up of no-retreat, no-surrender players.
The Cardinals signed Lance Berkman this past December to play right field. The last time Berkman played right field was in 2007, when he played there for 31 games. Berkman is smart, tough, desperately wants to win and wanted to show that he still had a lot left even more desperately.
Bob Gibson, Lance Berkman, Derek Jeter and many before them, including Yogi Berra, Johnny Podres, Lew Burdette, Gene Tenance, Willie Mays and Roger Maris have put on great, great clutch performances despite the claims of Billy Beane, Rob Neyer and Bill James, who have concluded that clutchness is overrated.
A major factor is mental makeup. Gibson was intentionally unfriendly to hitters, even those on the Cardinals. He said,
"I was deliberately unfriendly to the opposition. I wouldn't even say 'hello' to the hitters on the other teams. I didn't want them knowing what I was like or what I was thinking. I wouldn't talk to the team psychologist because I didn't want anyone figuring me out."
One incident sums up Mr. Gibson.
"The Pirates had a young outfielder named Gene Clines who came up to me before a game with a baseball and asked me to sign it. I took the ball and tossed it over my shoulder into left field."
Gibson wasn't afraid of hitters. He respected them, some more than others, but he respected his ability more than anything else.
The 2011 World Series dealt a serious blow to the credibility of sabermetricians. The Cardinals put on a clutch performance in the sixth game that was unprecedented.
They scored in the eighth inning when Allen Craig hit a home run to pull within two runs of the Texas Rangers. They scored twice with two outs in the ninth inning to tie the game. They scored twice in the 10th inning to tie the game. They won on David Freese's 11th inning leadoff home run.
Speaking of Allen Craig, he tied Game 1 with a hit off Alexi Ogando in the sixth inning. The Cardinals won, 3-2.
The next day, Craig singled off Ogando to break a scoreless tie in the seventh inning, but that was the Cards only run in a 2-1 defeat.
In the first inning of Game 3, Craig hit a home run to put the Cards ahead in a game they won, 16-7.
Yes, there are clutch players.
Bob Gibson was one of the greatest clutch pitchers The Cardinals historically have been one of baseball's best franchises when it counts the most.
Reference:
Leonhardt, David. "You Gotta Have Clutch." The New York Times Book Review 25 Oct. 2009: 19(L). General OneFile. Web. 2 Nov. 2011.
This article is
What is the duplicate article?
Why is this article offensive?
Where is this article plagiarized from?
Why is this article poorly edited?

St Louis Cardinals: Like this team?