4 Denver Broncos Facing Most Pressure in 2nd Half of Season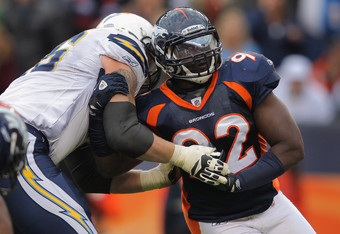 Doug Pensinger/Getty Images
After the painful loss to the Detroit Lions, the realization that this season is just a stepping stone in the long process of rebuilding is becoming hard to ignore. Despite the fact the AFC West is still as winnable as ever, the Denver Broncos have too many question marks to be considered serious contenders barring a miraculous turnaround.
Even though that may be the reality for the Broncos as a team, there is still the reality that no player is going to give up on the field. Some players are playing to secure their spot on the Broncos in the future and others are hoping to prove doubters wrong and defend their worthiness of being an NFL football player.
There is another player fighting to reclaim the hype he had garnered early in the season and continue to be a serious contender for NFL Defensive Rookie of the Year. That player is of course the bespectacled second overall draft pick for the Denver Broncos, Von Miller.
To look simply at Miller's statistics as a rookie pass-rushing specialist, it is hard not to be content with the output. However, in order to be considered for that season-long prize, Miller needs to demonstrate he is a credit to his team in any situation.
Miller needs to pressure the quarterback consistently in every single game and also find ways to shift momentum with turnovers. Most importantly, though, Miller needs to not be a liability in pass-coverage situations and hone his skill set to allow himself to stay on the field all the time.
Another rookie in serious need of stepping up is tackle Orlando Franklin, who could most recently be seen on the bench after having to be replaced against the ferocious pass rush of the Lions.
Ronald Martinez/Getty Images
There are some who credit the change in quarterback with exposing Franklin's inability to perform at the tackle position, but the truth is the questions were coming long before the change.
Franklin was primarily a guard while at Miami, and his transition to full time right tackle in the NFL has been rocky at best. Clearly, the former Hurricane possesses the physical attributes to hold his own on the outside in the NFL, but his mental preparation and technical skills in relation to his footwork and strategy need work.
Back on the defensive side of the ball it would be great to pull out one of those stats that highlights how much a star player is being paid "per sack or tackle" to demonstrate that player either earning or not earning his salary.
One could try to use that statistic for Elvis Dumervil, but he has yet to register a sack in his limited time on the field this season. The Broncos' $60 million pass-rusher continues to be perpetually injured, so much so that one has to wonder whether he has the durability to put his "hand in the dirt" on a regular basis.
Whatever the coaches can do (if anything) to help keep Dumervil on the field, and hopefully in the backfield, must be done in order to help protect the investment that was made in him. The flip side of that is Dumervil doing his part and finding the form that netted him 17 sacks just two short years ago.
Finally, there has never been a player in NFL history that has faced the kind of scrutiny and pressure to progress as Tim Tebow. By no fault of his own, Tebow is facing some of the harshest criticism ever uttered by NFL opponents, analysts and experts.
Doug Pensinger/Getty Images
Much of that is deserved based on his play, but the endless "hype and run" that Tebow gets on sites like this and major four-lettered sports networks feeds into the "Tebow Burnout" that is causing many to hope he fails so that they no longer need to see him.
The requirements for Tebow to be considered proficient or successful have been highlighted ad nauseam, and those interested check almost every other article on Internet sports pages. For now, suffice it to say Tebow is facing a fair amount of pressure going forward.
(Yes, I get the hypocrisy of commenting on "Tebow Burnout" in an article that highlights Tebow, but people would stop writing it if people stopped reading it.)
If all of these players rose to the occasion in the second half of the season, they might not just save themselves, they could also get the franchise back on track and help save the Broncos as well.
This article is
What is the duplicate article?
Why is this article offensive?
Where is this article plagiarized from?
Why is this article poorly edited?

Denver Broncos: Like this team?