Pittsburgh Steelers: How Will Mike Tomlin Handle Linebacker Injury Situation?
November 2, 2011
Justin K. Aller/Getty Images
No James Harrison, no problem. The Steelers have played well without winning four in a row without their All-Pro linebacker.
The injury list at linebacker grew last week with James Farrior, who has a calf injury. Pittsburgh, left with only two starting linebackers, went out and had one of their best defensive performances, shutting down the high-powered New England Patriots offense.
Now LaMarr Woodley (hamstring) is not expected to play on Sunday leaving the Steelers without their best pass rusher. In fact, Woodley may be the best pass rusher in the NFL right now with seven-and-a-half sacks over the past four games, including two sacks in each of his last three games.
Though Woodley, through his Facebook page, says that he is going to play on Sunday, the Post-Gazette is reporting that he will not only miss Sunday's game, but potentially an extended period.
With Woodley likely out, the premiere pass rushing tandem in the NFL is non-existent and Pittsburgh's linebacker corps is left with only one starter, Lawrence Timmons, who also happens to be playing out of position.
Pittsburgh's traditionally strong set of linebackers has been reduced to three backups with a range of experience.
Larry Foote has played admirably in the middle and may have played one of his best games of the season last week. He is always sound with his positioning and is a solid tackler.
There are little worries when it comes to Foote given his starting experience, but fellow inside linebacker Stevenson Sylvester is a mystery.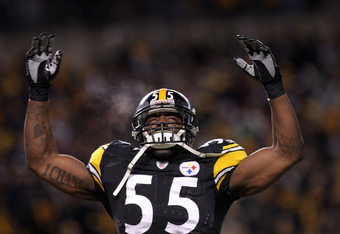 Nick Laham/Getty Images
Sylvester has a huge upside and is one of the more athletic players on the team. He is a physical presence on special teams but does not have a full grasp on the defense, as demonstrated in the preseason.
Last week was the first significant action that Sylvester received and even so, it was not much as the Steelers were in the nickel package for a large portion of the game.
Against a physical opponent like Baltimore, Sylvester will need to step in the middle. Depending on how much playing time he receives, Sylvester may be relied upon to cover one of the Ravens'  athletic tight ends.
There is no doubt that Sylvester has the athleticism to do so, but the question is whether his inexperience will hurt him or not.
Even more inexperienced is Chris Carter, a rookie outside linebacker who stepped in for Woodley last week.
With Jason Worilds injured, Carter may have to be relied upon as the Steelers left outside linebacker.
Carter has a quick first step and good size at 6'1" 248 pounds, but physical tackles still can overmatch him. He also has no proven himself in defending the run.
This would play right into the Ravens style of play. Even though they do not have the top line in the league, Baltimore is always very physical against Pittsburgh, especially in the trenches.
The Steelers will have to do a better job at stopping Ray Rice than they did in the season opener when Rice rushed for 107 yards.
If Mike Tomlin and Dick LeBeau decide to go in a different direction, they have a few options.
Cian Fahey, Bleacher Report Featured Columnist, suggested that Troy Polamalu could be a fit at linebacker.
A move such as this could be particularly effective when the Steelers are in the nickel set. Polamalu was lined up in the middle of the defense with Timmons last week when the Steelers had an extra defensive back and Ryan Mundy was brought in to fill the strong safety spot.
However, beyond passing situations, there are concerns with putting Polamalu at linebacker, particularly having him potentially being taken out of the equation by the Ravens' offensive line.
Instead, the Steelers could move Brett Keisel to outside linebacker.
Over the years, Keisel has had plenty of experience rushing from the stand up position and he has the size and power, as well as decent speed, to play linebacker on the outside.
While he would be a liability in coverage, he could certainly rush the passer and would be a force against the run.
The Steelers also have a quality backup in Cameron Heyward who would take over at right defensive end.
A change in personnel is the easiest solution, but a change in scheme would be the boldest.
LeBeau could take a page out of Tomlin's old defensive playbook and go with a four-man front.
The Steelers have enough beef to man a four man line.
Hood and Keisel would remain on the ends and Hampton and McLendon or Heyward could line up in the middle.
This would allow Pittsburgh to limit their inexperience at linebacker as both Foote and Timmons would be fine and only Sylvester would have to be inserted into the lineup.
It may be a bit much to ask for with only a week to prepare but desperate times call for desperate measures and there is a sense of urgency this week with Baltimore in town as a win over their archrivals would put the Steelers in driver's seat for another AFC North title.
Even if it is not a pure 4-3 defense, Pittsburgh could have their four down linemen in the game with Foote and Timmons in the middle and re-enter Polamalu into the equation as a roving linebacker.
The best-case scenario, though, is that Woodley's injury is not as bad as it has been reported and he can play.
If he can't, Pittsburgh's coaching staff will have to search high and low for answers to put their defense in the best position to stop Baltimore's offense.
The coaches have their work cut out for them, but if anyone can figure this out, it is Tomlin and LeBeau.
Follow me on Twitter @ChrisG_FC