NFL Power Rankings: Ranking Each Starting Rookie QB After Week 8
October 31, 2011
Scott Cunningham/Getty Images
Cam Newton:
It's only fair that Newton sits on the top of this list for a few reasons. One being that he is the only rookie quarterback that has remained in the conversation from the beginning of the season up until after his Week 8 performance against Christian Ponder and the Minnesota Vikings.
It was a game in which the young QB lost after a couple of fumbles on his behalf, a cheap penalty on Steve Smith's behalf and a botched field goal attempt by the sometimes shaky kicker, Olindo Mare. The Carolina Panthers were beat on their own field and walked away with more to smile about than the Minnesota franchise.
Newton is simply a better rookie than the rest of the men in the lineup. His arm strength never falters, his throws are spot-on, and he can fit passes into small windows against some challenging defensive backs in the league. And most importantly, he is forging one of the most explosive QB-receiver bonds in present-day NFL.
Steve Smith is relevant again because of his ability to catch any ball within a 10-yard radius, but also because of how involved and essential Newton makes him during all four quarters of offense over the last eight weeks. Cam Newton is making the men around him better including, Jeremy Shockey, Greg Olsen, Brandon Lafell, etc.
That is what a great quarterback stands at the line of scrimmage to do. No one believed that against the Green Bay Packers the Panthers would have an ounce of a chance, but for about a quarter and a half, Newton simply outplayed the 2011 Super Bowl MVP, Aaron Rodgers.
Not to say that Newton is more talented than Rodgers, but coming into the league there was a lot of speculation as to whether Newton could weather the storm against even the worst defenses the NFL had to offer.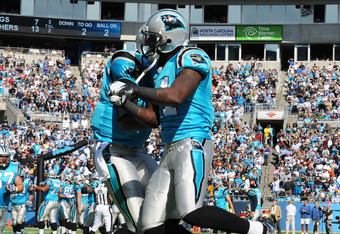 Al Messerschmidt/Getty Images
He has proven to the world that he can mesh his unconventional talent with the conventional scheme of the starting NFL quarterback. Now, he has to take another step forward with his team by the reins and produce a winning record so that Carolina can continue to keep the faith in their No. 1 overall draft pick.
Andy Dalton
The Cincinnati Bengals have a better record than Cam Newton and the Carolina Panthers so Andy Dalton should be given a little more credit, you think? Not so fast. Let's step back away from the franchise as a whole and focus in on what Dalton is being asked to do as the starting QB of the Bengals.
After the debacle with Carson Palmer, Cincy fans were just happy to see some fresh faces and someone who remotely seemed as if they were willing to stick it out as the Bengals were rebuilding.
Dalton is a great game manager. He makes his throws on time and with a lot of precision, allowing his defense to get on the field with confidence that if they fail at making the stop, Dalton and the offense can handle it from here.
However, Dalton also has the cushion of knowing his defense is not a bottom feeder. He can rely on them to get his opponents off the field and give him another shot at the score.
More importantly, he is not asked to do what the Carolina Panthers are asking Cam Newton to do. Newton was brought in with the No.1 overall pick into a sinking organization to breathe life back in the franchise (i.e. sell tickets, create offense, pass, run or whatever necessary to keep the Panthers in the game).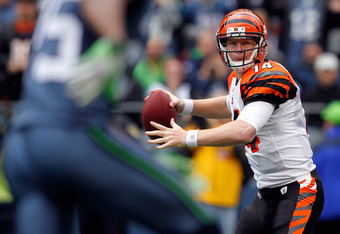 Jonathan Ferrey/Getty Images
The biggest difference between the Bengals and the Panthers are what each of the rookie QBs have to work with defensively. The Panthers may be loaded and underrated at key offensive positions, but the defense is inconsistent to a fault.
As previously stated, Dalton can rely on his defense to get him another whack at a scoring drive, but Newton has to take ample advantage of every down he is afforded because Carolina's defense may not get the stop the team needs.
It does not take away from what Dalton has been able to accomplish individually, but all aspects must be taken into account.
Christian Ponder
Christian Ponder is getting the short end of the stick because his starting opportunities came a little later in the season than Dalton and Newton. However, in a short amount of time, Ponder has proven that he can control games just as well as any other quarterback in the league.
He may not be as explosive as Newton, but he is a very smart athlete with very good decision-making on his side throughout the games he has played. He led key drives against the Green Bay Packers, his first career NFL start that gave the Minnesota Vikings a glimpse at what has yet to come with him leading this franchise.
To remove a veteran quarterback from the starting position should be ideal enough for a rookie. McNabb assisted Ponder in getting the starting role with Minnesota with his own poor play, but Ponder gave Leslie Frazier enough confidence in his talents to make the switch.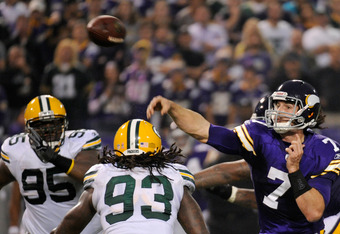 Hannah Foslien/Getty Images
The Vikings' rookie has yet to disappoint anyone, even after his loss to the Green Bay Packers. His victory against the Carolina Panthers, although it seems as if it was more due to the Panthers' silly mistakes than Minnesota's offensive triumphs, showed a brighter light at the end of the tunnel that was not available with McNabb at the starting position.
Ponder, with help from Adrian Peterson and Visanthe Shiancoe, took advantage of those mistakes from Carolina and turned them into scores. Ponder does need a little more success when the play breaks down and his decision-making on the move may not be ideal, but those are all characteristics that can be molded throughout time and patience.
Blaine Gabbert
Blaine Gabbert seems to be proving why a lot of NFL draft analysts are not in the war room making the reports for the decisions ultimately made. Maybe the Carolina Panthers saw what we are seeing from the rookie QB now.
Gabbert was injected late into a struggling franchise, but the way he has been performing, the Jaguars had a win under his leadership despite his presence, not because of it. Gabbert is only asked to operate off of what Maurice Jones-Drew is capable of.
But if the running back is not putting up productive numbers and the game is left up to Gabbert to win it in the air, the match has already been pre-determined. The Jaguars have not toppled 100 passing yards in the last three weeks and Gabbert seems to be digressing more than progressing as his time in the league moves forward.
Although, Gabbert does not throw interceptions, because you have to actually throw the ball to get interceptions, he has fumbled six times. Those six fumbles could easily be lost in the masses of yards he has racked up throughout his starts, but they are nonexistent. Gabbert looks uneasy when pressured and that is 90% of the time. Even his own guard is expressing a tad bit of displeasure with how the offense is being stifled.
"I couldn't imagine offensively that we'd be this anemic," said Jaguars guard Uche Nwaneri said.
The reason for the lack of offense can be explained by Gabbert's lack of willingness for contact. When a QB is afraid to get hit, the clock in his head does not need to be sped up because his heart is already beating at a thousand miles per second. It does not take the pressure of defenses to get up the middle or an outside blitz to throw Gabbert off of his game.
He is already well aware of where defenses are stacked and he allows this to jumble his sense of where his receivers are as well. As a result, he is wildly inaccurate or he throws the ball away in moments where there was an able and waiting receiver.
The failures of the Jaguars do not only rest on Gabbert's shoulders, but a large part of the blame does.