'Evil' Detroit Lions Are Good for No Fun League (NFL)
October 31, 2011
Doug Pensinger/Getty Images
The 2011 Detroit Lions are quickly establishing a reputation as the NFL's bad boys.  Heading into their bye week at a more-than-respectible 6-2, the Lions are winning with a refreshing, in-your-face attitude that has the NFL buzzing.
So far this season, NFL observers have witnessed:
- Lions Tight end Tony Scheffler lampoon opposing mascots during touchdown celebrations, including performing an imaginary sword fight against the Buccaneers and miming the act of sending up smoke signals against the Chiefs.
- Defensive tackle Ndamukong Suh fined by the NFL for playing too rough with opposing quarterbacks.
- Suh accused of taunting Atlanta's Matt Ryan while the Falcon QB lay injured on the field.
- The Lions run up the score on Kansas City as payback for the tampering charge brought by the Chiefs against the Lions last year.
- GM Martin Mayhew refuse the post-game handshake offered by Chiefs GM Scott Pioli, perhaps as additional retribution for the tampering charge.
- Feisty head coach Jim Schwartz chase down and bark in the face of San Fransico's Jim Harbaugh after the 49ers head coach dismissed "The Schwartz" with a quick post-game handshake and shove.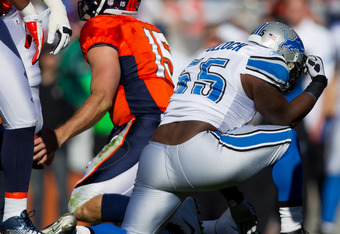 Justin Edmonds/Getty Images
- Scheffler and Lions linebacker Stephen Tulloch mock Denver QB Tim Tebow by "Tebowing" during the Lions' 45-10 pasting of the Broncos on Sunday.
While these and other indiscretions by the Lions may rub some of the football elite the wrong way, it is also possible to make a case that Detroit's resurgence, including the swagger and borderline dirty play, is actually quite good for the NFL.
Every professional sports league is better when there is a team to hate.  Witness last season's Miami Heat of the NBA.  They filled opposing arenas and internet forums with interested—and angry—basketball fans.  Or check out baseball's Evil Empire—the New York Yankees—during virtually any season.
The NFL, which flags "excessive" celebrations and fines players who call their worried wives from the sideline after suffering concussions, might learn a thing or two from the 2011 Lions.
Then again, perhaps they already have.  In Friday's preview of the Lions-Broncos matchup, the league's website, NFL.com, described the game as "Good vs. Evil," a tag that appeared to add additional fuel to the Lions' fire.
For the sake of the game, here's hoping that fire continues to burn right into the playoffs.