2011 NFL Awards: Midseason Edition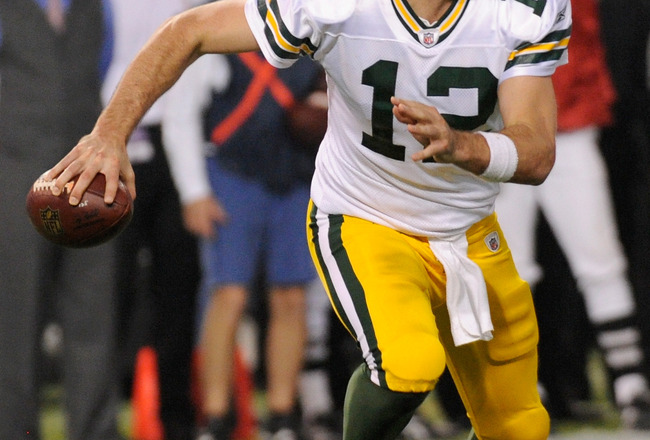 Hannah Foslien/Getty Images
Week 8 is officially in the books and standout players are beginning to earn their recognition. Aaron Rodgers has had a season that has been fit for a king, while Cam Newton may be one of the most talked about rookies of all time.
With half of the season out of the way, here are the players who seem to leading for this year's NFL awards.
MVP: Aaron Rodgers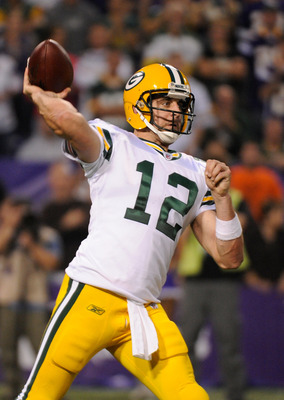 Hannah Foslien/Getty Images
Green Bay Packers quarterback Aaron Rodgers is unquestionably the MVP of the season at this point, for obvious reasons.
They are the reigning Super Bowl champs and still trucking right along.
His team is 7-0 and the only undefeated team left.
He has a completion percentage of 71.5.
He has a quarterback rating of 125.7
He has thrown 20 touchdowns (which leads the NFL) and just three interceptions.
Let's face it, the guy has played a nearly perfect season, and no one else's performance has even come close, argue all you want.
OPOY: Aaron Rodgers
Kevin C. Cox/Getty Images
See: previous slide.
In some cases this award goes to a different player than the MVP, this is not one of those case.
When a guy puts up numbers like Rodgers is right now, he is considered MVP in all of the categories in which he fits.
DPOY: Jared Allen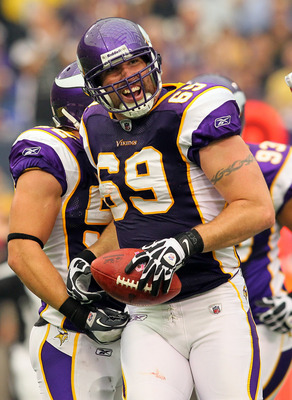 Adam Bettcher/Getty Images
DeMarcus Ware chants staaaaart NOW! Yes, you can make a case for both however, before you get your britches in a bundle let's take a look at the stats.
Sacks 12.5-to-12 in favor of Allen.
Tackles 34-to-31 in favor of Allen.
Yards lost on sacks 91-to-69 in favor of Allen.
Pass deflections 4-to-1 in favor of Allen.
Interceptions 1-to-0 in favor of Allen.
Force fumbles 3-to-2 in favor of Allen.
Fumble recoveries 3-to-0 in favor of Allen.
So that puts Allen at seven wins and Ware at 0, and there you have your defensive POY.
Now, these two are different positions, but comparing stats alone Allen gets the edge.
OROY: Andy Dalton or Cam Newton, Toss-Up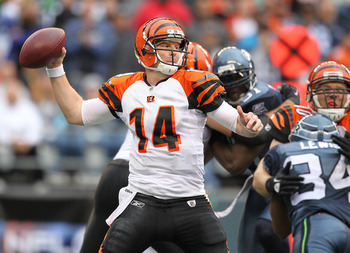 Otto Greule Jr/Getty Images
Andy Dalton or Cam Newton. Those are the only two choices in this situation, but the choice will be a very difficult one to make at that.
When I originally started writing this, I was going to be fair and admit that I am a big fan of Cam Newton's which made me want to choose him badly, but in an even more fair decision was going to choose Andy Dalton because I felt that he was more deserving.
But then I began to write, I came to the conclusion that wasn't necessarily true...at all. The more I tried to compare the two, the more I realized that this is a decision that I truly cannot make, and thank goodness, I will not be the one that will have to.
Talking wins and playoff chances, this award is far and away Andy Dalton's, however what Cam Newton has done and will continue to do statistically will be unmatched by any rookie.
To try and make a decision, here are the different factors relating to the two.
For starters, let's compare their NFL beginnings. Newton came in with ultra-hype and expectation as the top overall pick in the 2011 NFL draft, while Dalton was chosen as the 35th overall pick from the second round, with little to no expectations and almost no confidence from his organization for him to the be their starter. So in that regard, Dalton has defied the odds, but then again so has Newton as so many vocalized that he was not suitable as the first pick.
When considering the two, the first question was simple, who is winning. Now Newton has done all that he can in a number of games, and his team has still not won. However, the goal is to get victories, and Dalton has done that.
Dalton has the Bengals sitting at 5-2 in second place in the AFC North just behind the Pittsburgh Steelers and in the playoff chase. Already, he has won more games than the Bengals did last year when they went 4-12.
Newton, on the other hand, has the Panthers at 2-6, at the bottom of the NFC South and, probably safe to say, out of the playoff chase. With just a 2-14 season last year, Newton has not yet to improve the team's record, although I'm sure he will before the season over.
With Dalton edging out Newton for the most important statistic winning, it seems that would seal the deal, but these next two stats are where the decision gets substantially harder.
Obviously, talking passing yards, Dalton and Newton do not even compare. Newton has proved every critic wrong on his way to 2,393 passing yards already on the season. Not only is this number unreal, but in each of his first two games of his career, Newton passed for over 400 yards, destroying records. These stats alone could be enough reason to give him the nod.
Furthermore, Newton has accumulated 319 rushing yards and seven rushing touchdowns. Yardage-wise, he is second only to Vick for quarterbacks, but touchdown-wise he is second to no quarterback. In fact, Newton is third in the league overall for rushing touchdowns, behind only Adrian Peterson and LeSean McCoy, two of the most elite running backs currently playing in the NFL.
Dalton, on the other hand, has just 19 rushing yards for one touchdown.
The two's completion percentages are nearly the same with Dalton just edging out Newton 62.4 to 60.6, but for passer rating, Newton edges out Dalton 87.1 to 82.7.
Touchdowns to interceptions, Newton has 11 touchdowns to nine interceptions while Dalton has nine touchdowns to seven interceptions.
Here are the stats, decide for yourself, but both quarterbacks are great players. Even if Dalton does beat out Newton this year based on wins, with the kind of numbers Newton is putting up, he has easily one of the brightest futures of any young player in the league today and will undoubtedly redefine what it means to play quarterback.
This one is going to come down to final stats and biased voting
DROY: Von Miller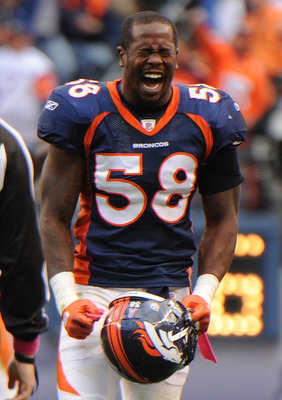 Bart Young/Getty Images
The competition for Defensive Rookie of the Year is between Denver linebacker Von Miller, San Francisco linebacker Aldon Smith and Arizona cornerback Patrick Peterson.
Between Miller and Smith, the race is a close one with Smith leading in sacks by a half a sack 6.5 to Miller's six. However, Miller has twice as many tackles as smith with 26 to his 13 and also has one addition forced fumble than Smith, two to one.
Smith's team has more wins, but the tackles give Miller the edge. As of today, Miller now has seven tackles behind the line this year for a loss of 45 yards. Final season stats will determine the true winner.
The reason Patrick Peterson can be considered is because he leads all rookies in total tackles with 28 and is second in combined tackles with 32. Peterson also has an impressive six pass deflections to go with his one interception.
Special Teams Player of the Year: Devin Hester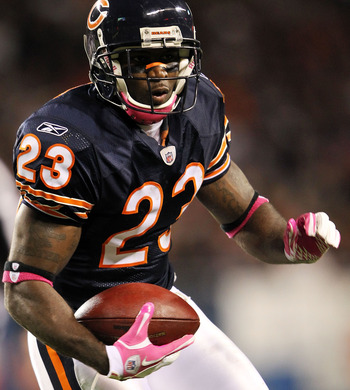 Jamie Squire/Getty Images
Performing as both the Chicago Bears kick and punt returner, Devin Hester has once again proved to be one of the best and most electrifying special teams players in NFL history.
During Week 4, Hester returned a punt for a touchdown, breaking the NFL record with 11 punt returns for a touchdown in his career.
Then against the Vikings two weeks later, Hester returned a kickoff 98 yards for a touchdown, even despite the new kickoff rule which many thought would omit returns such as these. That return gave Hester 16 kick returns for touchdowns in his career.
Not too mention Hester is doing all of this while playing wide receiver for the Bears as well.
What Hester continues to do every year is absolutely incredible.
He is a player that could easily reach the Hall of Fame based on special teams alone.
Keep Reading