NFL Predictions Week 8: Picks for Every Afternoon Game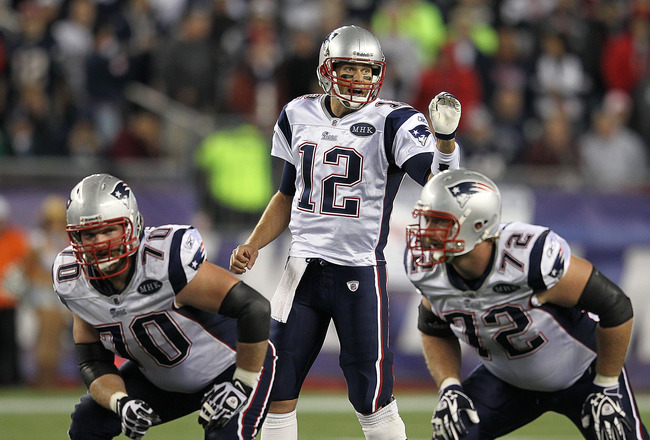 Jim Rogash/Getty Images
Week 8's afternoon slate of games is sure to produce in the entertainment category.
The highlight of Sunday's afternoon matchups is the game that will be played in Pittsburgh between the Steelers and the New England Patriots.
Another intriguing matchup will occur in Denver, as the Broncos send out Tim Tebow to take on the Detroit Lions, who are surprisingly 3-0 on the road.
The games should be close, and home-field advantage should be a major factor for the host teams. Here are my picks for each afternoon game.
Washington Redskins at Buffalo Bills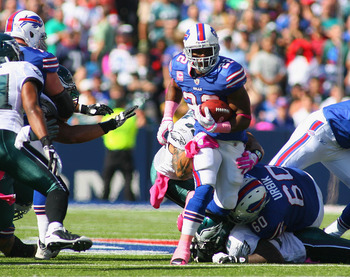 Rick Stewart/Getty Images
Buffalo will be playing what some consider to be an "alternate home game" when they kickoff against the Redskins in Toronto this afternoon.
The Bills have not yet won a game in Toronto, but things are looking up for them today.
Washington is reeling and battling through a heap of injuries, while Buffalo is primed to continue its early success with Ryan Fitzpatrick and Fred Jackson leading the charge.
The Redskins' recent change of direction at quarterback leaves question marks about this team's offensive identity.
Expect a big win for the Bills, who will try to keep pace in the AFC East.
Cleveland Browns at San Francisco 49ers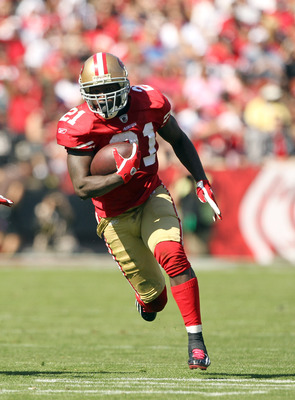 Ezra Shaw/Getty Images
San Francisco has quietly become a serious contender in the NFC.
Nobody would have guessed the 49ers would start the season 5-1, and a sixth win is very possible today for the team and first-year head coach Jim Harbaugh.
Cleveland enters the road contest without its top receiver, tight end or tailback healthy. Peyton Hillis' absence in the lineup has completely changed the dynamic of what has become an inept offense.
Look for the 49ers to control the ball and shut down Cleveland's offense.
This should be an easy win for San Francisco.
Cincinnati Bengals at Seattle Seahawks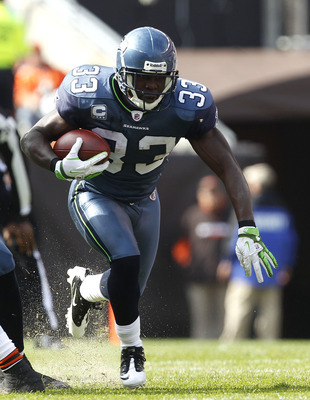 Matt Sullivan/Getty Images
Speaking of inept offenses, no offense looked worse last weekend than Seattle's.
Without Tarvaris Jackson, as well as other key players, Seattle mustered just a field goal in its 6-3 loss to an equally banged-up Cleveland team.
Cincinnati, on the other hand, has surprised us all with a 4-2 start. Quarterback Andy Dalton's composure has been significant, and the rookie quarterback is building quite a relationship with his fellow rookie, receiver A.J. Green.
But don't count out Seattle at home. Anytime Seattle is playing within the confines of its stadium, arguably the loudest in professional sports, teams can expect a fight.
Also, the return of Jackson should spark the offense to some extent.
I see this being a close game, but Seattle will come back strong and defeat the Bengals.
Detroit Lions at Denver Broncos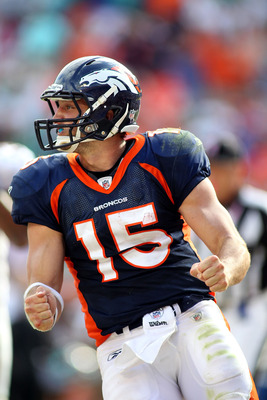 Marc Serota/Getty Images
All eyes will be on Denver quarterback Tim Tebow when the Broncos face the Detroit Lions later today.
Denver, who had been in a slide all year, came back with an impressive victory against Miami last weekend thanks to the play of their second-year quarterback.
Tebow will see his first home start this afternoon against a talented Detroit team that has an unusual 3-0 road record.
The Lions have lost their last two, but their defensive personnel should be enough to overwhelm the Broncos offensive attack.
Expect an easy win from the Lions today.
New England Patriots at Pittsburgh Steelers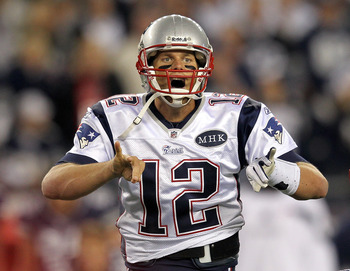 Jim Rogash/Getty Images
Expect a playoff atmosphere in Pittsburgh today, as Tom Brady and the New England Patriots invade the hostile environment at Heinz Field.
Pittsburgh is 3-0 at home this year and has started to look more and more like the team we thought it was each week.
But even with a stellar secondary, facing Tom Brady is a daunting task.
New England's pass offense has been unbelievable this year, and there are no signs of it slowing down.
The game today should be a shootout, and it will all depend on which defense can create some sort of havoc.
Don't expect the environment to get to the veins of Tom Brady.
The Patriots should walk out of this game with a close victory.
Keep Reading