Houston Astros: A Look at the Depth Chart at Each Position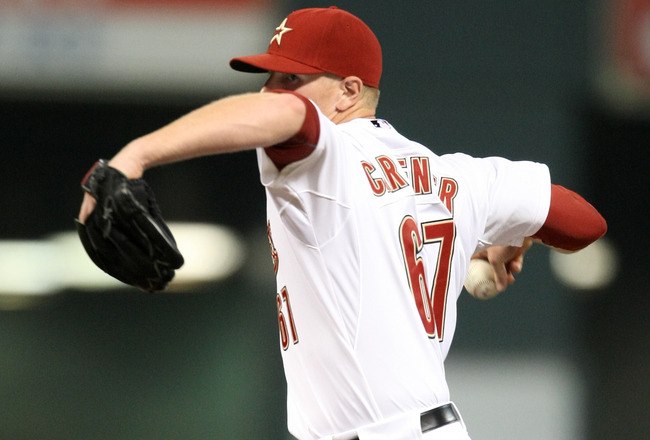 The postseason is officially underway.
Eric Christian Smith/Getty Images
Now that the offseason is under way, we turn the page and look towards 2012. It is way too early to project the 25 man roster, but we can take a look at the depth chart and see where the Astros might go this winter. It will not be a winter of big splashes, but there might be a few ripples that change the order of things.
Catchers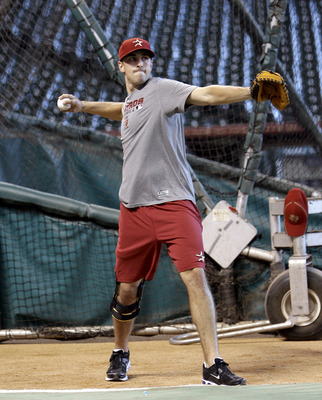 Castro is number one on the depth chart.
Bob Levey/Getty Images
Jason Castro is already playing regularly in the Arizona Fall League. His numbers aren't terrific, but to earn this job he doesn't have to be. All he has to do is prove he is healthy and can hit better than Humberto Quintero and Carlos Corporan. That shouldn't be too difficult. Quintero will be the backup based on his superlative defense.
1) Jason Castro
2) Humberto Quintero
3) Carlos Corporan
First Basemen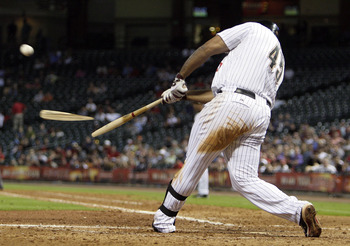 Lee looks to finish his Astros career at first base,
Bob Levey/Getty Images
Carlos Lee turned his offensive season around once he moved to first base. According to baseball-reference, Lee had an .828 OPS with 11 home runs and 52 RBI as a first baseman. He had a .788 OPS overall. So, if everything else is equal, the Astros would like for Lee to be at first base. However, Brett Wallace is still lingering and if he ever finds his power stroke, he could force Lee back out to left field. J.D. Martinez is also involved in this discussion too. This is the second most intriguing position battle in camp.
1) Carlos Lee
2) Brett Wallace
Second Base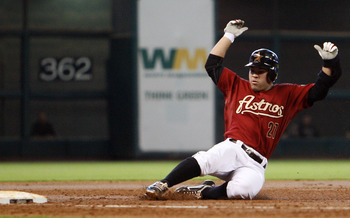 Altuve has the second base job sewn up for now.
Bob Levey/Getty Images
Jose Altuve has hit at every level of the minor leagues. The big leagues was a little bit different for Altuve last year, but he is very young and already as good as Jeff Keppinger overall. So, he gets the job for now and hopefully he grows into it.
1) Jose Altuve
2) Angel Sanchez
3) Matt Downs
Third Basemen
Here is hoping Downs will get a chance to play regularly
Bob Levey/Getty Images
Matt Downs is the forgotten guy in the third base hunt, but he is the best of the three choices. Chris Johnson turned in the worst defensive campaign in the National League at third. Jimmy Paredes looked okay, but his BABIP was .386. That was the same mark Johnson had in 2010 before falling off the map. Without batting average, Paredes doesn't have a whole lot of value because of lack of power.
Enter Matt Downs. Downs is not a gifted defender at any position, but he had 10 home runs largely in relief. Downs could be called the best pinch hitter in the National League. He had five home runs off the bench. That could mean he gets stuck there, but he is their best current option.
1) Matt Downs
2) Jimmy Paredes
3) Chris Johnson
Shortstop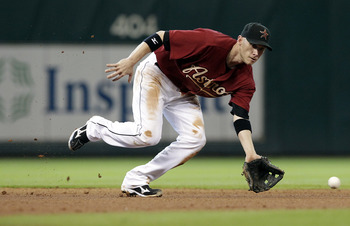 Re-signing Clint Barmes is priority one.
Bob Levey/Getty Images
The Astros want Clint Barmes back and Barmes wants to be back. He is smart enough to know he won't find a starting job in too many cities. Barmes is arguably the most valuable regular currently in the fold. He was arguably the best defensive shortstop in the National League this season and he slugged 12 home runs.
Angel Sanchez has filled in nicely the last two seasons in short stints as the regular, but his range is limited. He can also play some second base and third in a pinch. He is a valuable guy to have around off the bench, but he should not be a regular.
1) Clint Barmes
2) Angel Sanchez
Left Field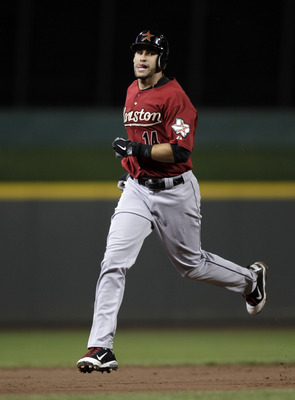 Martinez looks like the regular left fielder.
John Sommers II/Getty Images
J.D. Martinez hit at every level of the minor leagues before coming up to Houston. He had a great month of August, but came back to earth in September. Still, he looks to be the regular left fielder. There could be some movement on that depending on how well Brett Wallace performs in the winter and spring training.
Jason Bourgeois could be the fourth outfielder before all is said and done, but J.B. Shuck will be heard from as well depending on how the center field competition goes. Martinez will be the regular, but who backs him up remains to be seen.
1) J.D. Martinez
2) J.B. Shuck
3) Jason Bourgeois
Center Field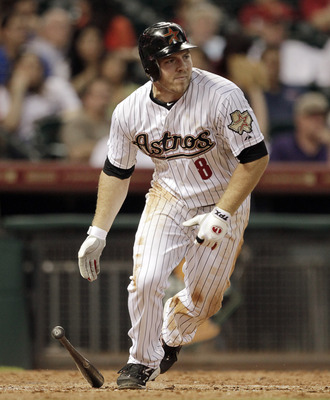 Shuck is under-appreciated by most scouts and fans.
Bob Levey/Getty Images
J.B. Shuck may be the second coming on John Cangelosi. Back in 1996, then manager said of Cangelosi, "All he does is get on base." That was meant to be a derogatory comment. Shuck is cut from the same cloth. Scouts and fans say the same thing. He doesn't hit for power. He doesn't have great speed. He won't be a great center fielder. Yet, at the end of the day, all he does is get on base and find a way to get the job done.
Jordan Schafer on the other hand finds ways not to succeed. Three years ago, he was supposed to be the Atlanta Braves center fielder of the future. Yet, it seems his career is going up in a cloud of smoke. As a fan, I am sick and tired of watching guys that seem to perform take a back seat to unrealized potential. Unrealized potential gets you nothing at the end of the day.
1) J.B. Shuck
2) Jordan Schafer
3) Jason Bourgeois
Right Field
Brian Bogusevic won't set the world on fire but he is passable.
Brian Kersey/Getty Images
One of the hardest things to do is to tell the difference between legitimate prospects and young players that are ultimately stopgaps. Bogusevic was taken in the first round, but ultimately is not a franchise player. He is the sort that will ultimately be a fourth outfielder, but as long as you know that going in your expectations will be appropriate.
Jason Bourgeois and J.B. Shuck are there to spell him when necessary. There is a possibility there will be a lefty/righty platoon. So, all of them will get playing time in some manner.
1) Brian Bogusevic
2) J.B. Shuck
3) Jason Bourgeois
Starting Pitchers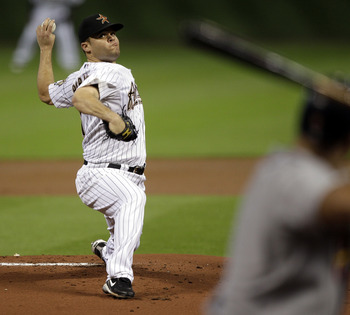 Wandy may have pitched his last pitch in Houston.
Bob Levey/Getty Images
1) Wandy Rodriguez
2) Brett Myers
3) Bud Norris
4) J.A. Happ
5) Jordan Lyles
6) Henry Sosa
7) Brett Oberholtzer
8) Aneury Rodriguez
The rotation is in a state of flux going into the offseason. Both Wandy Rodriguez and Brett Myers are possibly on the trading block. Brett Myers is probably as good as gone at this point. Wandy might be too. If that is the case then the Astros will be digging fairly deep into their depth chart to finish out a five-man rotation. This might be an area of concern that they address in free agency.
Relief Pitchers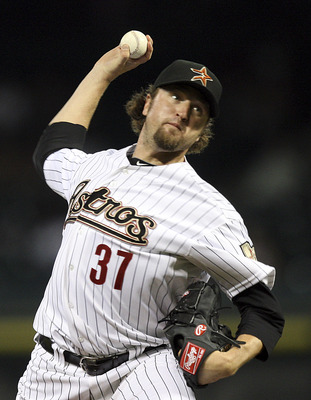 Is Brandon Lyon going to be back?
Bob Levey/Getty Images
1. Mark Melacon
2. Wilton Lopez
3. Fernando Rodriguez
4. Brandon Lyon
5. Juan Abreu
6. David Carpenter
7. Sergio Escalona
8. Fernando Abad
9. Wesley Wright
10. Lucas Harrell
Bullpens are always the most fluid part of the roster. Outside of the top four guys, it could go any particular direction next spring. Josh Zeid and Jason Stoffel will be invited to camp and there are always several non roster invitees that will get a shot.
Keep Reading

Houston Astros: Like this team?