Rangers vs. Cardinals World Series Game 7: Live Score and Analysis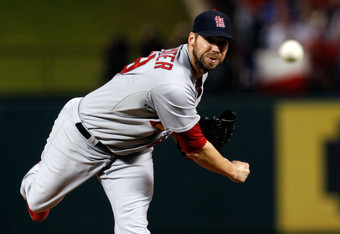 Pool/Getty Images
Thursday night's memorable Game 6 between the St. Louis Cardinals and Texas Rangers was one of the most exciting World Series games of all time.
Between the bumbling errors—including Nelson Cruz's devastating misplay in right—the Cards being down to their last strike and David Freese's memorable walk-off bomb, Game 7 will have a hard time stacking up.
But let's just hope that it's an appealing hors d'oeuvre for Friday night's main dish.
Including playoff and World Series work, Cardinals ace Chris Carpenter has faced over 1,100 batters in this 2011 season. It might not be great for his arm to send him out for another start on short rest. In Game 7 of the World Series, though, such considerations presumably go out the window, so it appears that Carpenter will face the Rangers one last time Friday night for all the marbles.
The Rangers have more of a dilemma on their hands. Ron Washington said Wednesday that, even in the event of a rainout, which came and pushed Game 6 back to Thursday, he would keep Matt Harrison on schedule to face the Cardinals in the deciding game.
But with Harrison giving up five runs and six hits in 3 2/3 innings in Game 3 and the lefty holding a mediocre 1-1 mark with a 5.02 ERA in three starts this postseason, it seems wholly possible that the Rangers will ask their bullpen for four or more innings in the winner-take-all contest, anyway.
Still, this is the top story to watch as we gear up for that rarest of treats in pro sports, a Game 7. Check back here often for updates, lineups and more as the action ramps up.
Don't Blame Nelson
"Nelson Cruz is the new Bill Buckner," said my brother-in-law as we watched the Cardinals celebrate Friday night. That sent a chill down my spine.
First and foremost, let's make it clear: No matter whether fault is fairly or unfairly placed, to hate a player personally, harbor genuine ill will toward him or want him off your team because of a perceived choke job is reactionary, divisive and wrong. Buckner did screw up, as did Don Denkinger and Steve Bartman, but the fact that some people hated each enough on a personal level to derail their lives is nauseating.
Secondly, it's only fair to note that Cruz by no means had unalienable rights to the ball that soared over his head for Freese's Game 6, game-tying triple. He should probably have caught it, but the play (which also did not end even Game 6) was not nearly as easy as the one Buckner faced in 1986.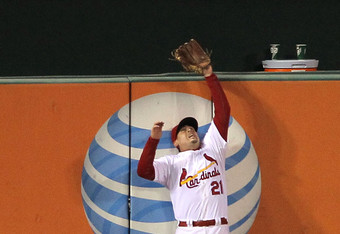 Doug Pensinger/Getty Images
5 Other Great Cards
Though David Freese was a clear World Series MVP selection, the Cardinals owe their victory to many other men in equal or greater measure. Here are five guys who could as easily have won the Series MVP:
Allen Craig: He had critical pinch hits in Games 1 and 2, homers in Games 3, 6 and 7 and a terrific homer-robbing catch against Nelson Cruz Friday night that stopped the last effort Texas made to really rally.
Lance Berkman: The tying single in the 10th inning Thursday ought to be enough to merit consideration. If not, his .423/.516/.577 line should do the trick.
Yadier Molina: He had a .417 on-base percentage, drew bases-loaded walks in both of these two thrilling home wins, and drove in nine total runs in the Series. Molina is also a huge asset behind the plate, as Cardinals pitchers consistently attest.
Albert Pujols: Though he had just one dominant performance, Pujols scared Ron Washington into many bad decisions thereafter. He drew intentional walks Washington never ought to have issued.
Chris Carpenter: Three starts, 19 innings, 22 base runners and a pair of wins to book-end the series are all the more impressive because Carpenter was worked so hard in the pursuit of this objective.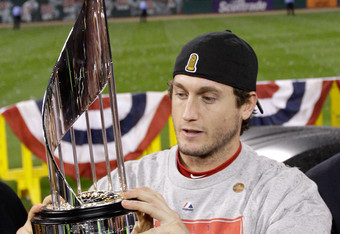 Freese Wins World Series MVP
David Freese winning the World Series MVP was a no-brainer. He is the hometown kid making good, the hero of both Game 6 and Game 7 and the Cards' most underrated asset. He became the first position player to take home both the League Championship Series MVP and the World Series MVP in the same year since Darrell Porter in 1982, also for St. Louis.
Freese's name will forever be linked to these two final games. He drove home the tying runs in the bottom of the ninth inning Thursday, with a triple off the right-field wall. He hit the game-winning, walk-off homer that sent Joe Buck into a fit of filial nostalgia.
Then, for good measure, he doubled home they tying runs in the first inning Friday to knot the game 2-2, after which the Cardinals never trailed again. In three plate appearances, he amassed over a win's worth of WPA. Freese had the kind of Series of which even Hideki Matsui, Carlton Fisk and Mickey Mantle should be jealous.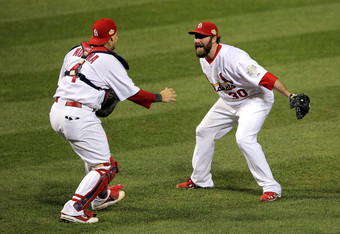 Rob Carr/Getty Images
But Didn't We Have Fun?
We'll see lots of things written about this 2011 World Series over the next few days. We'll hear that it was the best in two decades, though it wasn't. We'll hear that it represented the best the game can offer, sportsmanship, resiliency and sheer thrill, though it didn't.
We'll hear lots of stories about how we were all wrong about Tony La Russa, after all, and how David Freese is an amazing person. Jason Motte will get an endorsement deal or three for his beard alone.
None of it is accurate. All of it is faulty narrative. The Rangers were the better team, but the Cardinals won. The Series featured no fewer than five glaring managerial gaffes per contest, and about as many egregious defensive miscues. There were bases-loaded walks and bases-empty intentional walks and a whole lot of misleading talk about momentum and character in this game.
It was fun, though. For the first time in nearly 10 years, we got to see two teams fight it out in a winner-take-all Game 7. Five of the seven games were tightly contested, enthralling showdowns. There were legendary performances, unlikely heroes, unfathomable twists and glaring goats.
This Series was sloppy, poorly managed and often ugly, but it was a blast, and instead of insisting it go into some pantheon alongside the 1975, 1972, 1991 and 1964 Fall Classics, it would be a lot of fun if we all just remembered this Series as a fun one to watch and a glimpse into bright futures for two very good organizations.
The Cardinals win, 6-2. They are the new World Series champions, borne in the last on a fly ball by David Murphy that fell harmlessly into the glove of Allen Craig. Jason Motte shut down Texas in order in the ninth inning, but the pitching icon of this series must be Chris Carpenter. He did it all for Tony La Russa and the Cards this October.
Out number two comes on a Mike Napoli grounder to Daniel Descalso at third base. Any pitch now could win it.
Jason Motte enters and secures the first out on a lazy Nelson Cruz fly out to center field. Two more outs.
Drama denied. Alexi Ogando strikes out Allen Craig on one pitch (yes, that's really the way it goes into the books; fun fact). and Pujols is left in the on-deck circle. No matter. Assuming the Cards can hold their four-run lead through the next three outs, Pujols will get his due from the Busch Stadium crowd.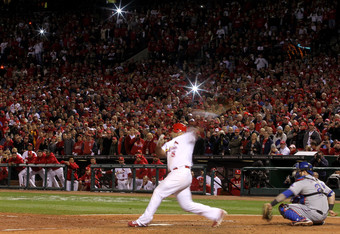 If you love drama and are willing to embrace it even in its trivial forms, here's something to ponder as the Rangers make a pitching change necessitated by an injury to Mike Gonzalez. Allen Craig has a 3-2 count against him. If he reaches base, Albert Pujols comes to the plate one more (last?) time as a Cardinal in this series. It may not be breathtaking baseball drama, but it could be, you know, a nice moment.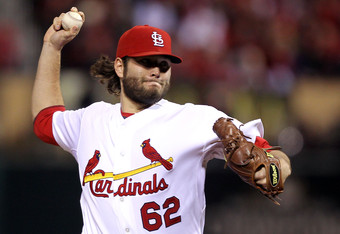 Lynn just rocketed three straight fastballs past Adrian Beltre to finish off Texas in the top of the eighth inning. The Cardinals hold a four-run lead and a whole l0ot of swagger. Give Tony La Russa credit: He is not micro-managing tonight. He simply opened the throttle as this lead grew and let his boys outplay the other guys, knowing he had margin for error.
Michael Young (have I mentioned he doesn't belong in the cleanup slot?) pops out to Pujols in foul ground. Lynn is pitching without fear, and since he leads by four, justifiably so.
Lance Lynn is on for St. Louis. He's been heavily used and the Rangers should be familiar with him, but then again, he is big, has great downward plane on his fastball and has managed to keep them off-balance to this point. Josh Hamilton fails to start a rally.
Five more outs.
Scratch all that about Adams. He gave up a run, looked tired and spent, and now will watch whatever is left of Game 7 from the dugout or the clubhouse. Enter Mike Gonzalez, which is nice to see at least, since the Rangers lost last night without ever going to their best left-handed bullpen asset.
Gonzalez escapes, but now the deficit is four runs, and unless Texas's dynamite offense finds its fuse fast, it will all have come too late.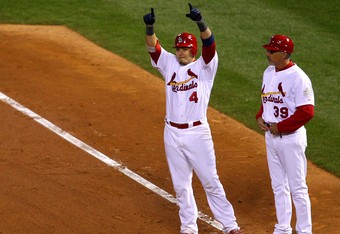 Yadier Molina may have delivered the final blow for the Cardinals, singling cleanly through the box with two men on and one out. Josh Hamilton probably had a play at the plate, but got little on the throw and missed wide left of home plate anyway. Call it groin-related, or simply call it a poor throw, but Hamilton's lackluster defense might have just driven the final nail into his team's coffin.
Mike Adams is in for Texas. Expect to see him in the eighth inning, too, unless Ron Washington has gone totally around the bend. He's the heart-healthiest Rangers reliever right now, and although we can debate the realism of a comeback at this stage, it's only wise to push Adams and keep that possibility in play until the final out.
The Cardinals are the old and decrepit team in this match-up. They are the ones loaded with over-worked veterans like Octavio Dotel, Rafael Furcal and Chris Carpenter, among others. They are the ones who should look tired right now.
From somewhere, though, they seem to draw upon an inexhaustible supply of their former strength. Dotel, in particular, has looked unhittable at points this month, and when he fanned Ian Kinsler on a downright feeble swing for the second out of the seventh inning, it became clear which team was really running out of gas. Dotel got a weak fly out from Elvis Andrus to end the threat.
Six outs left for Texas.
At the seventh-inning stretch, 5-2 Cardinals.
Huge moment here. With a runner on second and one out, the Rangers have a chance to get back into this contest. It comes down, thus far, to Octavio Dotel against Ian Kinsler.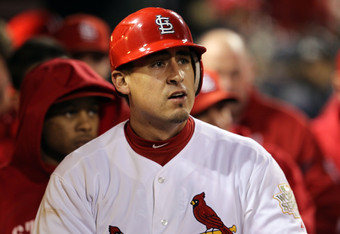 Allen Craig's big hang-up, the thing that kept him from establishing himself in the big leagues over the years, was always the fact that he had no glove. He's just not a good left fielder. The play he just made to rob Nelson Cruz of a double or home run doesn't change that.
It does, however, change everything else. Chris Carpenter still looks smooth, easy, finishing his delivery as if at his physical peak in June or July. If Cruz's bomb had put another run on the board for Texas, though, the Cardinals might have had to think seriously about whether Carpenter could stay in much longer. Certainly, it also would have affected Carpenter's strategy and mental game.
As it is, Carpenter has cruised through six frames. The Cardinals are nine outs from among the most improbable titles ever.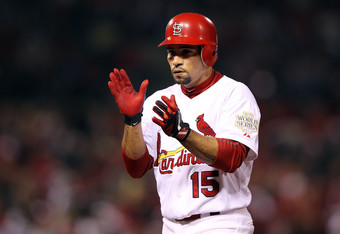 He h9it him! C.J. Wilson plunked Rafael Furcal, the second time in the inning that a Rangers hurler has given a Cardinal first base in that way, and the Cardinals push across another easy run to extend their lead. The score now stands at 5-2. He fanned Skip Schumaker to end the inning, but the Cardinals are now 12 outs from winning the World Series. At the end of five, it's a three-run lead for Chris Carpenter.
Here enters C.J. Wilson, making as important an appearance as he has during this entire postseason, even though he was a starter until now. He enters with Rafael Furcal due to bat, the Rangers already down two runs, the bases loaded and two outs in the bottom of the fifth. If the game gets further away from Texas, the season might be over for the superior Rangers team.
After Scott Feldman demonstrated his wanting command by hitting Albert Pujols with a pitch, Ron Washington would have been wise not to put undue pressure on his right-handed reliever to throw strikes. Yet, he ordered an intentional walk to load the bases, and the very next batter drew a six-pitch free pass from Feldman to double the Cardinals lead to 4-2. Poetic justice in action.
With runners on second and third and two outs in the bottom of the fifth, the Rangers are intentionally walking David Freese to load the bases and face Yadier Molina. This is the wrong choice, again, by Washington. St. Louis might break it open here.
Two Ron Washington gaffes killed the Rangers' fifth-inning rally. He foolishly chose to have Elvis Andrus bunt over Ian Kinsler, and before the game, he foolishly slotted in Michael Young to bat cleanup. Those two errors cost Texas a potential run, and now in the bottom of the fifth, the Cards are threatening with two on and two out.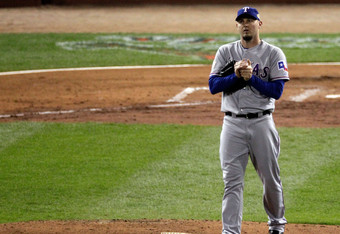 Harrison just doesn't have it tonight. Now that he's calmed down a bit, his stuff is flat and his location is floating. If it weren't for Skip Schumaker, the Cardinals would be counting down outs right now. It's going to be a major topic of discussion no matter what, but if Ron Washington doesn't get a reliever in for Harrison soon, his choice to start Harrison over Derek Holland tonight could look worse than it already does.
Chris Carpenter got what Matt Harrison could not, locking down the Rangers after getting a lead in the bottom of the third frame. It didn't hurt that Texas sent batters seven, eight and nine to the plate, but still, Carpenter is starting to find a rhythm that should scare Rangers fans. His mechanics tonight are as solid as they have been since at least the NLDS, and probably late September. His follow-through is cleaner, his fastball more effortless.
This article is
What is the duplicate article?
Why is this article offensive?
Where is this article plagiarized from?
Why is this article poorly edited?