Dolphins vs. Giants: How New York Can Put Tony Sparano Out of a Job This Weekend
October 27, 2011
Jim McIsaac/Getty Images
When the Miami Dolphins travel to New Jersey this weekend to take on the New York Giants, the cloud looming over their heads will be the uncertainty of their head coach's job. 
Some of you might be reading this headline thinking, "He isn't gone already?"
Yes, the writing does seem to be on the wall for Tony Sparano being let go; the Dolphins pushed hard for Jim Harbaugh last year and haven't won a game in 2011. 
Then news broke this week that Sparano put his house on the market for the second time this year. Sparano claims the move is simply because nobody is living in the house any more, but let's get real, he's just anticipating what we're all expecting to happen in the coming weeks. 
What better way to prove that then to hear what CBS cameras caught Sparano yelling at the officials in Sunday's loss to Denver. 
"If I don't call timeout we're all [explicit]. Now I'm getting fired."
That's classic. Basically the guy is aware he's getting canned. He has put his house on the market and he is using it as an excuse with officials. 
To tell the truth it's conspicuous that the Dolphins haven't fired him already considering the way Stephen Ross has been speaking to the media. Maybe there is something to this "Suck for Luck" campaign to secure the No. 1 pick in the draft.
What better way to keep your team losing then continuing to employ a coach the players don't listen to? 
To that point it doesn't get any clearer with the news breaking that team officials have reportedly been in contact with former Pittsburgh head coach Bill Cowher.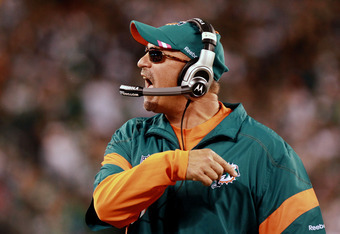 Nick Laham/Getty Images
Can you tell how much the Dolphins are a mess by now?
Honestly, it's pretty surprising he wasn't fired the second after his team blew a 15-point lead in the final three minutes to the Broncos.
Tim Tebow was having one of the worst days by a QB I've ever seen, yet the Dolphins turned to their "play not to lose" defense and let it all unfold.
All of that said, the way New York will run Sparano out of Miami has nothing to do with their defense, but rather the embarrassing unit they call an offense. 
Yes, this Wednesday I cautioned you to be wary of Matt Moore and the fact that he killed the Giants in 2009. He will have confidence coming in to this game no doubt, but unfortunately he's not bringing much talent around him. 
The Dolphins offense is hardly formidable, and the Giants' bevy of pass-rushers are licking their collective chops at a chance to get back at Moore. 
The Giants have missed Justin Tuck—Pro Bowl defensive end and captain—for four games now, and despite that they still are tied for the league lead in sacks with 21. 
Tuck says he plans to play against Miami and has felt better than he has all season. 
"If I could go into the game feeling like I do right now, then yes, I'd probably play," Tuck said this past weekend. "You just want to be careful and not have setbacks."
For all of their success rushing the passer, the Giants defense has desperately missed their captain from a run defense stand point. 
The Giants seemed to get their running game and defense back on track last weekend (aside from that 80 yard run), but still rank 30th and 27th in those categories, respectively. 
One should cringe at those numbers—this isn't what a Giants team is supposed to be about. They are about imposing their will on opposing defenses, and right now all they seem to be doing is exposing how soft they are. 
With a fully healthy offensive and defensive line this weekend, those problems will likely start to fade away. 
Who better to exercise your demons from the 2011 season than on a team that hasn't tasted victory?
As a Giants fan, you may try and caution yourselves with the notion that the Dolphins are desperately seeking their first win, but that doesn't stop them from being devoid of talent. 
The Giants did have a hiccup in their loss to Seattle, but Tom Coughlin won't let that happen again. Expect a win in blowout fashion setting up their huge contest against Tom Brady and the Patriots in Foxboro. 
With that blowout you can also expect to see Tony Sparano in the unemployment line.