Tarvaris Jackson and 10 NFL Players with No Future in the League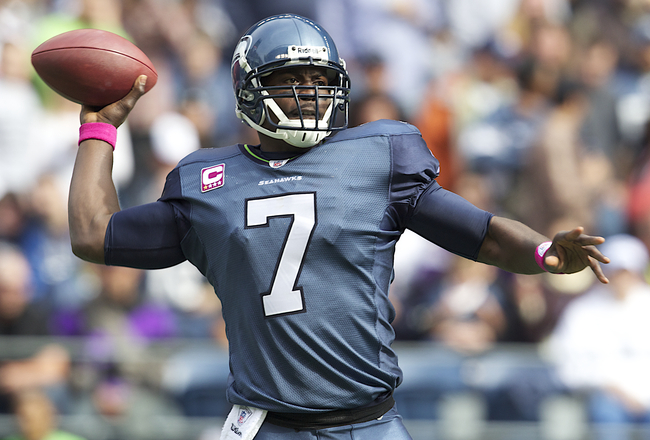 Stephen Brashear/Getty Images
Tarvaris Jackson is one of many players in the NFL that seem to be approaching the point of futility. To be fair, some of these athletes have already jumped the shark; their agents and coaches just don't realize it.
I should also make it clear I haven't completely written off Jackson's ability to be an adequate quarterback. He isn't going to become a top-10 guy, but he has shown signs of life this season. Stat-wise, he's currently a high-teen contributor—and that is accompanied with playing behind a very poor offensive line.
A few of these nominees will be obvious, a few could be stretches and one or two may make some think I'm oblivious.
Players you won't find on this list are those that have claimed to retire, regardless of how many times they've said they are done. So while Brett Favre and Randy Moss may be mentioned later in this article, it won't be on the title of the slide.
Charlie Whitehurst, QB, Seattle Seahawks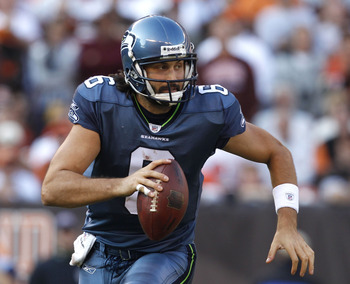 Matt Sullivan/Getty Images
It just seemed wrong to have this list without including the quarterback that has shared a glaring spotlight with Tarvaris Jackson.
Most Seattle Seahawks fans saw Charlie Whitehurst as the savior at their quarterback position. The struggles the offense had under Jackson during preseason led to an outcry to move Jackson out and Whitehurst in.
A Week 5 injury to Jackson gave Whitehurst his opportunity. With the bye week offering an extra week of preparation, Whitehurst stepped up behind center in Cleveland and showed fans what the coaching staff had already seen: Whitehurst isn't cutting it as an NFL quarterback.
Albert Haynesworth, DT, New England Patriots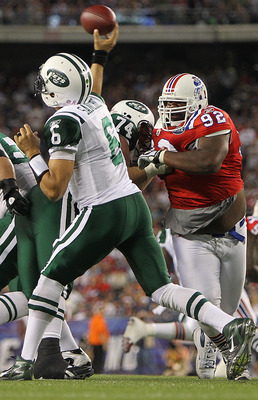 Jim Rogash/Getty Images
Quick—which Patriot has more tackles on the season: Albert Haynesworth or Deion Branch?
If you said Branch you are wrong. However, you'd also be wrong if you said Haynesworth. Both players have two on the season.
Some former stars elect to leave the league gracefully. That boat has already sailed for Haynesworth, though.
T.J. Houshmandzadeh, WR, Free Agent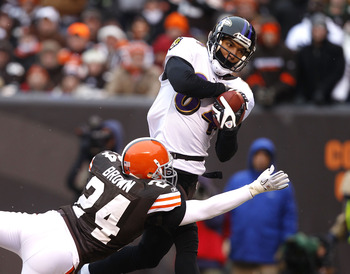 Matt Sullivan/Getty Images
Yes, I did say the list wouldn't include any players that were retired. Believe it or not, T.J. Houshmandzadeh is still attempting to land on an NFL roster.
He recently had a workout with the San Francisco 49ers. The 49ers are in dire need of a veteran target to catch passes from Alex Smith, but they opted to go a different direction, leaving Houshmandzadeh's future in doubt—and by "in doubt," I mean over.
Adam "Pacman" Jones, DB, Cincinnati Bengals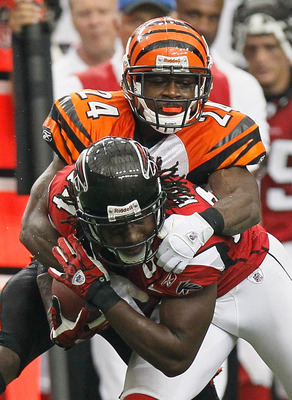 Kevin C. Cox/Getty Images
Adam Jones has just started to practice with the Bengals in what will be his fifth season in the NFL. It is hard to believe he's combined all that controversy into just four years of time in the league.
Jones needs to realize the NFL needs him even less than he pretends to need it.
Hines Ward, WR, Pittsburgh Steelers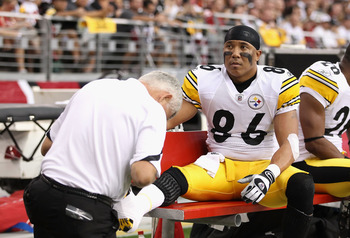 Christian Petersen/Getty Images
Hines Ward has had a solid career for the Pittsburgh Steelers, but it is time for him to ride off.
SEASON

GP

REC

YDS

AVG

TD

FD

1998

16

15

246

16.4

0

12

1999

16

61

638

10.5

7

31

2000

16

48

672

14.0

4

31

2001

16

94

1,003

10.7

4

52

2002

16

112

1,329

11.9

12

66

2003

16

95

1,163

12.2

10

60

2004

16

80

1,004

12.6

4

52

2005

15

69

975

14.1

11

53

2006

14

74

975

13.2

6

50

2007

13

71

732

10.3

7

47

2008

16

81

1,043

12.9

7

55

2009

16

95

1,167

12.3

6

56

2010

16

59

755

12.8

5

35

2011

7

26

258

9.9

2

15

Totals

209

980

11,960

12.2

85

615
Shawne Merriman, LB, Buffalo Bills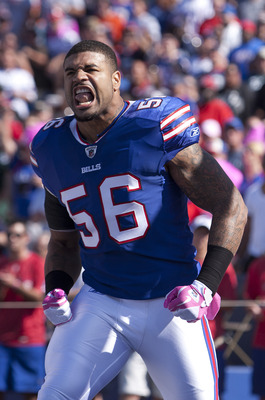 Brody Wheeler/Getty Images
Shawne Merriman has done very little since signing with the Buffalo Bills, other than spend time on injured reserve.
Merriman was one of the most feared linebackers in the NFL, but injury issues have slowed him greatly. Merriman may only be 27 years old, but he is ready to do something other than play football on Sundays.
Bob Sanders, S, San Diego Chargers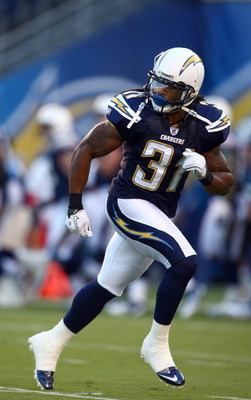 Donald Miralle/Getty Images
At 30 years old, a defensive back would normally have a few seasons left in him. However, Bob Sanders only has a few seasons of actual work under him, appearing in just 10 games over the last three seasons, and over half of them were in 2008.
The Chargers needed help at safety and opted to gamble that Sanders' injury issues were behind him. They were so, so wrong.
Some argued it was worth the risk. If he were able to stay healthy he could be one of the better safeties in the NFL. The problem is, putting him on the roster takes a spot away from a player that figures to be part of the team after the bye week.
Sanders may get an opportunity to come in and help a team with injury issues late in the season next year, but there is no reason to believe a team won't be willing to look for his replacement.
Terrell Owens, WR, Free Agent, Chad Ochocinco, WR New England Patriots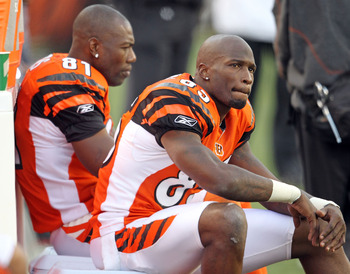 The T. Ocho show is officially grounded.
Andy Lyons/Getty Images
Terrell Owens is getting a bit of help from his agent, Drew Rosenhaus, in demonstrating he is ready to return to play in the NFL.
Chad Ochocinco is getting help from his quarterback, Tom Brady, in demonstrating he still hasn't returned to the NFL.
When discussing Owens' recent workout, and the lack of NFL teams present, Rosenhaus wasn't phased—nor should he be, at least by teams not travelling to Calabasas, Calif.
"Just because they weren't there doesn't mean they weren't interested," Rosenhaus said. "I can guarantee all 32 teams were interested."
That is a bold guarantee, particularly considering Carson Palmer has already expressed a lack of interest in a reunion with Owens. From an interview on 95.7 The Game:
T.O. and I had a great working relationship, he had one of his most successful years over the past five or six years, a lot of production and he was a great teammate in Cincinnati. The problem is that for him to get here there's not anybody that we could let go. We have a stable of young horses that can run and guys that can just move, very young, very inexperienced but tons of potential and it's tough to give up a young guy with a lot of potential for a guy that's got a lot of history in the league that's in his late 30s. So, I can't see him coming here but I had a good time playing with him and he's an explosive player himself.
While Palmer's words may hold true, it isn't as though the Raiders are thick with playmakers at wide receiver. Derek Hagen is a 27-year-old that has played for three teams over six seasons. He's never hit 30 receptions or 400 yards in a season. In fact, his 96 receptions and 1,083 yards reveals a career that is on par with one season for Owens.
Ochocinco has been anything but an impact player in New England. While he has used Twitter to warn fans not to give up on him, his stats through six games are what one would expect from a single game (9 Rec, 136 YDS, 0 TDs).
Michael Vick, QB, Philadelphia Eagles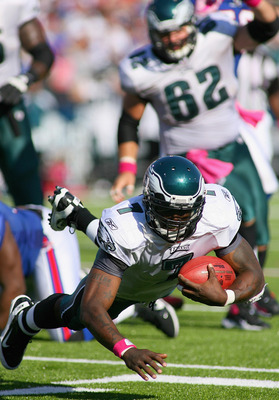 Rick Stewart/Getty Images
How could one of the most versatile and dynamic quarterbacks in the NFL make this list? Michael Vick is a major playmaker and a threat with his arm or his legs every time he touches the ball—certainly someone lost his mind to include him on this list.
Not quite. It is easy to see Vick is gifted and uses his legs as well as any quarterback that has gone before him. The problem is he lacks the size to take the beating he's taken the last two seasons.
Vick has had several concussions, including what appeared to be a severe concussion earlier this year.
Vick is putting himself at extreme risk. His offensive line is lacking, making spending time in the pocket a difficult proposition.
His departure would most surely hurt the Eagles and the NFL, but player safety needs to be a priority.
Tarvaris Jackson, QB, Seattle Seahawks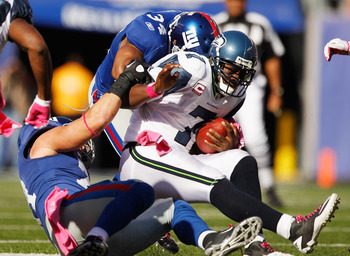 Jackson took a lickin' when the offense was finally clickin' and he quit tickin'
Mike Stobe/Getty Images
Tarvaris Jackson has taken immense criticism this season with any national analysts have called him the worst starting quarterback in the NFL (evidently a lot of them forgot there was still a team in Miami).
Head coach Pete Carroll has also been criticized for bringing in Darrell Bevell's maligned quarterback from Minnesota.
There were few options available for Carroll this offseason, though, and bringing in a quarterback that at least knew Bevell's offense made sense. Jackson had also made small yet steady strides each year in the NFL and had spent the last two seasons absorbing some of Brett Favre's expertise.
Jackson has had some success this season, but it might not be enough to keep him starting for the Seahawks next season. Seattle will likely look to add a true franchise signal caller.
Jackson figures to be a solid backup, but unless he's able to lead the Seahawks on a winning streak his days as a starter are close to being over.
| | | | | | | | | | | | |
| --- | --- | --- | --- | --- | --- | --- | --- | --- | --- | --- | --- |
| Rank | | | | | | | | | | | |
| 21 | 157 | 99 | 63.1 | 1,012 | 6.45 | 55 | 6 | 5 | 18 | 81.0 | 202 |
Keep Reading