Chicago Cubs: Good Luck, Theo Epstein...in 8 Years
October 27, 2011
Jonathan Daniel/Getty Images
Congratulations, Theo Epstein, on your new job as Chicago Cubs president of baseball operations. You earned it thanks to your work as the Boston Red Sox general manager. I wish you the best with your new team and hope you can bring the Cubs a World Series like you did for the Red Sox.
Just not soon.
This isn't bitterness. Nor is it jealousy. This isn't lingering anger because you're leaving right after the historic collapse.
You don't have an obligation to clean up that mess. It's just that you're no longer a member of Red Sox Nation. No hard feelings.
Epstein knows how loyalty works. The Red Sox were the Red Sox before Epstein arrived and will still be the Red Sox now that Epstein is in Chicago. The one constant is the support the Red Sox has from the fans. This is our team and will always be our team, no matter who comes and goes.
But it's been a long time since anyone did what Epstein did with the BoSox. For that, we will always be thankful.
Taking away Epstein's credit started even before his departure became official. A lot of people said that Boston was a championship-caliber team before Epstein made alterations. But "almost" doesn't get it done. Epstein got the Sawx over the top.
How quickly people forget convincing pitcher Curt Schilling to sign with Boston. Or that Epstein made the right choice when he hired manager Terry Francona. And it took balls to trade shortstop and Sox-grown hero Nomar Garciaparra and replace him with the less offensive, but better defensively, Orlando Cabrerra. It seemed crazy at the time.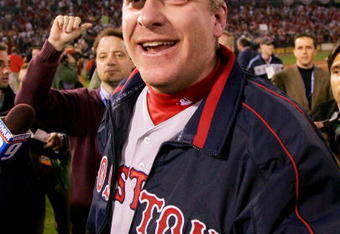 Jed Jacobsohn/Getty Images
But it all worked. Moments like "The Steal" and "The Bloody Sock" don't happen without Epstein making all the right moves. The players play the game, but Epstein got them to Boston to do it. After 86 years, fans shouted, "Curse Reversed!"
One day, hopefully, Epstein will win a World Series with the Cubs and break the Billy Goat Curse. Just not soon.
Considering the state of the Cubs, Epstein has his work cut out for him. It's nearly the opposite situation he's walking into from the one he acquired in Boston. Hopefully, by the time Epstein wins it all with the Cubs, the Red Sox will win another championship or two under the direction of Epstein's protégé Ben Cherington.
No offense, but I want to watch Epstein suffer for a little while after walking away from his dream job. Considering the state of the Cubs, it will take time to clean out the clubhouse of bad attitudes and replenish the farm system.
Epstein can and will do that because he has his experience with Boston to rely on. It was a hard lesson learned when Epstein forgot the value of team chemistry. He'll remember it's not how much you spend but spending on the right people that will turn the Cubs around.
Epstein has his plan in mind based on the introductory press conference. He broke it down step by step and he will execute it. Epstein will bring back the pride in the Cubs as he establishes "The Cubs Way."
The Cubs Way? Theo please! You stole that from the New England Patriots and adapted it for the Windy City. Come on, man. Be original. Fresh start, fresh catch phrases!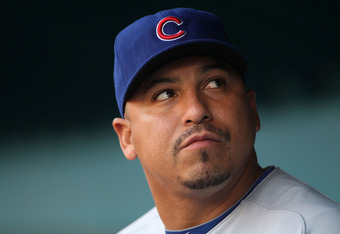 Mike Ehrmann/Getty Images
In an editorial written by Epstein that appeared in The Boston Globe, he suggested that one day he could meet again with Red Sox Nation in October. Aw, how cute. A Red Sox vs. Cubs World Series.
Nice try, Theo. Rule No. 1 is you can have success, but not at your former team's expense. Ostensibly, it would be a great story that Major League Baseball would just eat up. But if Epstein wants to stay on Red Sox Nation's good side, Boston better be the victor.
If Epstein continues to follow Bill Walsh's advice, he'll be ready to move on to his next challenge in 2021. So let's say eight years from now Epstein wins the 2019 World Series with the Cubs. If he can do that, Epstein is a lock for the Hall of Fame for ending two historic curses.
Then in two years, it's on to the next challenge. I propose the Pittsburgh Pirates. The waiting period for a Pirates World Series win will be waived.
Randolph Charlotin writes a sports blog at www.randolphc.com. Send any questions or comments to talktome@randolphc.com.