Matthew Stafford Injury: Shaun Hill Gives Detroit Lions No Chance to Win
October 26, 2011
Leon Halip/Getty Images
Matthew Stafford is injured once again.
Are you surprised?
Of course not. The guy has been on IR in both of his first two professional seasons.
While his ankle injury that he suffered at the end of the Lions game against the 49ers initially didn't seem too serious, it now looks like Shaun Hill seriously might start on Sunday.
Chris Mortensen put out an interesting tweet yesterday,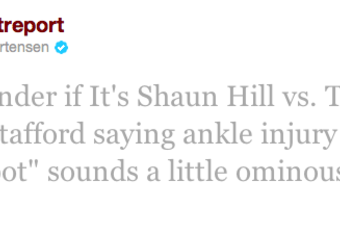 As did Dion Caputi for NFLDraftUpdate,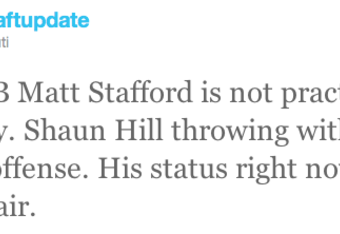 So it seems very likely that Hill is being considered the starter for Lions game against Tim Tebow and the Denver Broncos this week.
This is a terrible situation for the Lions to be in as they are in the midst of a two-game slide right now.
After starting the season 5-0, they can't afford to go on a downward spiral and lose any more games.
Hill has a career 13-13 record but 10 of those wins came with the 49ers. That makes him 3-7 as the starter for the Lions and this is just a terrible track record.
The Lions have not made the playoffs since 1999, and Hill is not the man who can lead them back there.
The best-case scenario right now for the team is that Stafford is just resting because of his 'weirdly' sprained ankle and that the second-opinion is a positive one for the young QB.
Detroit cannot afford to lose their former No. 1 overall draft pick for another extended period time, or they must face the fact that he may never be healthy enough to win for this team.
I'm hoping that Hill taking starting reps is just a complete precautionary measure and perhaps even deception aimed at the Broncos.
Having to game-plan for Hill and Stafford are two completely different animals.
Keep it tuned to Bleacher Report throughout the week for the latest news and opinion on Stafford's injury and starting status.