The Great Chicago Hire: Why Theo Epstein to the Cubs Is a Huge Mistake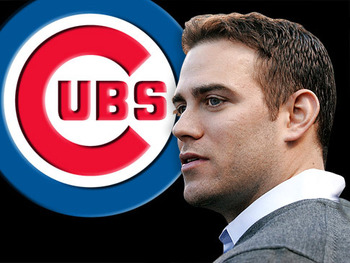 By now just about everyone has heard the word, the official, final, resolute word that Theo Epstein has joined the Chicago Cubs, one of the most prestigious, albeit haunted franchises in sports.
Say what you will about the curse(s), but team chairman Tom Ricketts sure seems to be confident in his decision to bring Epstein over from Boston:
"We began this search in August, and I said at that point we were looking for someone with a background in player development, someone who had a proven track record of success, someone who had a strong analytical background and someone who had experience in creating a culture of winning. It was also important to me that this person would not be someone who was content with their past successes, but someone who would build on those successes to improve themselves and improve the organization that they're with. Given these criteria that we laid out, I simply cannot imagine a better person for this job than Theo Epstein."
Lofty praise yes, but it is hard to imagine someone with a better resume than the 37-year-old wunderkind. As ESPN points out in that same article that quotes Ricketts, Epstein presided over a historic run in Boston that included two World Series championships, a .575 regular season winning percentage, a .596 winning percentage in the playoffs and numerous single-game highlights.
Still, I'm not completely sold on Epstein becoming the savior of the one franchise that knows frustration better than the Red Sox.
Here's why.
Chicago's Bloated Salary Demands
Mike Zarrilli/Getty Images
As a big-market team it's no surprise that Chicago has several big-name players who are making truck-loads of money but who are also failing to live up to their contracts.
Alfonso Soriano has three years and $54 million left on the contract that he signed back in 2007. He also has a full no-trade clause, leaving Epstein with only two choices:
One, he can make like Soriano is exactly the kind of player he's always wanted, possibly bolstering the 35-year-old's confidence and spurning him onto a career-year, the likes of which he hasn't seen since 2007 or 2008.
Two, he can make a clean cut with the aging outfielder who has made 25 errors in the field the past three seasons.
Epstein will also have to deal with the Carlos Zambrano situation. No player has attracted more negative attention to his team since Terrell Owens was playing in Philadelphia. As such, Zambrano has a very likely chance at getting cut during the offseason.
Unfortunately, there goes another $18 million down the drain. And good luck finding a trade partner willing to absorb not only that bloated salary, but also the temperament of one of the angriest players in baseball. Also, like Soriano, Big Z also has a full no-trade clause.
Beyond the big-two, the Cubs owe Marlon Byrd (.276, nine HR in 119 games) $6.5 million for the upcoming season, as well as $16 million to Aramis Ramirez, far and away the team's best offensive player.
On the mound their in debt $14 million to 14-game loser Ryan Dempster and $7 million to Carlos Marmol, who had statistically his worst season ever in 2011.
If Epstein believes his first step to cleaning up Chicago is cleaning house of all of the dead weight, it's going to cost him a pretty penny. Most of these guys are un-tradeable and even if boy-wonder could swing a deal, he'd likely be receiving bit pieces.
Chicago Has No Stable Nucleus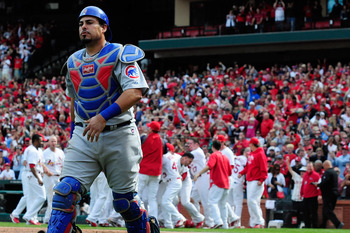 A potential part of the nucleus, Soto hit .218 in 2009 and .228 last year.
Jeff Curry/Getty Images
When Epstein took over the full-time GM duties in 2003, the Red Sox had more than their fair share of veteran talent.
In fact, they had something even more important, a solid nucleus that was in place long before the then 30-year-old was brought to Boston by Larry Lucchino.
Jason Varitek, the indisputable team captain, had five seasons under his belt and was emerging as one of the top all-around catchers in the game.
Manny Ramirez was entering year-three as a member of the organization.
Johnny Damon was in year-two.
Derek Lowe was entering his sixth-year in Boston, as was Pedro Martinez.
Yes, Epstein added some crucial pieces to the puzzle, especially David Ortiz, Kevin Millar and Curt Schilling, but he was largely building off of the sturdy foundation built by his predecessors.
Chicago doesn't exactly have that kind of foundation.
Their longest tenured player is Zambrano, who began his infamous career with the Cubs back in 2001. I wouldn't count on much veteran leadership there.
After that it's Dempster and Ramirez, both of whom are entering their ninth full season with Chicago.
After those two it's a mish-mosh of two and three year bit players, including Reed Johnson, Geovanny Soto, Blake DeWitt and Byrd.
Half of those guys may not even he on the roster next season, leaving Epstein with little to build off of.
Chicago Has No Star Power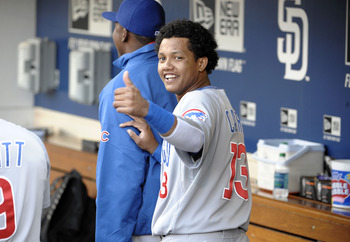 Starlin Castro has gotten off to a historic start, but he's still just 21 years old
Denis Poroy/Getty Images
When Epstein took over in Boston he had several big-name stars.
Manny Ramirez was in the prime of his career and coming off of a season in which he won the A.L. batting crown, hit 33 homers and drove in 107 runs and won his fourth consecutive Silver Slugger.
Pedro Martinez was coming off of his last truly great season. He went 20-4 and led the league with a 2.26 ERA, an .833 winning percentage and 239 strikeouts.
Johnny Damon was in his prime, racking up doubles (34 in 2002), triples (11), homers (14) and steals (31).
Derek Lowe was a 21-game winner who also posted a 2.58 ERA, giving the Red Sox arguably the most lethal one-two combination in baseball.
And to top it all off, they had a healthy Nomar Garciaparra. Nomar hit at least 21 home runs in every season from 1997 to 2003, save for 2001 when he appeared in only 21 games.
In Chicago, on the other hand, Epstein will be left to work with Aramis Ramirez, who is a solid player, but certainly no superstar and at age 34 is entering his twilight years, Starlin Castro, a potential batting champion who has hit a combined .304 his first two seasons, and Matt Garza, who posted back-to-back 200-inning campaigns before missing the mark by two innings last year.
The Cubs are lacking not only in star power, but also in solid everyday players at multiple positions and in the rotation.
It's not because of the curse that they only won 71 games last season.
Epstein's Belief About Long-Term Contracts as It Pertains to "King Albert"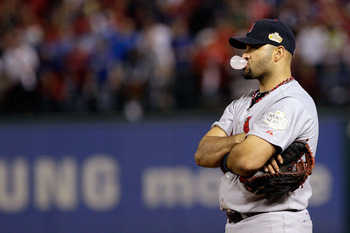 Rob Carr/Getty Images
Seeing as how I'm not a Red Sox loyalist, the earlier quoted ESPN article was the first time that I had heard the Theo Epstein mantra as it regards to contracts:
"The key is to pay for future performance, not past performance."
Looking back on his years in Boston, Epstein was very careful about handing out large contracts to free-agents and trade acquisitions. He may have splurged or heavily outbid himself, but he rarely went after a big-name guy who was in the tail-end years of his prime. Curt Schilling and Kevin Millar were the rare exceptions. Coincidentally, both were considered great clubhouse guys.
When he dealt for David Ortiz, the slugger was only 26 years old and had only 58 career home runs. After awarding him with a $64.5 million deal, Epstein watched as "Big Papi" slugged nearly 30 homers a year during the life of the deal that ended this past season.
When he traded for Josh Beckett prior to the 2006 season, Beckett was also 26 and had just 41 career victories under his belt. Only three months into the season, Epstein inked him to a $30 million deal and watched him win 84 games and a World Series MVP.
And yes, Adrian Gonzalez had seven years under his belt before Epstein traded for him, but he's still just 29 years old and coming off of the finest season of his career, one in which he hit .338, led the A.L. in base hits, slugged 27 homers and drove in 117 runs.
I bring up the aforementioned quote because Epstein is going to have his hands full this offseason. Arguably the greatest hitter of our generation, Albert Pujols, is going to hit free-agency and you can bet your you-know-what that teams are going to be throwing him boat-loads of money.
Will Chicago be one of them?
Remember, Pujols will turn 32 in less than three months and had arguably his worst campaign ever, although he did miss some time due to an injury, and he did lead his team all the way to the World Series.
He's already clubbed 445 career home runs in his 11-year career, but he's almost assured of hitting less than that over the remainder of his career, making a long-term, high-value contract against the Epstein mantra of paying for future and NOT past performance.
Chicago Has One of the Weaker Farm Systems in the National League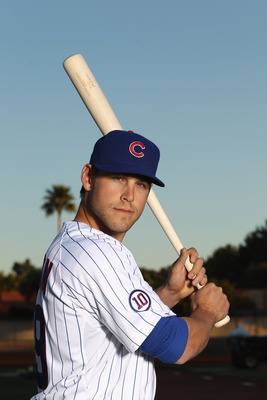 Jackson represents the best of the Cubs farm system...but is that a good thing?
Ezra Shaw/Getty Images
The N.L. Central as a whole is in pretty rough shape when it comes to their farm systems.
St. Louis has fireballers Shelby Miller and Carlos Martinez and of course Pittsburgh is loaded with tons of top-notch talent (Josh Bell, Gerrit Cole, Jameson Taillon, etc), but the majority of the top prospects for each of the other teams (Houston, Chicago, Cincinnati and Milwaukee), and to some degree St. Louis and Pittsburgh, are guys who are close to big-league ready or those who were just drafted last year.
Chicago is near the bottom of the pack when it comes to farm system rankings, not just in their division, but in their league as well.
Coming into the season, their top prospect was Brett Jackson, and while he's a fine prospect, he's not a perennial All-Star like a top prospect should be. Their top pitcher, Trey McNutt, regressed this season, walked too many hitters and didn't show enough improvement to warrant a promotion to Triple-A.
In the draft, they added a fine hitter in Javier Baez, who was arguably the top pure hitter in the high school class, but he reportedly has some attitude problems and has a scouting report that reads like another talented third baseman they took a few years ago...Josh Vitters. Great hitter, chance for above-average power, potential franchise cornerstone.
They also added some decent talent in the later rounds, including Dillon Maples and Shawon Dunston Jr., but those two players are long-term projects.
If Epstein is going to rebuild the Cubs from the ground up, the monumental first step is going to be to fix the farm system.
In Boston, even though many of the organization's top prospects didn't find long-term homes at Fenway, there was still a steady stream of talent going from the minors to the big-leagues.
It might take at least two or three, maybe even four, years to straighten out the Cubs farm system.
I just wonder if Ricketts will give Epstein that long.
Keep Reading

Chicago Cubs: Like this team?