Oakland Raiders Limp into Bye Week, Prepare to Face Tim Tebow and the Broncos
October 25, 2011
Ezra Shaw/Getty Images
Injuries, penalties, turnovers and general ineptitude caused the Oakland Raiders to head into the bye week with a lot of question marks after a 28-0 loss to the Kansas City Chiefs. The bye couldn't have come at a better time for the Raiders.
There is much work to be done for a team trying to replace its quarterback and trying to get healthy for the first time all season. Carson Palmer has two weeks to get enough of a grasp on the offense to beat the Denver Broncos. Daren McFadden, Rolando McClain, Kevin Boss and many others have two weeks to see if they're healthy enough to even play!
This is an important time for the Raiders. It's really the time where we find out if the Raiders will contend or they won't. I don't care about records. If the Raiders come out of this bye week and lose to the Broncos they are done, finished for 2011.
I watched every play of the Broncos vs. Dolphins game last Sunday. I can't explain to you how awful Tim Tebow is, was. The only reason Denver came back to win that game is because the Dolphins decided to quit playing the defense that they had been playing all day. They dropped into the softest zone possible and quit rushing the passer. I think JaMarcus Russell could have moved the ball in that situation and would have probably looked better doing it! I'm not kidding, that game was lost by the Dolphins' coaches more than it was won by Tebow. He's awful!
The Raiders defense, who actually played quite well Sunday, should have a field day against "Captain Intangible." The Dolphins sacked him 7 times and they can't rush the pass at all! Flashback to Mark Sanchez standing in the pocket tapping the ball when they played the Dolphins, he had all day! Expect the Raider "D" to get nasty with the "Chosen One" and to make his day a living Hell! Wait a minute, can you speak of Tebow and Hell in the same sentence?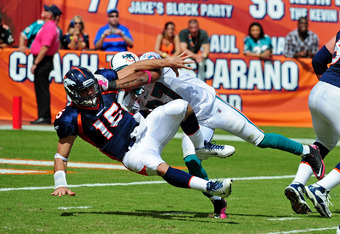 Scott Cunningham/Getty Images
On to the Raiders offense. Actually that can wait a bit, I need to say a couple more things about Tebow. First it doesn't mean you hate God when you say Tebow stinks. It means you know football. Second, God does not care who wins the games! There's a (alleged) rapist with two rings! You think God is a fan of (alleged) rapists? Me neither! So don't expect God's help any more with Timmy Rah-Rah than with the drunk guy you used to start at QB, Broncos fans.
Done venting, now back to the Raiders offense. From what I saw against the Chiefs, Jason Campbell was much better than any of us gave him credit for being. Even myself, a known JC supporter. Why didn't Hue Jackson know this and game-plan accordingly?
Hue sees Kyle Boller every day. Shouldn't he know what he's capable of doing? Shouldn't he have been put in a better position to succeed? At least Hue is stepping up and holding himself accountable for the loss. He should, because he definitely had a big hand in it.
So moving forward now with Carson Palmer, I think the Raiders have to get back to what they do best and that's running the football. Be it Michael Bush or Darren McFadden or even Taiwan Jones, the Raiders will need to pound away at a soft Broncos run defense. Hue needs to quit trying to show that he's the smartest guy in the room and give his new QB a simple game-plan that will help build confidence moving forward. Palmer is a bright guy but it takes more than a couple weeks to pick up all the nuances of a diverse offense.
The Raiders need this game. I expect a big effort from them. I think they'll make Tim Tebow look even worse than the Dolphins made him look for 55 minutes. I think they'll win and I don't think God will even notice. Raiders 34, Broncos 10. Just Win Baby!