Chicago Bears: Bye Week "To-Do" List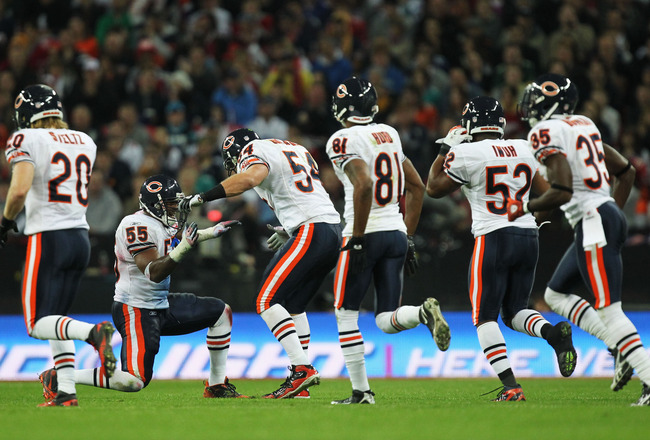 The Chicago Bears have done well, but there is much work that needs to be done
Streeter Lecka/Getty Images
The Chicago Bears head into the bye week at 4-3 with a 24-18 victory over the Tampa Bay Buccaneers.
Chicago came away in good shape after the toughest part of their schedule. But there are nine games left, and the Bears can't rest on the ways of the first part of the season.
Here is a "to-do" list for the Chicago Bears organization to address during the bye week to make the rest of the season a success and a potential playoff run.
Re-Sign Matt Forte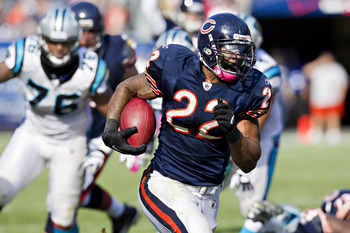 Wesley Hitt/Getty Images
This is a "no-brainer."
Matt Forte has been nothing short of spectacular this season. He has eclipsed 1,000 all-purpose yards through seven games.
Forte did his part and played after a hold-out consideration and has done better than any other running back in the NFL.
Speaking of no-brainer, Jerry Angelo, it's time to do your part and pay Forte.
Mike Martz Play-Calling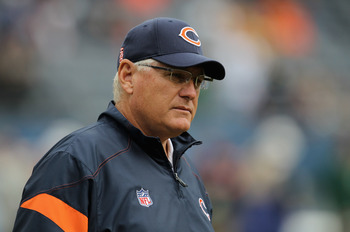 He just looks lost, huh?
Jonathan Daniel/Getty Images
Mike Martz is a mastermind and a moron. As Sunday's game management proved, he can flip the switch in a matter of a commercial break.
Lovie Smith needs to call Martz into Halas Hall, take his notebook and pull out the following things:
Seven-step drops
Empty backfields in the red-zone
Plays spreading the offense and taking away from protection
After Lovie takes them out, he needs to roll them up and hit Martz on the nose and say, "NO!"
Just Send Omiyale Away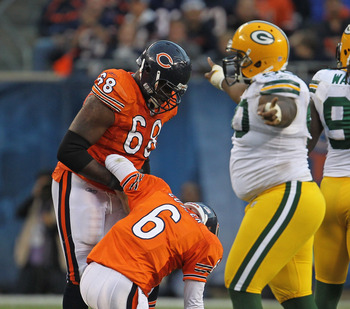 Was I supposed to block the bad guys?
Jonathan Daniel/Getty Images
I know he hasn't played in two weeks and hasn't blocked anybody in seven, but let's just save the time and money now and dump "False Start Frankie."
Gabe Carimi is coming back after the bye, so the Bears have quality backups in either Lance Louis, J'Marcus Webb or Carimi.
Teach the D-Line That It's OK to Knockdown the QB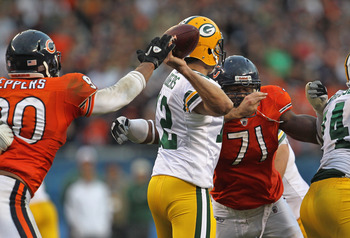 Jonathan Daniel/Getty Images
Julius Peppers has been a great pass rusher throughout his career. This year, not so much.
Last year, Peppers was drawing double-teams allowing teammates Henry Melton and Israel Idonije to run wild.
Amobi Okoye and Stephen Paea would love to make a mark on this team, but to do this Peppers needs to step up and get more pressure.
Make the Fans Believe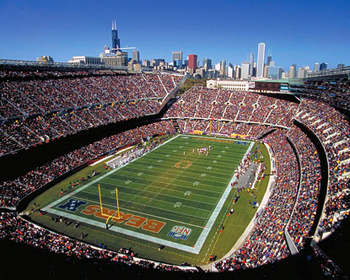 This is for the whole team. It is no secret Chicago loves the Bears.
The city went bananas last year when we went to the NFC Championship, then we lost and wanted everybody's head on a stick and paraded down Michigan Ave.
Continue winning and the city will go nuts. Give the fans what they want because after all, winning cures everything.
Keep Reading

Chicago Bears: Like this team?