Matt Forte: Why the Chicago Bears Are Smart Not to Pay Him...Yet
October 24, 2011
Streeter Lecka/Getty Images
For weeks I have been saying that the Bears need to pay Matt Forte the money he deserves. 
Through the first six games of the year, Forte has led the NFL in all-purpose yards, gaining 672 yards rushing and 419 yards receiving.  He has been, without a question, the most important player on the Chicago Bears. 
Considering his production thus far this season, Forte's $600,000 salary pales in comparison to the contracts of other top running backs, such as DeAngelo Williams (five years, $43 million) and Chris Johnson (six years, $56 million).
Forte has more rushing yards than the two combined.  So why haven't the Bears given Forte what he wants/deserves?
Bears General Manger Jerry Angelo has said that he wants to get a deal done with Forte, but it will happen when it happens.  Just before the start of the season, ESPN Chicago said the Bears were offering Forte a deal which would pay somewhere near $13 million-$14 million guaranteed, perhaps even closer to $15 million. Forte ultimately rejected the Bears offer.
All along I have felt, with Forte in the final year of his contract, that it was imperative for the Bears to get a deal done early.  But for once, I think the Bears management might have this one right. 
After this season is over, if Forte continues putting up his great numbers, the Bears and Forte's agent will talk terms again, and if a deal cannot be reached, look for the Bears to use their franchise tag to keep Forte retained for the next season.  The franchise tag allows teams to sign their best players at the average salary of the five highest players at a given position.  If the Bears do decide to franchise tag Forte, they will likely be paying him roughly $9.5 million to $10 million for the season.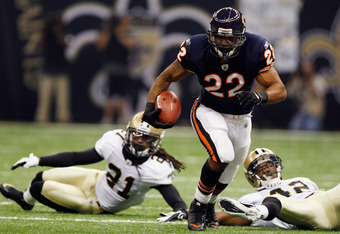 Chris Graythen/Getty Images
Now do not get me wrong, I'd love to see Forte play in Chicago for many years to come, but with the limited shelf-life of NFL running backs, its not a bad idea to use the franchise tag on Forte for the next two seasons.
If he continues to play at a high level, you can offer him a shorter term deal, with guaranteed money that would keep him happy and allow the Bears to save some money in the short term. 
Since Forte currently accounts for nearly half of the Bears' offensive production, there is a high risk of his wearing out over the next few seasons. 
Either way you look at it, Matt Forte deserves to get paid. 
Whether it's through a five-year deal or a few years worth of franchise tagging, Forte is going to continue to be the engine that runs this Bears offense.