Tennessee Titans: Why Chris Johnsons Rushing Troubles Are Not His Fault
October 24, 2011
Joe Robbins/Getty Images
By now, it's no secret Tennessee Titans running back Chris Johnson has struggled this season. Through six games, Johnson has rushed for a mere 268 yards on 93 carries. That amounts to only 2.9 yards per carry. This total has Johnson ranked 32nd in the NFL in rushing yards.
Hardly deserving of a four-year, $53.5 million contract extension, right?
However, when looking at these rushing totals, there is a lot missing. For instance, when Johnson rushed for 2,006 yards a couple of years ago, there was a center named Kevin Mawae who anchored the Titans offensive line. After Mawae's departure before the 2010 season, you saw a significant drop in Johnson's yards-per-carry average from 5.6 to 4.3.
Yes, 4.3 yards a carry is a good average, but here is what Johnson's stats can't show you: the amount of tackles he has to break to get to the line of scrimmage.
Ever since Mawae left the Titans, there has been a huge question mark when it comes to who is snapping the ball. From the beginning of the 2010 season, the Titans have started four different centers. If you exclude tackles Michael Roos and David Stewart, the offensive line is very unstable.
Sure, the Titans' O-line excels when it comes to pass blocking. This season, they have allowed only nine sacks, which is tied for third least in the NFL. When it comes to run blocking, though, it is a completely different story.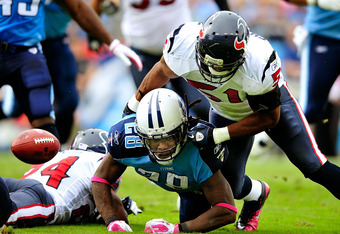 Grant Halverson/Getty Images
Recently, Chris Johnson was quoted in The Tennessean as saying, "Basically, if you are watching the game and you really can't tell what is going on with the run game then I would say you really don't know football."
Going against public opinion, I have to say he is right.
Countless times, you see Johnson having to break a tackle in the backfield or hesitate before he hits a hole. The reason for this is the interior offensive line can't block linebackers.
When running the ball, the three most important players to spring your running back are the center and the two guards. These guys can make or break your run game. If they can't block the correct guys, a running back is bound to struggle.  
The players that these three linemen are usually responsible for include defensive tackles and inside linebackers. Depending on the opposing team's defensive scheme (3-4 or 4-3), the interior linemen are usually responsible for climbing up field to either take on an inside linebacker or at least chip him to slow him down.
This is something you don't see when it comes to the Titans run blocking.
The interior line can make or break your run game, but if they can't block the correct guys, the running back is bound to struggle.  
This Sunday, the Titans play the Colts, who are ranked 31st against the run. If Johnson and the Titans can't run the ball effectively against Indianapolis, then there certainly is a huge problem in Tennessee.