NFL: The 3 Most Unforgivable Coaching Errors of the 2011 NFL Season
Rob Carr/Getty Images
We haven't seen coaching gaffes in 2011 on the same scale as Marty Mornhinweg's overtime fiasco or Joe Gibbs' decision to ice the kicker twice, but this NFL season has displayed no shortage of coaching errors.
Though not immediately monumental, they were enough to cost their respective teams a win, and could ultimately cost them a postseason berth. Not coincidentally, these mistakes are coming from coaches of teams with not much room for error and could find themselves on the outside looking in come January.
While the mistakes didn't provide value in the win column, they certainly provided discussion value. Is erring on the side of caution forgivable? How aggressive is too aggressive? At what point is a coach truly at fault?
The answers to those are complicated, but so were the mindsets of three coaches that made awful decisions to cost their team precious victories.
San Francisco 49ers Coach Jim Harbaugh Declining a Costly Dallas Cowboys Penalty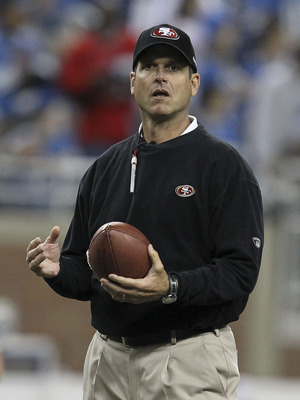 Leon Halip/Getty Images
There's an old adage in coaching that states to "never take points off the board." While it's a helpful philosophy for coaches to live by, it's one that did-in Jim Harbaugh in Week 2 against the Dallas Cowboys.
Two Harbaugh errors occurred during a critical fourth-quarter offensive series. The first was Harbaugh's decision to not go for it on 4th-and-1 at the Dallas 38-yard line with a seven-point lead. A 55-yard field goal attempt for David Akers is a daunting task in the fourth quarter, and is a decision that actually reduced win probability according to AdvancedNFLStatistics.com.
But lo and behold, Akers converted the monster kick to give the 49ers a 10-point lead. Even more miraculous, Keith Brooking used his teammates to elevate himself while the kick was underway, which was a penalty that would have given the 49ers a fresh set of downs at the Dallas 23.
Though somewhat risky, this would have been the right move. Even with the points taken off the board, San Francisco would have had a better probability of winning the game, which is likely attributed to having better field position and an opportunity to shave precious minutes off the clock. Barring a catastrophe, the worst-likely scenario was that Akers would have had to attempt a chip-shot field goal to put them back where they started.
Harbaugh didn't play to win, but instead played "not to lose." As a result, they lost.
Minnesota Vikings Coach Leslie Frazier Electing To Punt Late vs. Green Bay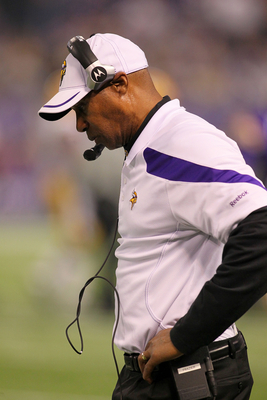 Adam Bettcher/Getty Images
On 4th-and-10 at their own 36 with 2:37 left in the game, the Vikings found themselves just six points behind the NFL's last unbeaten team. Their offense had gashed a proud Packers' defense through much of the game, and rookie quarterback Christian Ponder made a handful of big plays with his arm and legs in an impressive first start.
On the other side of the ball, Aaron Rodgers was his usual self and completed passes at will against a flustered Minnesota Vikings defense. Despite this, Vikings head coach Leslie Frazier opted to put the game in his defense's hands by punting the ball late in the contest. With three timeouts and the two-minute warning, it was the conservative thing to do.
You can guess how that turned out even without watching the game that took place in the Metrodome on Sunday. Rodgers orchestrated a predictable game-clinching drive and milked the clock down to zero to the surprise of no one but Leslie Frazier.
It's true that Ponder would have been in a difficult situation against a formidable dime defense, but what would happen even if Frazier's ideal situation panned out?
Suppose the Vikings stopped Aaron Rodgers and forced them to punt. Would Christian Ponder have a better chance at driving 70 or 80 yards with zero timeouts and less than two minutes to go against the same defense?
At 1-5, the Vikings had nothing to lose and everything to gain by putting the ball in the youngster's hands and seeing what he's made of. At 1-6, all they have is another miserable week behind them.
Philadelphia Eagles Coach Andy Reid's Clock Management Debacle in Buffalo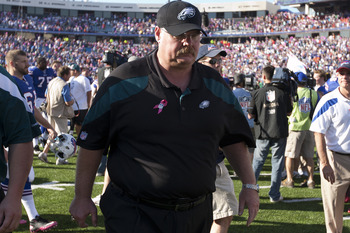 Brody Wheeler/Getty Images
Week 5 provided fans with vintage Andy Reid clock management.
Down 21-7 as halftime approached, Reid found his squad in a good position to chip away at the Buffalo Bills' lead and head into the locker room with some extra points.
The Eagles marched down to the Buffalo 26, but had no timeouts with only seven seconds remaining on the clock. Logic says to kick the short field goal and take the sure points. Andy Reid says to take a shot at the end zone.
There are simply too many things that could go wrong with this scenario, and frankly, they did. Knowing the Eagles had no way to stop the clock, the Bills coverage fanned across the end zone and sidelines to take away the touchdown and the shorter time-saving routes.
For a team that had been plagued by turnovers, Reid put Vick in a position where for anything to happen, he would need to force yet another throw.
With no one open, Vick launched the ball out of the end zone, but it was too late. The clock was at zero, and Andy Reid gave his worst critics yet another reason to chide him for his poor clock management ability.
Keep Reading