World Series Game 4: Derek Holland, Mike Napoli Power Rangers to Commanding Win
October 24, 2011
Ezra Shaw/Getty Images
Behold the wispy, pencil-thin mustache.
Behold a lanky, lean lefty machine.
Behold a revitalized Texas Rangers ballclub, Game 4 winners in the 2011 World Series, tied once again with the St. Louis Cardinals in this best-of-seven championship showdown.
A night that began with Rangers owner Nolan Ryan muffing a ceremonial first pitch thrown by long-time Ranger-in-Chief George W. Bush ended with an explosive celebration after a spotless performance by the Rangers' in-game battery of pitcher Derek Holland and catcher Mike Napoli.
Holland had a career game. With 8.1 IP, seven Ks and only two hits surrendered, Holland guided the Rangers to a shutout victory, proving that good pitching in Texas is not all that crazy.
Napoli held his own, calling Holland's remarkable outing and producing one key hit in the sixth inning.
As Cardinals starter Edwin Jackson walked two consecutive Rangers with one out in the bottom of the sixth inning, St. Louis manager Tony La Russa was up to his old tricks.
With reliever Mitchell Boggs throwing in the St. Louis bullpen and Napoli standing in the Rangers on-deck circle, La Russa clearly wanted a Boggs-Napoli matchup.
One problem: Boggs wasn't ready to come in yet.
So La Russa stalled. He sent catcher Yadier Molina out to the mound. He had Jackson step off and ask Molina to go through the signs again. Finally, La Russa slowly ventured out to the mound, conversed with his battery for a few additional seconds, and when the Cardinals had stalled long enough for Boggs to get loose, La Russa motioned for the pitching change.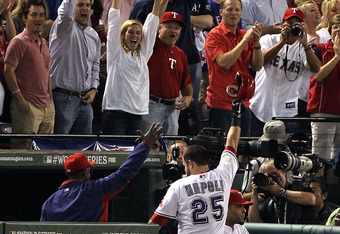 Ezra Shaw/Getty Images
As if annoyed with La Russa's antics to delay the game, Napoli stepped to the plate against Boggs and absolutely destroyed Boggs' first pitch, a 95 mph block of cheese up in the zone. It was a home run from the moment it left Napoli's bat.
Napoli's three-run blast cemented the Texas lead and allowed a cruising Holland to continue his remarkable evening.
The 51,539 fans in attendance cheered wildly throughout the contest, especially during innings six and nine. As Holland came back out of the Texas dugout to start the ninth, the cheering was so frenzied it was difficult to hear Fox broadcaster Joe Buck on television.
Holland retired his first batter and surrendered a walk to Cardinals speedster Rafael Furcal.
Then the cheering crowd suddenly booed.
Rangers manager Ron Washington had emerged from the first base dugout and was making his way to the mound. Holland and the man known as "Wash" debated for several moments before Holland finally surrendered the ball to his skipper and walked off the field to thunderous applause.
Closer Neftali Feliz did what he has always done for Texas, retiring St. Louis threats Albert Pujols and Matt Holliday to clinch Game 4 for the Texas crew.
This was an important win for Texas, and not just because the Rangers Game 4 victory ties the World Series.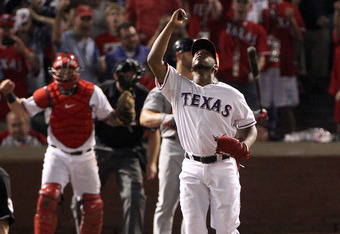 Ezra Shaw/Getty Images
Texas had barely escaped with their Game 2 win, a come from behind ninth inning thriller. A two-run final inning turnaround not seen since Arizona beat the Yankees in 2001 to win that year's World Series.
By winning Game 4, Texas has made the statement that they belong. They can play with the big boys, and they can win.
By guaranteeing a sixth game, the Rangers have ensured that this year's World Series champion will be crowned back in St. Louis.
And thanks to their dominating performance, tonight, Texas has proven there is a very good chance that they will be that winning team by next weekend.