World Series Game 5: Will Albert Pujols Regain His Hot Hitting Touch?
October 24, 2011
Tom Pennington/Getty Images
Has Albert Pujols cooled off enough to allow the Texas Rangers' pitching staff to throw high fastballs by him on a consistent basis? If he has, can St. Louis regain their high offensive output ways in this World Series?
After Pujols and the Redbirds were held in check in the game this fine night, it'll be exciting to see what happens. The rubber game should be electrifying tomorrow near Dallas, Tex.
I was somewhat disappointed by what happened tonight. Expecting an old fashioned knock 'em down and drag 'em out run-scoring MLB shootout, I tuned in to watch the opening of the fourth game of this year's Fall Classic.
Instead of a shootout, a pitcher's duel broke out. The left-handed pitcher for the Rangers, Derek Holland, made a clear difference from Saturday night's game.
After being encouraged by his manager before the game, the young southpaw gave a brilliant performance. The end result was a complete turnaround from what happened in the 16-7 blowout.
Facing him, the Cardinals were shutout, hit very few balls hard, often swung and missed or watched his big curveball land for strike three through almost nine innings.
Holland's pitching performance was as clutch as there has been all season in the Majors. It was what the Rangers needed to regain confidence.  
The confident Redbirds and downtrodden Rangers went into the game knowing they were guaranteed to return to St. Louis. Both teams also knew that if the Cards took a commanding 3-1 lead in the World Series, then the odds were in favor of the Cardinals winning the championship.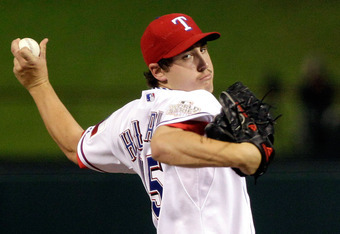 Pool/Getty Images
No one foresaw St. Louis having only two hits through nine innings, except Holland and Ron Washington. In the other dugout, Edwin Jackson had only given up three hits to the juggernaut Rangers through three innings.
Although starting pitching hasn't been the problem in the World Series for St. Louis, Chris Carpenter will be a well-received sight Monday. He'll stand on the mound for the Redbirds in Arlington against C.J. Wilson.
Like Monday's starters, both hurlers tonight have power arms. Jackson threw a no-hitter last season for the Arizona Diamondbacks and obviously has the capability of being a very dominant pitcher.
Jackson has been dealt seven times since being drafted by the Los Angeles Dodgers as a 17-year-old in 2001. He was dealing against the Rangers like a Las Vegas cardsmith. Playing roulette with a possibly insurmountable series lead at stake, he issued seven walks through six innings.
Being a military brat, Jackson was born on the move. He was likewise relocated to the bench by LaRussa after his seventh walk.
Edwin had only, however, given up one run. Cardinal Nation could live with both his performance and the move to get him out with two men on base for reliever Mitchell Boggs.
If you'll recall, the Cardinals lost 20-game winner Adam Wainwright to elbow surgery in spring training. The Redbirds addressed his absence by trading for Jackson and bullpen help.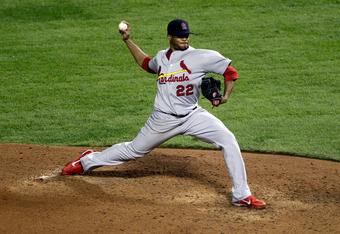 Rob Carr/Getty Images
Besides Edwin, in the deadline trade for Colby Rasmus, St. Louis acquired relievers Octavio Dotel, Marc Rzepczynski and outfielder Corey Patterson.
Boggs auditioned for the closer's role earlier this season, yet he couldn't close the Rangers out to move the game into the seventh with a 1-0 score. After Mike Napoli launched a three-run homer against him, once again, it was clear that the bullpen had failed St. Louis. It had bogged down.
It was also obvious to me that Jon Jay needs to sit down for at least one game. I'm wondering where Patterson is.  
Former outfielder Albert Pujols has to avoid the inevitable complacency that comes after doing something only two other baseball legends have done. Then, he'll heat back up. His teammates must bat like blowing the Rangers out is mandatory.
If Albert reminds himself and his teammates that they need to score early and often, then the Redbirds will keep the bullpen from blowing it.
I don't know if St. Louis was too cocky because of what happened Saturday night or what, but Washington deserves a lot of credit for bringing his team back to tie the series twice.
The Rangers rarely lose two games in a row. If St. Louis had beaten them tonight , then it would have been devastating for Texas.
The Redbirds can still be devastating on Rangers pitching and score a lot of runs even if Pujols isn't on fire. It'll be hard to do, though, against Wilson.
In any case, the World Series has come down to what should be a hard fought best-of-three sequence, and I'll be here to bring you full coverage. Catch me next time on Lake's World Series Something.
Contact Lake Cruise: Lakecruise@att.net