Broncos vs. Dolphins Would Be a Fitting End to the Tony Sparano Era
October 24, 2011
Marc Serota/Getty Images
It all started with one stupid decision. 
With 14:54 left in the game, Matt Moore throws a 16-yard touchdown pass to Anthony Fasano and Miami went up 12-0. 
Smart money goes with taking the free points in that situation, kicking the extra point and going up 13-0. A point is a point, right? 
Wrong.
Instead, the Dolphins line up for the two point conversion. Moore drops back, passes it to Marshall.
Keep in mind, two point conversions are attempted from the two-yard line. This season I'm sure you've noticed that Marshall does everything he can to avoid the ball in this situation.
As the pass fell incomplete, I knew what would result later on. I knew this game was effectively over, it was just a matter of time before the Broncos would storm back, which I would text to a few of my friends.
Oh did the Broncos storm back alright.
Miami would go up 15-0 thanks to a Dan Carpenter field goal with 7:34 left, then with 5:23 left in the game, Denver, sorry, Tim Tebow would take over, and the Broncos would score 18 unanswered points.
Oh would it surprise you if the overtime field goal was set up by a sack and strip of Matt Moore?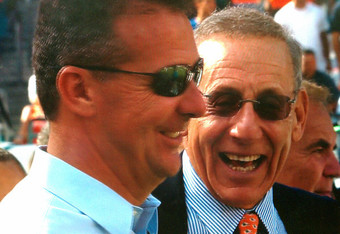 Of course not, that's what happened.
Would it also surprise you if I told you that the Dolphins, with 17 seconds and one timeout, only needing to get the ball to the Denver 40 to set up Dan Carpenter for a field goal, just took a knee and decided to take their chances in overtime?
Nope. This game was vintage Tony Sparano. 
Dumb decisions, gambling when you don't have to then taking it easy when you should gamble. Thoughtless mistakes, players losing confidence as the game goes on, blown leads and losing to an inferior team.
Oh yeah, and the Dolphins scored three field goals but only one touchdown.
Vintage Tony Sparano.
As for the effect with the Gators in town, normally with the Dolphins, we cheer for our team. Our crowd is partisan. Jim Kelly, Bernie Kosar and Vinny Testeverde were great UM QBs who gave the school the nickname "quarterback U."
But when the Bills with Kelly, the Browns with Kosar or the Jets with Vinny came to Miami, we booed. Even 'Canes fans who loved those guys while they were Hurricanes booed them when they came to town.
If you're thinking it's just a 'Canes thing that we jump ship on our players, keep in mind, any right thinking Dolphins fan that's a member of Gator Nation would've done the same thing with Emmit Smith when he was a Cowboy, Rex Grossman or even more recently, Aaron Hernandez of the Patriots.
Yet when Tebow came, Gator Nation was on the Broncos' side.
As were Dolphins fans at the end. This has never happened before.
But now it has, and thanks to this administration.
How fitting would it be for Sparano to end his career in Miami like this?
I couldn't think of a better one. In 60 minutes on Sunday, the Miami Dolphins served up the perfect microcosm for the Parcells/Ireland/Sparano era.
Start off well, ugly but with some promise, stay in the game.
Then blow it at the end, looking terribly while doing it, all while the fans turn on the team.
Somewhat like starting off with an 11-5 Division winning season, followed by two seasons of mediocrity and now this season we're having in 2011.
Four years, four seasons, explained in 60 minutes.
If this era is going to end, it should be Monday morning. No need to wait for the end of the season.
Thomas Galicia is a Miami Dolphins Featured Columnist on Bleacher Report. For more of his non-sports work, visit www.thomasgalicia.com, and follow him on twitter, @thomasgalicia.