Chicago Bears Refusal to Pay Matt Forte Is NFL's Biggest Injustice
October 24, 2011
Streeter Lecka/Getty Images
How much is over 5 yards per carry and 10 yards per reception worth to the Chicago Bears?
Apparently, not much.
Unlike other players who felt slighted by their contracts and chose to hold out, Matt Forte came to work this season from first day of camp and is on pace to severely outperform the $550,000 salary that he is earning this season.
According to Sean Jensen of the Chicago-Sun Times, Bears GM Jerry Angelo has tried to be "a little more mindful" about handing out contracts this season after the failures of Chester Taylor and Brandon Manumaleuna.
Not paying Forte is proving to be more of a "mindless" decision this season.
In fact, the further this goes and the better that Forte performs, he might do himself a disservice by settling for whatever Jerry Angelo and the Bears have in "mind" for him.
Surely there are teams out there who are looking for the kind of production that Forte is churning out on a weekly basis, and they might be willing to pay some good money to get it.
If Jay Cutler had half a "mind" he would walk into the front office, after stopping by Mike Martz's desk to deliver a message of course, and offer part of his pay check to keep Forte happy. Cutler has enough trouble producing to a level that is acceptable in Chicago even with Forte sharing the load.
If the Bears are worried about the relative brevity of NFL running back careers these days, there might be some merit to that, but the truth is that Forte is making the entire Chicago offense better.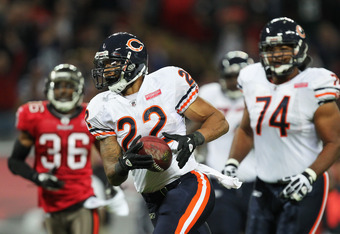 Streeter Lecka/Getty Images
The risk of Forte getting injured might be higher than most other positions on the field, but that is the inherent nature of NFL football.
The window for Chicago to truly be a threat in the NFC may be closing rapidly with the age of the impact players on defense. Assuming that is true, why are the Bears hesitating on keeping a huge piece of their championship puzzle?
There is a number out there that will make Forte happy and help Jerry Angelo sleep at night, and it would be in the Bears' best interest to find it before Forte realizes that another team is going to take that number and double it.
If the Bears don't work out a deal, fans wondering if Angelo has actually "lost his mind" is a real concern.