Packers vs. Vikings: 7 Things We Learned About Green Bay in 33-27 Win
Hannah Foslien/Getty Images
It's never an easy victory when the Green Bay Packers travel to play the Minnesota Vikings, and this Week 7 game was no different.
The Packers trailed at halftime, but used a huge third quarter to storm back and put the game out of reach for the Vikings. Aaron Rodgers continued his MVP-caliber season with a nearly perfect quarterback rating.
The following seven things are what we learned in Green Bay's 33-27 win.
It Will Be Nice to Have Chad Clifton Back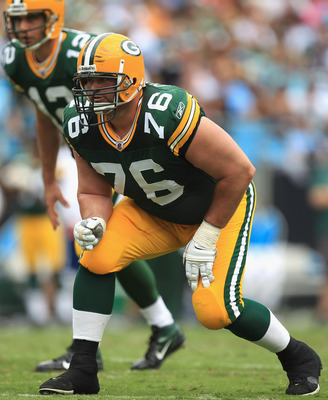 Streeter Lecka/Getty Images
No one could have expected Marshall Newhouse to play as well as he has been while filling in for Bryan Bulaga and Chad Clifton. His play has been crucial to the Green Bay Packers remaining undefeated.
However, this week, Newhouse was simply overmatched against Jared Allen. Allen recorded two sacks in the first half and consistently beat Newhouse off the edge.
While Newhouse deserves some major props for his "fill-in" play this year, getting Clifton back, whenever that may be, will be very welcomed.
Randall Cobb Is Still a Rookie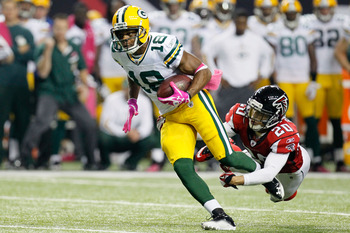 Kevin C. Cox/Getty Images
First, it was a fumble on a punt return that led to a touchdown by the Minnesota Vikings. Then Randall Cobb dropped a third down pass in the red zone that could have led to a first down.
There is no doubting the amount of potential that Cobb has, but we all need to remember that he is still a rookie. He is going to make mistakes. Heck, he may make more mistakes than stellar plays for the rest of the season.
While it is okay for a rookie to make mistakes, the thing that scares me is that Cobb is making more of them as the season goes on. He needs to settle down and play within himself and continue to improve with each week.
Mason Crosby Is Really Good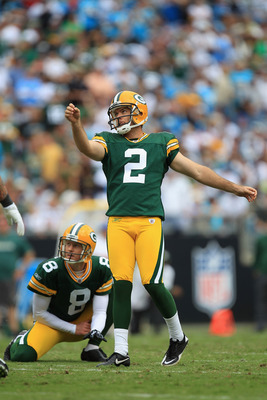 Streeter Lecka/Getty Images
So far in his career, Mason Crosby hasn't lived up to expectations. He's been good, but he hasn't been as good as many thought he could be.
However, it looks like Crosby is finally playing to his full ability, as he has yet to miss a field goal this year. He has hit all 14 of his attempts and tied his career long earlier this year when he hit one from 56 yards. He also set a franchise record with a 58 yarder today.
Should Crosby keep on this pace, he could surpass Ryan Longwell as the Green Bay Packers' most accurate kicker.
Greg Jennings Is the Second Best Receiver in the NFC
Kevin C. Cox/Getty Images
Even with receivers like Roddy White and Larry Fitzgerald in the same conference, Greg Jennings has separated himself as the second best receiver in the NFC. The only player he trails is Calvin Johnson.
Jennings had another 100-yard receiving day and added an easy touchdown, to give him five on the year. His overall numbers might not be as good as Fitzgerald or White, but when you factor in the amount of talent around Jennings, his numbers become all the more impressive.
With Aaron Rodgers loving to spread the ball around to numerous receivers, the fact that Jennings is still averaging nearly 100 receiving yards a game is incredible. There is no doubt that Jennings deserves a Pro Bowl spot this year and lining up opposite Johnson on the All-Pro Team is a definite possibility.
This Run Defense Isn't as Good as Advertised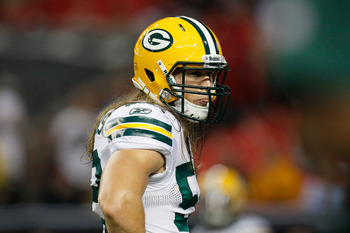 Kevin C. Cox/Getty Images
I know the Green Bay Packers were going up against the best running back in the game, but 175 yards is unacceptable.
This performance marks the second straight game that a team has had success running the football against Green Bay and that worries me. Our pass defense is improving, but it is hard to actually gauge how much improvement took place against a rookie quarterback.
If the defense against the run becomes as lenient as the pass defense has been so far this year, the Packers could be in some major trouble down the road and come playoff time.
Charles Woodson Is Like a Fine Wine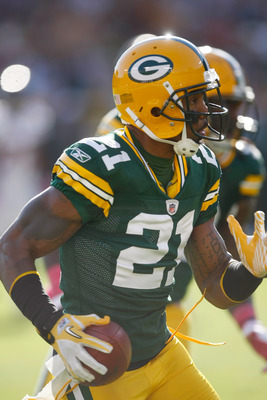 Scott Boehm/Getty Images
Charles Woodson is like a fine wine. He just gets better with age.
Woodson recorded two more interceptions in this game, bringing his season total up to five. Whenever we start to think that Woodson is starting to slow down, he comes back with a performance like this.
If he keeps playing improving with age, Woodson will still be the best cornerback in the league when he is 50.
Green Bay Can Turn It on Whenever They Want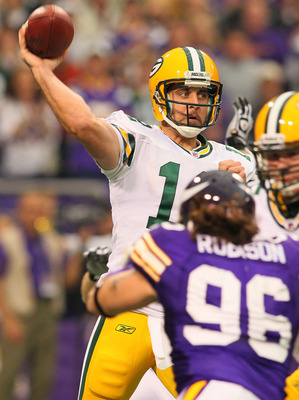 Adam Bettcher/Getty Images
For a while, I was scared that the Green Bay Packers were going to play down to the level of the Minnesota Vikings. They were losing at halftime and were having trouble slowing down Minnesota.
However, the Packers came out in the third quarter and scored 20 points to blow the game wide open. It was almost as if Aaron Rodgers flicked a switch in the locker room and the real Packers showed up.
While it would be nice to see Green Bay play four quarters at the level they played the third quarter in this game, it is reassuring to know that no game is too far gone for this team. I believe that even if Green Bay was down by 20 in the fourth quarter, they would be able to come back and win the game.
Being able to turn it into overdrive at anytime is a huge advantage and is the reason this Packers' team is the best team in the NFL.
Keep Reading

Green Bay Packers: Like this team?