Denver Broncos: Tim Tebow Beat the Miami Dolphins by Being Tim Tebow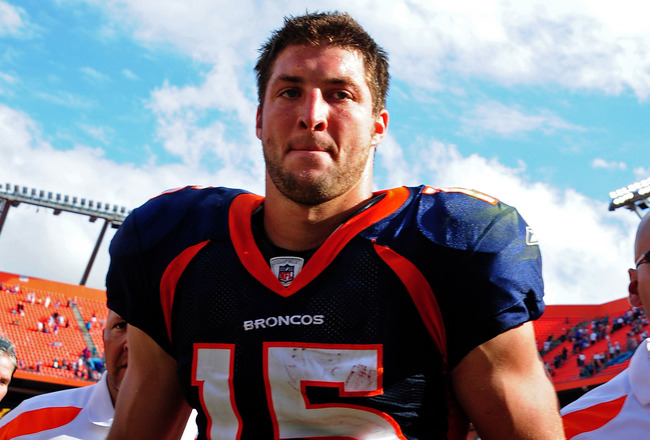 Scott Cunningham/Getty Images
Surprise, surprise—Tim Tebow is turning heads.
The storyline was almost too appropriate: The man who attracted a cult-like following during his amateur days at the University of Florida returns to play football in the state for the first time as a professional. Pundits and idolaters have fashioned whips out of their praise and ink, the better to beat the dead horse.
And so far, Tebow's ballyhooed promotion is living up to the hype.
But is that really all that surprising? Setting aside his personal beliefs and ineffable charm for a minute, Tebow has never been an exemplar of orthodoxy under center; nevertheless, playing with an unmistakable flair and a proclivity for highlight-reel plays, he has managed to establish a reputation as a winner.
Whatever attendant spirit has augmented Tebow's aura, the fact remains that the Denver Broncos were impressed enough to burn a first-round pick on him. And why not? Anointed Ones should be enigmatic; a sort of mysticism almost needs to intervene and be allowed to supersede more traditional draft methods.
And even though all the fuss has culminated—for the time being—in a near-miraculous comeback win over the Miami Dolphins, the Broncos still aren't quite sure what they have. Tebow played horribly for the first three-and-a-half quarters, doing more with his legs than with his arm, but not really doing much of anything.
The CBS broadcast appeared baffled by the extent to which Tebow struggled, returning to the same lowlights of missed targets and overthrown balls every time Denver regained possession.
But then something happened. Tebow started to connect, receivers began making diving catches, and the Broncos were suddenly moving the ball with a kind of—dare I say—divine madness.
When they lined up for the two-point conversion, did anybody think No. 15 wasn't going to call his own number? Tebow the Gator made a career out of hard-nosed run plays such as this one; it would be foolish to expect that brand of physicality not to carry over to the NFL.
Because final impressions have a habit of sticking, we can only expect that The Tim Tebow Fan Club will add this plucky performance to the ever-growing legend. But before we get too worked up over this, I have just one humble request:
Check the stat sheet.
Tim Tebow finished 13-for-27 for 161 yards in the air, and ran for 65 yards on eight carries. These numbers are OK, but not great. Supporters will be inclined to argue that I'm simply being tendentious, willfully ignoring the fact that their man did indeed step up and got the job done when it mattered most.
For that, I give him full credit. But maybe, just maybe, Tim Tebow is not entirely impervious to the opinions of his detractors. For most of the game, he seemed as though he was trying to prove a point; that not only was he capable of being a starting quarterback in the NFL, he could win while playing with a more traditional style.
But this version of Tebow is an impostor. The Broncos' QB beat Miami because he turned back into his usual unconventional self, but he almost lost by trying to be something he very demonstrably isn't. Those early chances he took—the deep shots downfield and the precision passes into zone coverage that he waited until the last possible minute to abandon—are plays I don't believe he will ever have the tools to make on a consistent basis.
However, both ardent admirers and virulent haters agree that one thing he can do is run. The scrambling mentality opens up the passing game for him in ways that sitting back in the pocket and trying to read the defense simply does not. It was when he returned to the former style of play that things started clicking for him.
Be your usual enigmatic, mystifying self, Tim Tebow. You may never be a conventional NFL quarterback, but you'll always be fun to watch.
And I guarantee the Broncos will win more games if he behaves less like the Tim Tebow with an inferiority complex, and more like the tantalizingly indefinable guy they drafted.
This article is
What is the duplicate article?
Why is this article offensive?
Where is this article plagiarized from?
Why is this article poorly edited?

Denver Broncos: Like this team?