Ron Washington, Listen Up: Alexi Ogando Will Lose Texas the 2011 World Series
October 23, 2011
Ronald Martinez/Getty Images
Ron Washington, take note. Rangers reliever Alexi Ogando has proven himself a liability during this 2011 World Series. For the good of the team, sit him out.
It all started innocently enough.
During Game 1, Rangers starter C.J. Wilson was struggling in the sixth inning of a tied game. Washington slowly jaunted out to the mound and brought in Ogando to face a pinch-hitter by the name of Allen Craig.
Base hit, RBI, Cardinals take the lead.
The very next night, a laboring Colby Lewis had pitched himself into the seventh inning of a scoreless contest. After surrendering a single to the Cards' David Freese, Lewis induced a ground ball off the bat of Nick Punto.
Unfortunately, the ground ball was too hot to handle for Rangers first baseman Michael Young, who deflected the grounder into short right field, allowing Freese to take third on the deflection.
Washington again went to Ogando to relieve his struggling starter, and again, Ogando's first batter was a pitch-hitter by the name of Allen Craig.
Base hit, RBI, Cardinals take the lead.
During Saturday's Game 3, Ogando was brought in to pitch the sixth inning of a two-run contest. After walking Ryan Theriot and giving up a single to Rafael Furcal, Ogando once again faced Craig.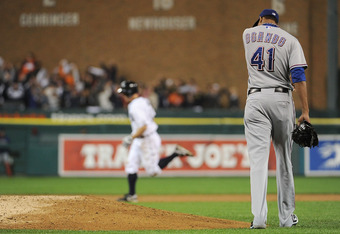 Harry How/Getty Images
Strike out, foul tip. One out.
Unfortunately for Ogando, it wasn't as easy as retiring Craig. Pujols was next to the plate and proceeded to obliterate an Ogando 1-1 fastball for a three-run homer.
As Ogando followed the Pujols at-bat by loading the bases, Washington reluctantly took him out of the game.
It wasn't always this way. Ogando recorded a superb 1.17 ERA while appearing in four games and picking up two wins during this year's ALCS. He was lights out in the 2011 ALDS, giving up only one hit in 2.2 innings pitched over the course of three games.
Ogando has been a valuable pitcher for Texas, just not in the 2011 World Series.
Given three chances, Ogando has failed to get out of trouble all three times, manufacturing his own mess during Game 3.
Perhaps the Game 3 criticism is a bit harsh—Rangers pitching as a whole fared very poorly in allowing 16 runs over 15 hits.
Although he has not been the pitcher of record during any World Series games this year, he has been indirectly responsible for at least one Rangers loss and would have been for at least two had Ian Kinsler and Elvis Andrus not come up with their ninth-inning heroics in Game 2.
That's strike one, strike two and strike three.
For the good of the team, Ogando must be benched. While the Rangers would like to have one of their own accept the World Series MVP Award, the Rangers do not want to see Ogando be awarded World Series MVP—for the St. Louis Cardinals.