World Series Game 3 Live Blog: St Louis Cardinals vs. Texas Rangers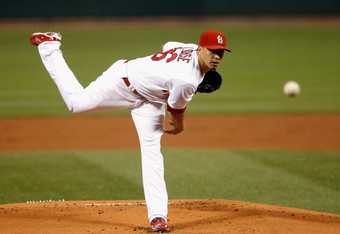 Pool/Getty Images
Jason Motte we hardly knew thee. As we all know by now, game two of the World Series ended on an... exhilarating? No... Exciting? No... Sacrifice fly? There it is.
I should take that back. To be honest, I'm sure the Texas Rangers and their fans were plenty ramped up when Elvis Andrus crossed the plate on Michael Young's shot to center. All-in-all, it ended the game—and for me, evened up a bet that I made before game one with a co-worker here at Bleacher Report.
The pitching matchup for Game Three is not the star-studded matchup that many were hoping for. Roy Halladay, Cliff Lee and CC Sabathia? Not this time. Tonight we have Kyle Lohse and Matt Harrison readying up their arms to guide their teams to a big advantage heading into game four.
While you may not be very familiar with the names, their pitching stats seem to be familiar with each other. They're almost identical. With the Cardinals, Lohse pitched to a 14-8 record with a 3.39 ERA. Funny, that's the exact same ERA that Matt Harrison had this season, while also notching 14 wins with the Rangers.
Neither of these arms are known for big strikeout numbers, but they are workhorse pitchers that every team needs if they're trying to make it to the Fall Classic.
With names like Albert Pujols, Matt Holliday, Nelson Cruz and Josh Hamilton putting their clutch reputations on the line, there are sure to be some fireworks in this critical Game Three.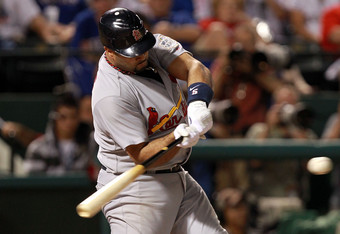 Alright sports fans, I believe that is all she wrote. Pujols hits a bomb off the second lefty-specialist in a row, and it's time to hang it up. I'll see you back here same time, same place tomorrow. But to anyone that said baseball was boring... Ahem, you've been served.
ARE YOU KIDDING ME! It's a 3 Homer night for Albert Pujols. I'm shocked.
Ladies and gentlemen.. Albert Pujols. He's now attempting to tie Reggie Jackson's output of three homers in one World Series game.
Six years ago, Rafael Furcal had the best arm of any shortstop in baseball. If he's not No. 1 still, he isn't far behind.
Stat of the night: Albert Pujols is the first player in World Series history to have a hit in four straight innings. That's impressive in any regular season game, but the fact that it's a World Series record makes it even better.
As if Molina needed the stats he hammers a double to deep centerfield. Fourth RBI of the night makes it 15-7.
After the Rangers cut the lead to seven, Lowe goes to work in the eighth, but David Freese isn't to be denied. Is anyone in the postseason as hot as this guy?
Pitching change... and some A$$hole was ejected for throwing stuff onto the field. Dotel in.
Only in the World Series, up by 8 would Tony La Russa argue.
Beltre into second on a leadoff double, but let's face it, this game had gotten out of hand.
Oh lord, you knew that was a bad idea. If this game was close Ron Washington wouldn't have let Gonzo pitch to Pujols.
How is Mike Gonzalez' windup not a balk?! He comes forward like eight times.
Hamilton bounces into double play and the bases are now cleared for Michael Young.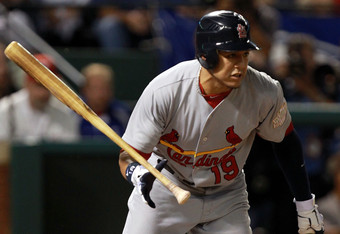 Ron Washington's biggest bullpen weapon (not named Neftali Feliz) has been dominated.
Mike Gonzalez came on to pitch and Matt Holliday scores on a sac fly off the bat of Yadier Molina. Two outs but there are still runners on first and third.
Jon Jay grounds out for the fielder's choice and we're finally into the bottom of the sixth inning.
Open letter to Gerald Laird and Nick Punto...
BOW IN THE PRESENCE OF GREATNESS
Signed,
Albert Pujols
Not looking pretty for Rangers. Bullpen has been shelled 3 games in a row. Only consolations..
1) This game is far from over.
2) They are at home next two games.
Hmm... Well there goes my prediction.
ALBERT PUJOLS. Crushed, smashed, destroyed, murdered.
Call it what you want that ball is OUTTA HERE. The lead is back to 5. 11-6 Cardinals.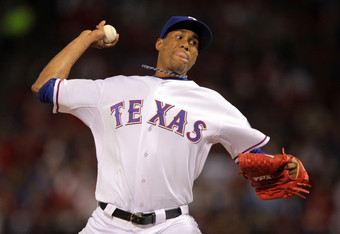 After Craig wins the first two battles, Ogando sends him down swinging in already their third matchup of the World Series.
The pitchers duel drags on as Alexi Ogando walks Ryan Theriot to start the 6th.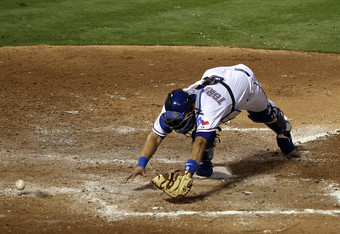 Lynn walks Torrealba... Not what you want to do. Kinsler up with bases juiced, two outs and the chance to put the Rangers up for the first time all night.
Allen Craig drifts back on a Mike Napoli fly out and the lead is back down to two. Naploli sent one deep and Michael Young scores on the sacrifice fly. The Cards' bullpen has been subpar to say the least. Lynn has potential, but maybe he's not ready for this pressure.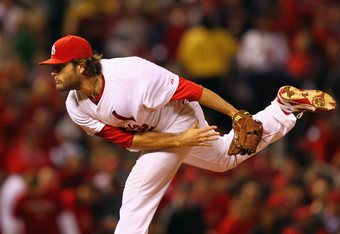 Lance Lynn's breaking pitches are pretty filthy. Haven't seen him pitch much, but he's impressing me very quickly.
NASTY SLIDER. The only smart thing these guys have said all night.
This article is
What is the duplicate article?
Why is this article offensive?
Where is this article plagiarized from?
Why is this article poorly edited?

St Louis Cardinals: Like this team?