NFL 2011 Season Week 8 Picks by NFL Mikee 60-43 Versus the Vegas Line
October 24, 2011
Dilip Vishwanat/Getty Images
Week Eight will be just as satisfying as Week Seven as far as your wallet goes.  9-4 this week is good. 59-44 gets us in theory to 9000 dollars in the black.
The ideal situation is to be betting at least 1000 dollars per game according to NFL Mikee's wise choices throughout the season.
Currently you would be at plus 9000 dollars for the NFL 2011 Season.That's not lunch at Mickey D's.
Cam Newton is ten steps ahead of Christian Ponder in this match-up on the Panthers home field.  Carolina is improving weekly and covers against the line when I chose them.
Take the Panthers at home by 4-5 points comfortably.
Tennessee has a division game with Indianapolis, still win-less after the loss of their leader, and obvious to even hermits living in caves, their most important member of the team, Peyton Manning.
Indianapolis will remain win-less in the "Suck for Luck" derby, along with the Rams and the Dolphins.
Titans win by a touchdown.
Speaking of the Dolphins, the next massecure occurs in the north, as the Fins travel to meet the unfriendly Giants at home. No one on the planet has Miami to cover in this game. Giants will be favored by 15. Give the points and take the Giants.
Houston, after beating Tennessee last week as predicted, has an easy one in Week Eight against Jacksonville. Houston will have Andre Johnson available once more and win, reaching a respectable 5-3 for this season.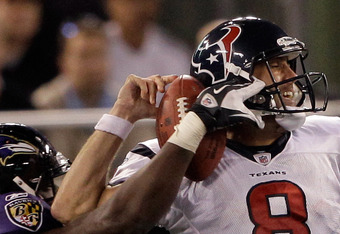 Rob Carr/Getty Images
The Ravens have an easy time also being home against Arizona, who travels east horribly. The Ravens seem wired in to 13-3 with the schedule the way it is. That's a first seed in the playoffs and a couple of home games.
Can you say AFC Championship and a trip to meet Green Bay in the Super Bowl? I thought you could. Take the under in this game. Take Baltimore to cover whatever line is dreamed up for this one.
New Orleans will manage to beat the Rams, who look also to be in the "Suck for Luck" contest, although the Rams have their franchise quarterback, I think?
Take the Rams and the points as New Orleans is a big dump truck against the spreads this season.
I'm sure Luck has some trade value as well, right?
In Detroit, Tebow will get a stand up lesson at quarterback, plus develop quick envy in anyone that has a receiver like Megatron, otherwise known as Calvin Johnson. Take the Lions in this one, who will figure things out this week.
No chance for Denver in this one.
After a bye week, Buffalo should handle the Redskins, who have their own problems, quite easily at home. Buffalo by 14 points in this one-sided affair.
The 49ers have Cleveland at home. This will be relatively low scoring, with a lot of running . The 49ers have a win here coming and will reach 6-1. Who would have thunk it? That's not a typo. Go Niners.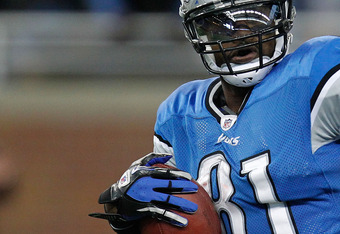 Gregory Shamus/Getty Images
In the game of the week, New England travels to Pittsburgh, to face a decent defense. Tom Brady will carve up this pass defense slowly, and pull away late in this game. New England by four will be a solid play this week.
Cincinnati will start to get noticed a bit after reaching 5-2 defeating Seattle. Seattle is going to stick with the Pete Carroll system and try to get better next year. Someone tell me when Pete Carroll ever had success in the pro ranks?
When can a college coach ever make the transition from coaching young impressionable guys, to stubborn rich adults? Look for another coaching change in Seattle fairly soon."One more year is all you get", Pete.
Dallas can reach 4-3 with a win against division rival Philadelphia in Texas. Take Dallas this week. Give the four points.
San Diego should have no problem out scoring the Chiefs this week on Monday Night Football. I like San Diego to win the AFC West, two games clear of the Raiders this year.
The Raiders will be relevant once again in 2012.
Teams on a bye Week Eight include Atlanta, Chicago, Green Bay,Oakland, the N.Y. Jets and Tampa Bay.
Written by Thomas[NFL Mikee]Moreland.