2012 MLB Offseason: Detroit Tigers Fielding Breakdown
October 21, 2011
Harry How/Getty Images
The Tigers advanced to the point of being within two victories of the World Series. At the beginning of the year, few gave them the chance to get that far, but the continued development of Justin Verlander into a star and the continued production of players like Miguel Cabrera was enough to win the AL Central.
Fielding was likely not one of their strong suits this season, but the Tigers have some changes on the horizon. If Dave Dombrowski handles them the right way they might be a team we see a lot more of in the future. If Dombrowski isn't careful, 2011 will be one of those fluke years we look back on fondly.
DER: .693 (16th)
RA: .711 (18th)
FLD%: .983 (14th)
Baseball Reference: -21 runs (24th)
Fangraphs: -3.7 runs (15th)
Fielding Bible: -18 runs (24th)
Baseball Prospectus: 6.7 runs (10th)
Composite Runs: -9.0 runs
As you can see from the rankings, the Tigers did not fare well in general in terms of fielding. Yes, Baseball Prospectus liked them, but I am a firm believer in the preponderance of the evidence. When three experts say you are below average and one says you are above, you have to be a pretty impressive expert to outweigh the three. Furthermore, their fielding percentage clearly puts them in the average range.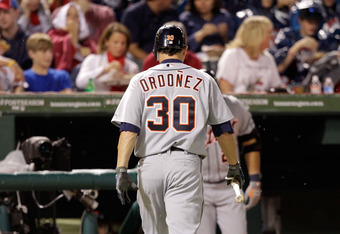 Bob Levey/Getty Images
The Tigers have a reputation for being an aging team, so these findings should not be too surprising. Two of those aging veterans are finally at the end of their contracts. The Tigers should move on and all indications are that they will. After that, simply going younger would indicate a natural improvement is in order.
Best Defender
Austin Jackson and Peter Bourjos will be engaging in a battle royale for the title of best fielding center fielder. The way that the Gold Gloves are awarded should afford both of them the honor this year. I'd give the slight edge to Jackson since more of the experts seem to cite him as better, but a vote for Bourjos is not a wasted vote either. If the Tigers retain Delmon Young, Jackson will have to earn his money again next season.
Worst Defender
Often these debates come down to quality versus quantity. Magglio Ordonez was never a joy to watch defend, but he is older and broken down. Fortunately for the Tigers, he rarely played. Victor Martinez didn't catch often, but when he did he was deficient as well. Miguel Cabrera played a regular first base and as regulars went, he wasn't good. The Tigers were a team full of first basemen and DHs this year. If Dombrowski can somehow change that they have a chance to get back to the ALCS.
Possible Changes
Carlos Guillen and Magglio Ordonez are gone and the Tigers aren't looking back. They have a major decision to make on Delmon Young. He came up big in the playoffs, but his option is pretty costly. Plus, he isn't a good defender. If they risk losing him, they can put solid defenders in right field, left field, and at second base. Yet, I can understand the idea of putting Young in left field in the hopes that his last six weeks of performance will carry over.
2012 Overview
I can't help but think we will see natural improvement as the team gets younger. They have outfield options in Don Kelly and Brennan Boesch. Delmon Young also has to be factored in somewhere. It will be interesting to see whether Dombrowski uses the money from Magglio and Guillen's contracts to bring in anymore big names or whether he tries to fill those gaps from within.