Asdrubal Cabrera could be the most overrated fielder in baseball.
Leon Halip/Getty Images
October 21, 2011
For about four and a half months, the Indians were the surprise of MLB. They came from the bottom of the AL Central standings to spend more days in first place than any team in the division. Unfortunately, it does not matter how many days you spend in first. It only matters who is in first on the last day of the season.
However, fielding was not one of the reasons why the Indians were so good. As the season wore on, the lack of range began to tax the pitching staff to the point where even adding Ubaldo Jimenez was not going to be enough. Change is on the horizon as a few veterans were replaced by kids. If they are the right kids, this Indians phenomenon will only continue to grow from here.
DER: .692 (18th)
RA: 685 (24th)
FLD%: .982  (19th)
Baseball Reference: +19 runs (11th)
Fangraphs: -47.0 runs (28th)
Fielding Bible: + 9 runs (14th)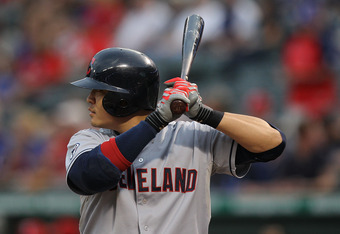 Will Shin-Soo Choo return healthy in 2012?
Ronald Martinez/Getty Images
Baseball Prospectus: -3.2 runs (20th)
Composite Runs: -5.6 runs
At least Chris Antonetti and the gang know where the club needs to improve. They are mediocre on the mound and in the field. The end result is a lackluster fielding team and pitching staff in a division ripe for the taking. Jimenez was a nice thought, but this team needs more arms. They also need to move Asdrubal Cabrera to another position, but that is not likely to happen.
Best Defender
Jack Hannahan literally came to the Indians off of the MLB scrap heap. He had not played in the big leagues in over a year and by the end of the season they saw why. However, his glove has always been solid and gloves are what we are focused on here. Hanrahan will not and should not win a Gold Glove, but he was among the top five defensive third sackers in the American League.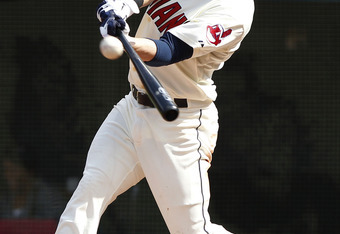 The Indians have high hopes for Jason Kipnis.
David Maxwell/Getty Images
Worst Defender
Thanks to ESPN's Web Gems, everyone thinks Asdrubal Cabrera is all-world. The problem is that the best fielders make spectacular plays look routine. The worst defenders make routine plays look spectacular. To the untrained eye, it is difficult to tell the difference. Matt LaPorta is not good, but he did not get regular playing time. It is going to be interesting to see what Grady Sizemore has left when he finally gets back.
Possible Changes
Shin-Soo Choo should be healthy again next year while the club used Kosuke Fukodome down the stretch. He is a free agent and so therefore a wild card. Another wild card will be whether Grady Sizemore can go through a season without getting injured. Shelley Duncan looked good down the stretch, so he might end up being your left fielder full-time. The infield does not have near the amount of flux in construction.
2012 Overview
Even though Jack Hannahan was good defensively, the Indians may be better off asking Cabrera to move to third base and thus allowing them to bring in a better defensive shortstop. Cabrera has the power to play third and fit in offensively. Plus, Jason Kipnis should blossom at second base. If the outfielders stay healthy, this team could be very much improved offensively and defensively.
Like the new article format? Send us feedback!