NFL in London: Why There Will Eventually Be an Entire NFL Division in Europe
October 21, 2011
Slaven Vlasic/Getty Images
It's NFL London week, and we all know what that means: the renewal of a series that is rapidly becoming a tradition for the NFL. And let's be honest: it is a GREAT tradition, because the best way to grow the sport outside of the U.S. is to play games of substance outside the U.S.
According to the NFL's recent press release about the game (h/t ESPN), some teams have started to volunteer to be the "home" team in exchange for more frequent visits to London.
The annual London game has become enough of a fixture now that around this time of year, people start to speculate on the future of the sport in London. NFL officials (including Roger Goodell) have openly discussed the possibility of a London franchise at press conferences, but all indicate that such a thing is a long way off.
Having said that...30 years from now, there will be a full-time franchise based in London. And by the way... it won't be the only one in Europe over the long haul. Here are the reasons why the NFL in London is going to stick around, and expand, to boot.
1) U.S. Markets are nearly saturated with teams.
Bottom line, there is really only one major television market that cannot lay claim to a team: Los Angeles. Several teams are consistently mentioned as relocation candidates: San Diego, Buffalo, Jacksonville, Minnesota and St. Louis most prominently. Buffalo is commonly linked with Toronto, and San Diego is commonly linked with Los Angeles.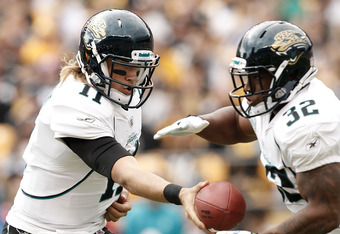 Jared Wickerham/Getty Images
Let us assume that those moves will eventually take place (not too much of a stretch, long term, because there's more money in those moves), that Minneapolis retains the Vikings based on history and tradition, and that even if St. Louis loses the Rams, it will have an NFL team again at some point because there's a major TV market there.
That leaves one team as a serious relocation candidate: the Jacksonville Jaguars. And I promise you, they will eventually move out of their comparative backwater TV market. If all the major U.S. markets are occupied, that means they will look to... yes, London, a major metropolitan area with a significant NFL following that lacks an NFL team to call its own.
2) There's a major TV market available, encompassing an entire country, not one city.
Bear in mind that the UK's NFL following is not just based in London, but elsewhere in the country. Now, think about the current realignment situation in collegiate athletics: what is driving those moves? If you answered "television broadcast revenue for Division 1 FBS football" you are correct.
Unlike the NCAA, which professes to not be a business (liars), the NFL does not hide the fact that it wants to make more money, and it may or may not have just locked out its players to do so.
Put two and two together, and the result is very simple: there is a TON of market share that would fall relatively uncontested into a London franchise's waiting arms. And it wouldn't be "London's team," it would also be "the UK's team."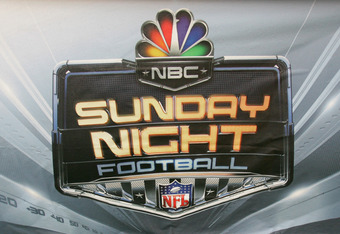 Ronald Martinez/Getty Images
People throughout Britain, if they followed the NFL, would probably follow Team London and claim it as their own because it was based in their country.
Oh, one more thing: the team would play effectively ALL PRIME TIME GAMES at home, because a 1 p.m. ET kickoff would be a 6 p.m. GMT kickoff. That's a huge draw in the television market, as opposed to kick-starting a fan base with 1 p.m. local time games.
3) Travel would not be prohibitive, because the NFL would find a way to make it work with so much money at stake. The world is getting smaller.

Ah, there's that word again: money. But it's the reality of the world we live in: if there is a sound investment opportunity available, you should give it a serious look. More than likely, the NFL would have to add a second bye week to the schedule, solely for the back end of a London trip.
That would address any competitive disadvantage on the part of the American teams. However, the bigger question would be how to address competitive disadvantage for the LONDON team.
There is a relatively simple answer: the team could play all eight of its home games in consecutive weeks, bookended by four road games on either end of the season, with the two byes in between home/away weeks to allow for travel.
Yes, it would be unorthodox, but it would also get the job done in a functional manner, without affecting the level of competition too badly. As for the playoffs, yes, home-field would mean more for a game involving the London team.
But then... that doesn't really bother me. It's the playoffs, and there's a reason they call it home-field advantage.
4) The success of an NFL team in London would likely lead to further investment in the UK.
As owners saw how profitable the London franchise was, despite the comparatively lower sports-pantheon status of American football in the UK, others would want to get in on the action. A second UK franchise, down the road, would be a natural in-country divisional rival, which would add to the appeal of the game in the UK.
The most popular sports teams have long-standing rivalries, filled with big names and tradition passed down in families. 
If a London franchise was successful in the first place, a byproduct of that would necessarily include a growth in the popularity of American football in the United Kingdom, and while both teams would have to fight for a now-divided market, it just makes too much sense in terms of creating long-term stability in the UK.
5) With two teams in the UK, it would be natural to add two more, and station an entire division in Europe.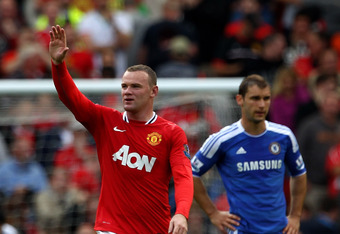 Clive Brunskill/Getty Images
Let me be clear: such a scenario is obviously a long way off, and American football will probably never be as popular in Europe as it is here. Soccer is too entrenched across the pond to be derailed as the top dog.
However, that doesn't mean that there isn't a niche for four professional football teams. Whether they would all be stationed in the UK, or two in the UK and two elsewhere in Europe, I don't know.
If I were forced to make a guess, I would say that there will eventually be teams in Germany as well, because five of the six NFL Europe teams were based in Germany before that league folded.
Critics of my theory will point to NFL Europe's very failure as the reason NFL franchises in Europe are not viable. However, keep something else in mind: NFL Europe was similar to minor league baseball. It is a tough sell for fans to come out and support their teams when they won't get to play for the big prize.
However... bandwagon fans are more common at the top levels, and it's easy to get behind a winning team in an already-successful National Football League, even if you don't give up your loyalty to Chelsea or Manchester United.
Conclusion
Stationing an entire division in Europe makes a lot of sense in terms of scheduling: division rivals could play each other without screwing up time zones, and the NFL would benefit from an increased revenue stream. And that's the bottom line: revenue.
With the U.S. market all but maxed out, a successful league can and should look for opportunities to expand, like any successful business would. The most profitable area in which to do that is Europe, and in an ever-shrinking world, NFL fans should expect their league to look overseas and make more money.