World Series 2011: Ian Kinsler Sparks Rally, Texas Rangers Escape with Big Win
October 21, 2011
Ezra Shaw/Getty Images
Down to their final at bat, the Texas Rangers were on the verge of dropping their second consecutive game to the St. Louis Cardinals, on the edge of a 0-2 World Series deficit.
Fortunately for Texas, a little spark plug named Ian Kinsler stepped up to lead off the ninth inning.
With Cardinals closer Jason Motte throwing absolute gas, Kinsler took the first two pitches thrown. Ball one almost hit a startled Kinsler, who dared not swing at the called strike that followed.
That's when Kinsler stepped out of the box, regrouped and relaxed. When Kinsler returned to the box, he fouled off the first pitch thrown, took the second for ball two and popped up the 2-2 cutter. Out went St. Louis shortstop Rafael Furcal, in came outfielders Matt Holliday and Jon Jay.
Every once in a while, a batter jammed while facing a flamethrower will hit a pop fly so deep that it escapes both infielders and outfielders alike. This was one of those times.
As Kinsler's pop fly dropped in no-man's land, Kinsler pulled into first base for the third consecutive time. Though he had been stranded before—the Rangers had been held scoreless through eight innings, while the Cardinals had mustered all of one run against the Texas pitching staff—Kinsler was going to make sure it didn't happen again.
Shortstop Elvis Andrus was at the plate, feverishly attempting to bunt Kinsler over to second. Andrus had tried bunting several times before, coming up short each time.
Kinsler knew he had to act fast, and he did.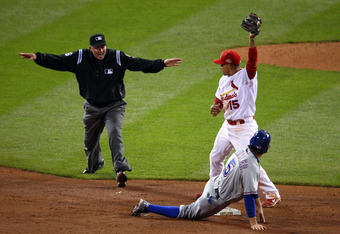 Dilip Vishwanat/Getty Images
With Andrus facing a 1-1 count, Kinsler took off for second base, a straight steal as Andrus pulled his bunt back as a called strike whizzed by and into St. Louis catcher Yadier Molina's glove. Molina's throw to second base came in at the same time as Kinsler's slide into the bag.
"Safe!" was the call picked up by the microphones housed inside the second-base bag. As if to prove his impartiality, second base umpire and St. Louis native Ron Kulpa turned against his home crowd to correctly rule Kinsler safe at second.
After all, umpires work for the sport, not for the team.
Molina yelled; Rangers manager Ron Washington applauded, and Kinsler called for time.
Three pitches later, Andrus faced a 2-2 count; he would not be bunting any more. As Motte released a 2-2 curveball, Andrus leaned back, stepped into it and connected on a base hit to center field.
Kinsler aggressively rounded third base, drawing a throw home from center fielder Jon Jay. Jay's throw, wildly screaming by a lumbering cut-off man named Albert Pujols, went all the way through to home plate as Andrus alertly ran to take second base on the wild throw. Again, Molina's throw to second arrived as Andrus slid into the bag.
"Safe!" was the call once again. Andrus celebrated. Kinsler celebrated. The Rangers dugout celebrated.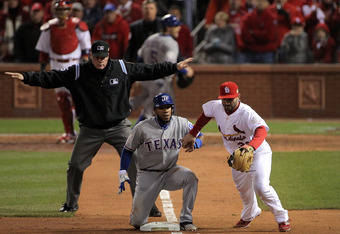 Doug Pensinger/Getty Images
As Cardinals manager Tony La Russa replaced Motte with reliever Arthur Rhodes, a struggling Josh Hamilton, 0-7 in the World Series thus far, limped to the plate.
Fully aware of his recent woes, Hamilton wasted no time and connected on Rhodes' very first pitch, a slider. Summoning the power of Home Run Derby Hamilton, Josh lifted a high fly ball, deep to right field. As Cards right fielder Skip Schumaker prepared to catch the fly, Kinsler and Andrus prepared to tag.
The throw was to third, and Andrus was safely in as the ball squirted away from third baseman Daniel Descalso. The game was tied at one.
Next up was Michael Young, who hit another fly ball to the outfield. Andrus tagged and scored without so much as a throw. The Rangers had taken the lead at 2-1.
As Rangers closer Neftali Feliz climbed the mound to pitch the bottom of the ninth inning, he knew. Kinsler, Andrus, Washington and all the others knew. The entire baseball world knew that the Texas Rangers were on the verge of stealing a crucial win from the St. Louis Cardinals.
After a walk to Molina, Feliz retired the next three men he faced, and Texas giddily jaunted towards the infield to celebrate a Game 2 victory.
As if afraid that the baseball world might snatch the stolen victory away from their grasp, the Rangers hurriedly congratulated each other and hastily retreated into the visiting clubhouse.
Just like that, the Rangers had deprived St. Louis of momentum and wiped out the Cardinals' home field advantage. Games 3-5 will be played in Texas, while Games 6 and 7 will be played in St. Louis, if necessary.
Three wins separate the Rangers from a World Series championship. They have three home games followed by two away games to get it. The Rangers can close it out at home. All they have to do is sweep St. Louis in a normal three-game weekend series.
Three wins separate the Cardinals from a World Series championship. They must beat the Rangers in Texas at least once to guarantee that the World Series will return to St. Louis.
For Kinsler and the rest, this was a wonderful rally and a wonderful win.
However, they all know this cannot continue. A team can only catch fire in the ninth inning so many times to come from behind and snatch victory away from their opponent. It is rare.
How rare?
The last time a team scored at least two runs to tie and then overtake their opponent in the ninth inning of a World Series game was Game 7 of the 2001 World Series, when the Arizona Diamondbacks scored two runs off Yankees star Mariano Rivera to walk off with the baseball championship.