NFL Power Rankings Week 7 and Winners and Losers from Trade Deadline
October 21, 2011
Jed Jacobsohn/Getty Images
Unlike in other leagues, the trade deadline typically isn't a big deal for the NFL. Their counterpoints the MLB and the NBA seem to have at least one if not more blockbuster trades during their respective deadlines. It's telling that two of the most notable recent trade deadlines involved average receivers Braylon Edwards and Roy Williams (both are mediocre players at best now).
So that's why this years trade deadline was surprising. A mega-blockbuster trade brought a franchise quarterback to the Oakland Raiders. Last year's leader in receiving yards is reunited with the coach who was mostly responsible for his success.
Yes, it was a wild trade deadline all right. The two trades that happened as well as several certain ones that didn't happen will have repercussions across the league. 
So who comes out as this trade deadlines winners? It's obviously too early to tell for sure, but that doesn't mean we can't speculate. 
Carson Palmer To Oakland Raiders
The Cincinnati Bengals should be renamed the Cincinnati Bandits cause of the steal they got in this trade. Owner Mike Brown's stubborn refusal to cut or trade a disgruntled Carson Palmer actually paid off. The Raiders gave up a 2012 first-round pick and a second-round 2013 pick that could become a first round selection if the Raiders make it to the AFC Championship this year. 
It's a trade that's good for everyone. Palmer has to be thrilled to be out of the Bengals dysfunctional clubhouse and going to an up and coming Raiders team. The Raiders have got to be thrilled to finally have that good quarterback and the Bengals can now fully support rookie Andy Dalton with Palmer gone for good.
But what's been lost in this trade is how well the Bengals have been playing this year. Both the Raiders and Bengals are 4-2 suggesting that both recently troubled franchises could be ready to turn the corner. Palmer may end up regretting what he wished for if the young Bengals can become a perennial contender in the AFC North. 
I think it's clear with this trade that the Bengals got the better deal. They are now loaded with draft picks to bring in more young players. With Palmer's departure, they have also erased just about every offensive player from a flawed team that despite it's talent failed to win a playoff game in two tries. 
Also, another little secret is Palmer really isn't that good. Despite the frequently overlooked fact that he only had two winning season as a starter, he has thrown 13 or more interceptions in five out of seven seasons. In addition, he does not know Oakland's offensive system and is coming out of a brief retirement period where he missed months of football workouts.
I still think the Raiders can be good since ultimately Palmer doesn't have to do much. When you've got Darren McFadden in the backfield and one of the league's best offensive lines, you don't have to be an All-Pro. So, maybe the Raiders will be better this year, but ultimately I see very few scenarios in which the Bengals aren't better off in the future. 
Brandon Lloyd to St. Louis Rams
It was more than a big surprise when Lloyd led the NFL in receiving yards last year, his eighth season in a mostly forgettable career. Now Lloyd has been traded from the Denver Broncos to the winless St. Louis Rams for a sixth-round pick in next years draft. He'll have an excellent shot at getting to start for a Rams team that is desperate for a good receiver.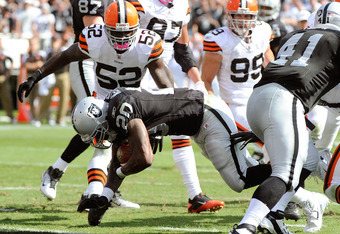 Thearon W. Henderson/Getty Images
Most importantly Lloyd is reunited with former Broncos coach Josh McDaniels. Although McDaniels is remembered for failing terribly during his two years as the Broncos coach, he did a good job coordinating their offense and has some skill in that area. Now McDaniels is the Rams offensive coordinator and he will likely make Lloyd an important figure in the Rams struggling offense.
This trade works out well for both teams. Although better than the Rams, the Broncos are still a bad team that has very little going for them this season. Now Tim Tebow is starting at quarterback and the team is just generally getting younger in just about every position.
The Rams benefit from getting a talented receiver on a team which is full of unproven players at that position. A disastrous 0-5 start makes it look like the Rams won't contend for the NFC West as expected before the season. If Lloyd can play like he did in 2010, maybe the Rams will be able to salvage some good out of this bad season.
Ultimately, I think the Broncos win with this trade. Lloyd has been extremely inconsistent and injury prone throughout his career. While the Broncos have a good chance at using their acquired draft picks to aid in their rebuilding process, the Rams might get a little time with a player who could definitely disappoint.
The Trades That Didn't Happen
Perhaps the most noted trade that didn't come to pass was a proposed running back trade between the Detroit Lions and the Philadelphia Eagles. The Lions were going to exchange backup running back Jerome Harrison for the Eagles backup running back Ronnie Brown. Although the trade went through, it was canceled after a scary finding during Harrison's physical. 
Harrison was found to have a brain tumor during this routine physical. Obviously his NFL season is now over which leaves the Lions short on running depth especially with a serious injury to starter Jahvid Best. Brown will return to his backup role on the Eagles who aren't too affected by this trade since LeSean McCoy and Michael Vick account for most of their rushing yards.
Some other non-moves were puzzling this week. Cleveland Browns running back Peyton Hillis seemed certain to be headed out of town after getting benched last week. But instead Hillis remains in Cleveland though it is uncertain if him or Montario Hardesty is the team's starting running back.
The deposed Kyle Orton was thought to be leaving Denver along with Lloyd. However Orton will be staying put and likely warming the Broncos bench for the rest of the year. Although his numbers rank among the lowest for starting quarterbacks, Orton will likely get a chance to start next year after he becomes a free agent.
Here's this week's addition of my power rankings. Last week's wasn't published, so the number in parentheses indicates where I had them placed last week. 
 My Week 7 Power Rankings 
1. Green Bay Packers (1)
2. San Francisco 49ers (6)
3. Detroit Lions (2)
4. New England Patriots (4)
5. Baltimore Ravens (8)
6. San Diego Chargers (7)
7. Tampa Bay Buccaneers (15)
8. New York Giants (16)
9. Cincinnati Bengals (10)
10. Buffalo Bills (3)
11. Pittsburgh Steelers (13)
12. Oakland Raiders (11)
13. New Orleans Saints (5)
14. Tennessee Titans (14)
15. Washington Redskins (9)
16. Houston Texans (12)
17. Chicago Bears (20)
18. New York Jets (19)
19. Atlanta Falcons (21)
20. Dallas Cowboys (17)
21. Seattle Seahawks (22)
22. Kansas City Chiefs (23)
23. Cleveland Browns (18)
24. Philadelphia Eagles (29)
25. Denver Broncos (24)
26. Arizona Cardinals (26)
27. Minnesota Vikings (25)
28. Carolina Panthers (27)
29. Jacksonville Jaguars (28)
30. Miami Dolphins (30)
31. St. Louis Rams (31)
32. Indianapolis Colts (32)