World Series 2011: 6 Players Who Could Be the Cardinals' Designated Hitter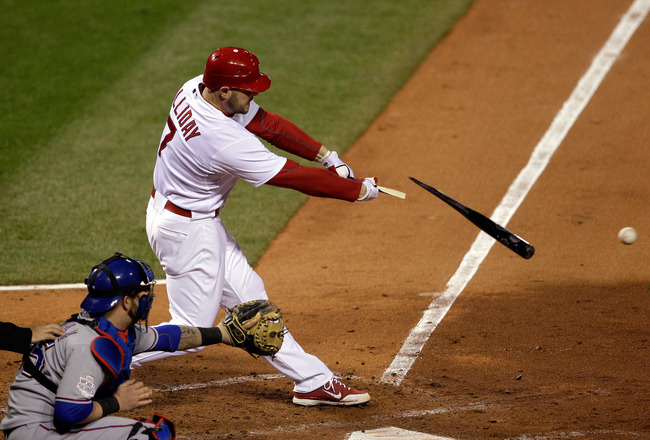 Rob Carr/Getty Images
After two games in St. Louis, the World Series is knotted at 1-1 after a close game that went down to the ninth inning, and we head to Texas for Game 3.
That means AL rules; that means a designated hitter, and none of that double-switch fun that Tony LaRussa enjoys.
Here are six men the Cardinals could tap as DH for Game 3 in Arlington.
Ryan Theriot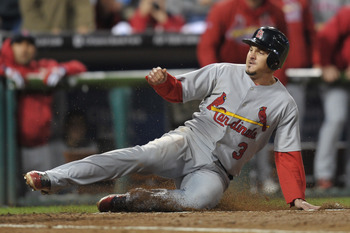 Drew Hallowell/Getty Images
Theriot and Nick Punto have platooned second in the playoffs, with 23 ABs for Punto against 20 for Theriot. With a .350/.350/.450 triple hash in the postseason, Theriot would seem like a possible addition to the lineup.
Odds of Theriot at DH: 1 in 30
David Freese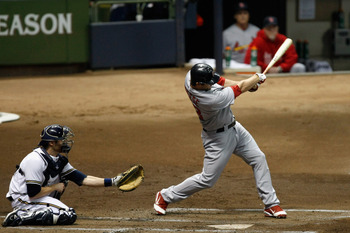 Scott Boehm/Getty Images
This would make the most sense in my mind, as Freese has been blue-hot, with 37 total bases in the playoffs.
However, Freese is not as good a fielder as St. Louis' other three-bagger, Daniel Descalso, so it would make defensive sense to slide the St. Louis native over to DH and put Descalso at third.
Odds of Freese at DH: 1 in 5
Skip Schumaker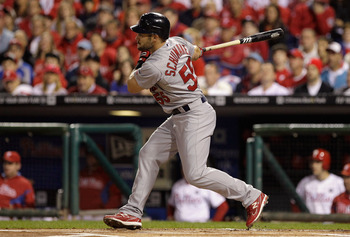 Rob Carr/Getty Images
Schumaker has been out of the starting lineup since the NLDS due to injury, but returned to the roster for the Fall Classic. He went 6-for-10 in the NLDS, but has only seen fielding action since.
I'd give Schumaker an outside shot of being the DH.
Odds of Schumaker at DH: 1 in 20
Allen Craig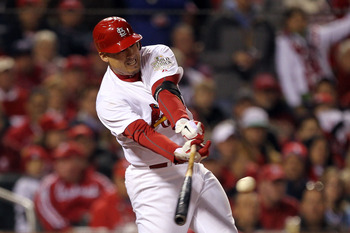 Ezra Shaw/Getty Images
Craig came through with that crucial Game 1 pinch-hit, and then got another crucial RBI hit in Game 2. Craig has the most pinch-hits for the Cards on the season after Jon Jay, who's already in the lineup.
He may have just played his way into the Cardinals' lineup.
Odds of Craig at DH: 1 in 7.5
Lance Berkman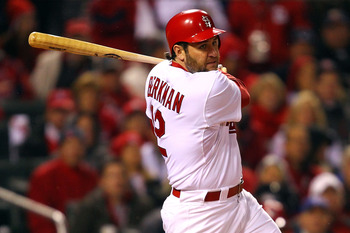 Dilip Vishwanat/Getty Images
The 35-year-old Berkman has been lifted for a defensive replacement in late innings of several playoff games. He is losing luster in both fielding and baserunning, mostly because, by his own admission, he's out of shape.
What do you do with an aging bat who is losing fielding and baserunning abilities? Make him a DH. Of the four people Tony LaRussa tried at DH in the regular season, Berkman had the best OPS and most total bases at the position.
Odds of Berkman at DH: 1 in 4
Matt Holliday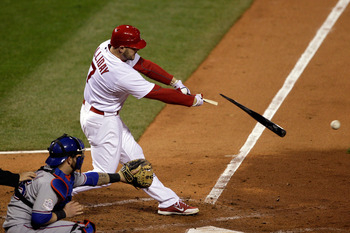 Rob Carr/Getty Images
For the same reason as Berkman, you could pull Holliday, who's been struggling with injuries this season, and make him the DH.
Holliday has the most at-bats at DH for the Cardinals this season, with 18 against only 8 for Berkman. A move of Holliday or Berkman to DH would naturally mean throwing Craig or Schumaker in the outfield.
Odds of Holliday at DH: 1 in 3
Keep Reading

St Louis Cardinals: Like this team?