Arizona Diamondbacks' Paul Goldschmidt Named Organizational Player of the Year
October 21, 2011
Christian Petersen/Getty Images
Arizona recently announced their year-end awards, naming rookie sensation Paul Goldschmidt the organization's Player of the Year. Double-A southpaw Tyler Skaggs took home the Pitcher of the Year title.
At year's start, only the most dedicated Diamondbacks fans knew of Paul Goldschmidt. A native of Delaware, Goldschmidt had been drafted by Arizona in the eighth round of the 2009 draft and hadn't yet made it to the MLB radar.
Goldschmidt quickly made his presence felt in the minor leagues in 2010, racking up honors and trophies during his first full season in Single-A. Playing for the Visalia Rawhide, Arizona's A-ball affiliate, Goldschmidt led the league in extra-base hits, doubles, total bases, and slugging percentage.
Not surprisingly, Goldschmidt was named 2010 California League MVP as well as Rookie of the Year. He was additionally named to the 2010 California League Postseason All-Star Team as the starting first baseman.
Goldschmidt was promoted to AA Mobile for the 2011 season where he proceeded to hit .306 with 21 doubles, three triples, 30 homers and 94 RBI over the course of 103 games. He failed to reach base only nine times all season.
Goldschmidt continued to win awards such as USA Today's Minor League Player of the Year, earned selections to the regular and post-season Southern League All-Star Teams, and was named Southern League MVP.
The organization had seen enough and quickly called Goldschmidt up to the show. He made his major league debut on August 1 in San Francisco, and delivered a single in his very first at-bat. He scored his first major league run and recorded his first two RBI a day later.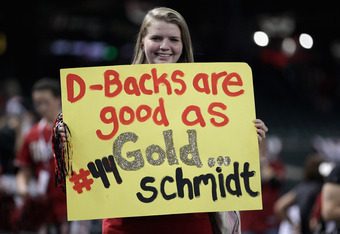 Doug Pensinger/Getty Images
By season's end, Goldschmidt was hitting .250 over 156 at-bats, with 8 HR, 26 RBI, and an OPS of .808.
He had an even better postseason, going 7-for-16 with two home runs and a 1.339 OPS over the course of four games against the Brewers in the NLDS. 
Goldschmidt's biggest postseason contribution was his first big-league grand slam in Game 3. His clutch fifth inning jack made Chase Field go crazy and gave his team some much needed offensive production in a series Arizona would ultimately lose in five games.
Arizona has a gem in Paul Goldschmidt, and the organization got it right this week by giving Goldschmidt the Organizational Player of the Year Award. Goldschmidt has now won two such honors, earning his first with Single-A Visalia in 2010.
Goldschmidt becomes only the second Diamondbacks player to win two consecutive organizational awards (Brad Penny is the other), and joins the likes of Scott Hairston, Lyle Overbay, Carlos Quentin, Justin Upton and several other big name players to capture the honor.
Congratulations, Paul. We can't wait to see you back with Arizona in Spring Training, 2012.