2012 MLB Offseason: Chicago White Sox Fielding Breakdown
October 20, 2011
Brian Kersey/Getty Images
We continue with our sixth team in the team fielding series. If you haven't read the original "Team Fielding Series" please go and check that out before you continue with this piece. It helps explain the fielding metrics we are using and why we are using them. More importantly, it explains why using traditional numbers doesn't quite fit the bill.
DER: .686 (24th)
RA: 706 (17th)
FLD%: .987 (4th)
Baseball Reference: +4 runs (16th)
Fangraphs: -0.6 runs (14th)
Fielding Bible: -18 runs (23rd)
Baseball Prospectus: -16.2 runs (27th)
Composite Runs: -7.7 runs
The White Sox are a team with a seemingly deep pitching staff and yet they finished in the middle of the pack in runs allowed. This is a perfect example of how fielding interacts with pitching. The White Sox pitching really is as good as you think it is.
According to Fangraphs, their pitchers finished second in wins above replacement. That accounts for the pitchers' direct performance. When fielding is included they became below average.
The White Sox have a number of regulars they can replace and given Ozzie Guillen's exit, there could be more changes coming their way. Kenny Williams has never been what you would call a stat guy, but maybe he needs to start looking. At the very least, we hope he won't be fooled into thinking there is something wrong with his pitching.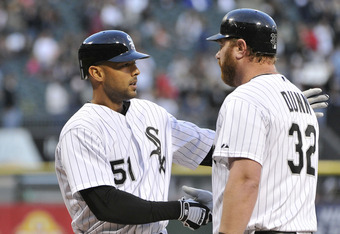 Brian Kersey/Getty Images
Best Fielder
This one is a toss-up between Gordon Beckham at second base and Carlos Quentin in right field. Quentin's performance was a bit out of context given his past performance. So, Beckham is the best bet moving forward. He doesn't compare to Dustin Pedroia, Ian Kinsler or Howie Kendrick but he is one of the better fielding second basemen in baseball.
Worst Fielder
Alexis Rios used to be a good fielding center fielder, but he fell off the map offensively and defensively. Picking him up was one of Kenny Williams' dumber moves. He is slated to make an average of $10 million per season through 2014. Whoops. A.J. Pierzynski is also losing it as he gets older.
Possible Changes
Juan Pierre is a free agent and likely will not be returning. He became a subpar fielder after losing a step or two. Carlos Quentin could be on the block and if they find a taker for Rios they would be in great shape. Unfortunately, the contract status of most of their guys makes improving the fielding a bit difficult.
2012 Outlook
Kenny Williams has painted himself into a corner by getting a lot of guys on long-term deals. The reality is that if he can find a way to get solid production in left field and center field then their fielding will improve immensely. If he trades Carlos Quentin he might get that kind of improvement in right field. With that pitching staff, it could end up going a long way to help them realize their potential.