World Series Game 2 Live Blog: Rangers vs. Cardinals Updates, Analysis, Results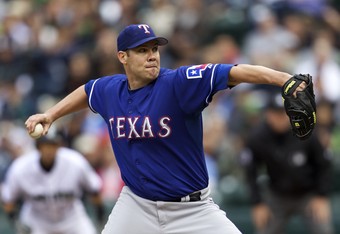 Stephen Brashear/Getty Images
The St. Louis Cardinals won Game 1 of the 2011 World Series in a contest defined, in part, by the absence of Colby Rasmus. The Texas Rangers hope Game 2 will be defined by the mound presence of Colby Lewis.
Octavio Dotel and Mark Rzepczynski, whom the Cardinals acquired as part of a deal that sent the young and talented Rasmus to Toronto in July, got out all four of the batters they faced, striking out three. That helped St. Louis pull out a 3-2 win in the opening game of the series. In hopes of stealing home-field advantage from St. Louis, the Rangers will send Colby Lewis to the mound Thursday night.
Lewis has a 2.37 ERA in six postseason starts the past two seasons. He relies on a fastball-slider combination that makes him occasionally vulnerable to home runs; he gave up 35 this season. In all other facets, though, Lewis is a good pitcher, and with game-time temperatures in the low 50s at pitcher-friendly Busch Stadium, those homers might not bite him this time around.
If Lewis seems well-suited to the environs, Jaime Garcia is provably so. His career ERA at home in St. Louis is 2.37, and he has allowed an opponent OPS some 40 percent lower there than on the road. Unfortunately for Garcia, he is also left-handed, and the Rangers (especially Michael Young, Adrian Beltre and Mike Napoli) really mash southpaws.
All signs point to a second tense, protracted contest tonight, and neither manager will hesitate to go to his bullpen with an off day tomorrow. Keep it here for the lineups, updates, analysis and more on tonight's game.
Dilip Vishwanat/Getty Images
A quick Game 3 preview:
The Rangers send Matt Harrison to the mound Saturday in Arlington. Harrison went exactly five innings and gave up two earned runs each in his two starts during the AL playoffs. He looks a lot better since about the All-Star break, getting more velocity out of a loosened arm action.
The Cardinals turn to Edwin Jackson, who went just two innings in Game 6 of the NLCS but who is similar to Harrison in some ways. He throws hard, he locates well and Jackson is also an artisan of the ground ball, which will be important in Texas.
Watch carefully the progress of Yadier Molina and Josh Hamilton, both of whom were less than their best in the first two games because of injuries. Will they heal enough to be impact players in Game 3?
The DH comes into play now, meaning likely Series MVP Allen Craig gets to start for the next three games. For Texas, it means getting Michael Young off the field, which is almost as important an advantage.
Jamie Squire/Getty Images
Jamie Squire/Getty Images
Hot bullpens are ticking time bombs. It's not that they cannot succeed long-term; they can. But when a relief corps has the kind of wild, sudden success with which Jason Motte and his crew have met in these playoffs, it's hard to sustain it against great offenses. When the lead a unit must protect is three runs, it's more feasible, but as Motte, Arthur Rhodes and Lance Lynn showed tonight, a one-run lead has a fragility that makes every pitch a risk unto itself.
The Rangers did the little things, as they say, in the top of the ninth against the Cardinals' bullpen. Ian Kinsler and Elvis Andrus hit and ran the bases beautifully. Josh Hamilton's and Michael Young's sac flies were decidedly sub-optimal outcomes, but the crucial point is that they made contact when they needed to.
There's no predictive value here, per se. St. Louis might go right back to owning the late innings in Game 3. It sure feels, though, like the Rangers have learned and adjusted as they have faced these hurlers, and since Texas was almost inarguably the better team in the first place, this loss really stings the Cardinals.
On the other side of the ledger, Ron Washington has to feel as though he cheated death by winning this game. He made the wrong decision by pulling Colby Lewis in the top of the seventh inning, and it cost Texas the only Cardinals run of the night. Washington can hope for as god an outing as Lewis gave him tonight some other time in this Series, but he had better not plan on it. The Rangers need to figure out Cardinals pitching much more than they have thus far; they scored just two runs in each game. Nonetheless, the momentum is all for the men of the Lone Star as the Series heads to their offense-friendly home.
Rangers win, 2-1.
Jamie Squire/Getty Images
Well we have that answer. Texas scores on a Josh Hamilton sacrifice fly, tying it at one in the top of the ninth and sending the go-ahead run to third base with one out.
Jamie Squire/Getty Images
The Rangers just showed the St. Louis Cardinals the value of marginal skills in key moments. One of baseball's best base-running teams, Texas has the league's two premier individual base runners in Ian Kinsler and Elvis Andrus.
Kinsler struck first. After a single, Kinsler stole second on a daring attempt against fire-armed catcher Yadier Molina. With the runner in scoring position, it became incumbent upon Andrus to move Kinsler to third base. He lofted a single into right-center field, and on a throw into the infield that never really got that far out of the Cardinals' control, Andrus grabbed second base himself. The advancement took the double play out of order, and put the Rangers in position to score both the tying and winning runs on a single. That sequence goes down as maybe the most inspiring display of base-running prowess in post-season play since Dave Roberts stole second base in Game 4 of the ALCS in 2004.
Let's see, as Tony La Russa plays the match-ups, whether it's enough to get Texas a run and a new life in Game 2.
Rob Carr/Getty Images
Here we go.
Mike Adams walked a tightrope for a moment there, but sent Game 2 to the top of the ninth at 1-0. The Rangers now have Ian Kinsler, Elvis Andrus and Josh Hamilton due up against Cards closer Jason Motte. A loss wouldn't necessarily doom Texas, but a win would go a very long way toward a Rangers title. Motte has the big fastball, but Kinsler and Michael Young are unafraid of those.
Dilip Vishwanat/Getty Images
In St. Louis, Scrabble plays YOU.
Marc Rzepczynski is shredding everyone in these playoffs, and though it doesn't make a ton of sense that he seems suddenly to know how to get right-handed hitters out, too, the Rangers might just be falling victim to that old Wall Street axiom: The market (or the Marc) can stay inefficient longer than you can stay solvent. One way or another, they now have just three outs with which to work, and trail by a run. The top of the order will bat in the top of the ninth.
Jamie Squire/Getty Images
Should Ron Washington have pulled Colby Lewis earlier, or left him in the game?
Those questions will both be asked plenty of times over the next 48 hours, whether the Rangers come back to beat the Cardinals in Game 2 of the World Series or not. Lewis pitched to 26 Cardinals batters, recording 20 outs, but after a bad defensive play by Michael Young extended the bottom of the seventh inning by failing to corral what became a single for Nick Punto, Washington lifted Lewis and brought in Alexi Ogando to face Allen Craig. It did not end well.
Lewis threw 96 pitches before being yanked. He had two runners on in the seventh, but remember, that was not altogether his fault. He still seemed to be pitching well. Craig is right-handed; so are both Lewis and Ogando. It's hard to say what led Washington to pull Lewis when he did, other than that it looked like the thing to do. It probably has to go down as a mistake. Maybe Washington should have pulled Lewis sooner, preventing the jam from materializing in the first place. It sure seems, though, like he fell too in love with his relief corps in the ALCS, and ought to have trusted Lewis a bit longer Thursday night.
Dilip Vishwanat/Getty Images
There it is.
Allen Craig now has pinch-hit, go-ahead RBI singles in back-to-back World Series games. I'm sure someone will find an obscure stat about how long it's been since that happened, if it ever has. In the meantime, how about this for a number: Allen Craig added .173 to the Cardinal Win Probability last night with his big hit. He added .203 with the one tonight. He has added more to the Series for St. Louis in his two plate appearances than Lewis did in facing 26 Cardinals, .376 to .346. Can you win the World Series MVP award as a pinch-hitter?
Dilip Vishwanat/Getty Images
Michael Young is a non-special defender. We all knew that already, right? He's awful at shortstop, bad at second base, below average at third and non-special at first. But for the difference between the offensive values of Young and Mitch Moreland, Ron Washington was willing to make that sacrifice and play Young in the field during the St. Louis phase of the Series. It might have just bit him in the butt.
Young missed a chopper not eight feet from the first-base bag to allow a single by Nick Punto, setting up this tense match-up between Alexi Ogando and Allen Craig with two on and two out in a scoreless game. The Rangers are the better defensive team in this series, but their defense has them in a tight spot.
Jamie Squire/Getty Images
Jamie Squire/Getty Images
Colby Lewis, Jaime Garcia and the defenses of the Texas Rangers and St. Louis Cardinals have ruled the roost through six innings of Game 2, and neither team has scored thus far. That phenomenon might feel utterly unfamiliar after the Championship Series we just witnessed, but in fact, it happened as recently as Game 3 of the Cards' NLDS match with the Phillies, when the first scoring came in the top of the seventh frame on Ben Francisco's three-run pinch-hit homer.
Before that, it happened in the last game of last season, Game 5 of the 2010 World Series, when the tie was also broken by a three-run homer in the same frame. If you're thinking that way in the Rangers half of the seventh, you're thinking about Josh Hamilton, Michael Young and Adrian Beltre due up,
Incidentally, Colby Lewis is fearless. He has been pitching just off the outer edge against Albert Pujols early in his plate appearances, then coming to live in his kitchen with two strikes. It's risky, but it's working like a charm.
Ezra Shaw/Getty Images
Colby Lewis is much more compact in his delivery than is Jaime Garcia. In fact, in an interesting sort of way, these two pitchers could not be more different. Garcia is all arms and legs, long levers and a soaring over-the-top delivery designed for ground balls on curves and changes. Lewis keeps his legs under him, drives downward to create power but throws from three-quarters and focuses on a slider with good lateral movement. Lewis is right-handed; Garcia is a southpaw.
As a result of their different deliveries, Lewis tends to miss laterally within the zone, while Garcia misses up or down. Lewis let a fastball run back to his arm side and get too much of the plate against Nick Punto in the bottom of the fifth inning, leading to a single ahead of Garcia with two out to turn over the lineup card. That wasn't so bad; walking Garcia himself was a big mistake. Lewis simply lost his fastball command for five pitches there, letting it run and cut too much and missing Mike Napoli's mitt badly.
A mound visit from pitching coach Mike Maddux corrected the wildness, but Lewis let a pitch run right to the good part of Rafael Furcal's bat with runners on first and second base. Luckily,. Lewis has Elvis Andrus behind him, because Andrus just made an utterly ridiculous play, diving up the middle to snag the grounder and then glove-flipping to Kinsler to force Garcia and end the inning. Scoreless through five frames.
Jamie Squire/Getty Images
Jamie Squire/Getty Images
Hot damn, the Rangers are fun to watch. Elvis Andrus and Ian Kinsler are the best all-around double-play combo in the game. They just turned an inning-ending double play on a sharp Matt Holliday grounder up the middle, with Andrus flipping to Kinsler, who turned the twin killing bare-handed. In fact, there has been a whole lot of good defense in this one, albeit mostly less flashy than the one that ended the fourth frame. Line drives that might have gotten through lesser men have died in the gloves of Adrian Beltre and David Freese.
Meanwhile, Jaime Garcia is rolling, having re-established his physical rhythm and gotten back on top of the baseball on his breaking balls. Coming over the top, when Garcia finds the right release point, his curve is vicious. No score through four and a half innings.
Jamie Squire/Getty Images
The Rangers gave away an opportunity in that fourth inning, expanding the strike zone and helping Jaime Garcia get them out to escape a jam created by an Ian Kinsler walk and a Michael Young single. Adrian Beltre really doesn't seem to see Garcia well, and while I am no Tim McCarver apologist, McCarver made a cogent and apparently prophetic point about Garcia prior to the game: Batters are too aggressive against him. They must feel they see something of which they can take advantage on many of his pitches. They're wrong.
Ezra Shaw/Getty Images
Josh Hamilton is raising an interesting question about replacement level in the postseason, not to mention heroism, or the relative merits of discretion and valor. Ken Rosenthal just noted that Hamilton was in the cages today looking for ways to swing effectively without using his bottom half.
Hamilton will not find it. The swing on which he flew out for the second out of the fourth inning should be evidence enough of that. Unless Hamilton heals substantially over the travel day after this game, the Rangers might need to explore sitting Hamilton in Game 3 and having both David Murphy and Craig Gentry in the lineup. Of course, Hamilton need not be 100 percent to be worth playing, because he is 130 percent of the player Murphy is. He just needs to be 65 percent of himself.
Ezra Shaw/Getty Images
Jaime Garcia walked Ian Kinsler to lead off the fourth inning, not necessarily an alarming sign. One thing makes it a bit unnerving, though: he missed some spots badly. Yadier Molina had to lunge across the zone more than once after pitches that missed by more than a foot. A mistake like that over the plate could be disaster against this Rangers offense.
Jamie Squire/Getty Images
Colby Lewis kept rolling despite falling behind 3-1 to Nick Punto to lead off the bottom of the third inning, partially on a bad call. Punto burned worms with a scudder to Ian Kinsler at second base. Jaime Garcia made Lewis throw five pitches, but ultimately flew out. By the way, though, Garcia had a three-run home run this season and has a decent little swing for a pitcher.
Rafael Furcal broke up the dual no-hitter with a double down right field. It might have been a single under different circumstances, but Nelson Cruz was shading Furcal a bit toward the opposite field. Even with a strong throw from Cruz, Furcal reached second standing up. No matter: Jon Jay is making a habit of bouncing out to Michael Young. Inning over.
Rob Carr/Getty Images
For just a moment, Mike Napoli looked like he had become the first batter of the night to figure out his opponent. He blasted a Jaime Garcia offering down the line, but David Freese scarcely had to move to snare the liner for the first out of the third inning.
Garcia then did well to recover after nearly walking Craig Gentry ahead of the pitcher, getting Gentry to hit a three-ball offering over to third base for a second out. Colby Lewis went even more quietly. Garcia remains perfect.
FOX happily let us all know that St. Louis citizens consume more barbecue sauce per capita than those of any other city in the United States. Kansas City and St. Louis needed no more reasons to hate on another, but there's one.
Rob Carr/Getty Images
Colby Lewis is showing plus-plus command tonight. It's about more than control; he is putting the ball anywhere but the good part of the Cardinals' bats. He hit the outside corner at the knees twice against Lance Berkman leading off the second inning, then got him out on a terrific roiling slider.
Sidebar: Joe Buck and Tim McCarver noted Berkman nicknamed himself 'Big Puma.' I'd be more impressed if it were Berkman who concocted 'Fat Elvis.'
Proving command is more than throwing strikes, Lewis then walked Matt Holliday without missing his spot once. He wanted one of the calls, and certainly wasn't pitching around Holliday to reach NLCS MVP David Freese, but Lewis seemingly has decided not to mess around with Holliday. He got a fly ball from Freese for the second out.
Lewis continues to test the four bounds of the strike zone with home-plate umpire Greg Gibson. Gibson, however, is calling a clean and technically accurate game, which is to say he's doing his job perfectly. Yadier Molina struck out on an elevated fastball to end the frame, impressive both because Lewis set it up well and because, at 8.5 percent, Molina had the fourth-lowest strikeout rate in baseball this season.
Jamie Squire/Getty Images
Jaime Garcia is finding the timing on his long-armed, over-the-top mechanics in a hurry, and it's baffling the Texas Rangers. Michael Young and Adrian Beltre looked overmatched by Garcia in the second inning. Nelson Cruz got all over an ill-advised cutter, but hooked it, and honestly, it's easy to argue Garcia wanted Cruz thinking about that one.
After seeing Cruz take a 100-MPH fastball from Justin Verlander out down the left-field line in the ALCS, Garcia must have known Cruz is too quick to keep an 86-MPH Garcia cutter fair. He was. Two pitches later, a pitch on the outer third had Cruz cheating and induced a pop-up to end the inning.
No bullpens in sight yet.
Kevork Djansezian/Getty Images
Colby Lewis worked high and low, missing the middle of the zone altogether in the bottom of the first inning. That's his formula. As A.J. Pierzynski noted in the FOX pregame show, Lewis doesn't make batters uncomfortable. He just gets them out, blending his fastball and slider to great effect. We'll see if the formula continues to work, but he breezed through the first inning with two fly outs and a bouncer to first base, looking to have command of both pitches. The one mitigating factor for optimism: The slider was not especially deep or sweeping during that frame.
Jamie Squire/Getty Images
Heeere's JAIME!
Jaime Garcia induced a slow ground ball from Ian Kinsler to lead off the top of the first, getting in on the strong right-hitting second baseman's hands. Rafael Furcal made a fine charging play to retire Kinsler. He got another out on a sharp one-hopper to Albert Pujols by Elvis Andrus, a fastball Andrus tried to punch through a right side that the Cardinals had closed tightly. When Josh Hamilton broke his bat on a tailing fastball and pop-grounded out to third, the inning was over.
Not bad for Garcia, but the early review needs to note that his arm angle dropped on him three times in 10 pitches; that the ball got up on him a bit; and that he made two mistakes for which Texas could not make him pay. His velocity looked okay, but he's working in the mid-80s with his moving fastballs.
Astrid Stawiarz/Getty Images
From the post-season pageantry department come a few notes:
Trace Adkins is a hell of a singer, and he did an excellent job with the national anthem tonight.
Fox is taking a slightly toned-down approach to introductory segments and pre-game coverage. There are fewer breathless discussions about the magic of the postseason and fewer bad montages. There are still bad montages, but fewer. Whether this is a response to less hype-friendly fan bases in St. Louis and Texas than on the coasts or a simple timing choice, we'll take it.
Tim McCarver looks really old. Dude should retire.
Ezra Shaw/Getty Images
Rob Carr/Getty Images
In watching the St. Louis Cardinals and Texas Rangers en route to the World Series, I have been pestered by a persistent question: Have Tony La Russa and Ron Washington accidentally stumbled upon the future of pitcher deployment this postseason?
It's not a secret. Bullpen mastery has carried each of these teams into the World Series. Aside from one great start each from Chris Carpenter and Colby Lewis, the two squads have leaned harder on their relievers than their starters, a highly uncommon playoff formula.
Statistically savvy fans, though, know well that pushing pitchers to get through seven or eight innings and face opposing hitters the fourth time through the order is far from an optimal approach. It might feel more manly, but it is often counterproductive. Batters accomplished a .700 OPS the first time through the order in 2011; a .729 OPS the second time through; and a .774 OPS for as long as starting hurlers lasted the third time through the batting order. In that light, assuming an even modestly talented bullpen, keeping a starter in just to prove he still has something is folly.
A pitcher who need not face 30 batters in a game can afford to crank up his fastball a bit. He can afford to stick with the pitches in his repertoire in which he truly has confidence. And batters have less opportunity to adjust and learn about him. It makes good sense. This merits a longer discussion on a slower day, but for now, remember: Just because Washington and La Russa found this system by accident does not mean it is a desperate measure.
Ezra Shaw/Getty Images
Dilip Vishwanat/Getty Images
Like the Texas Rangers, the St. Louis Cardinals are responding to a different opposing starter with a different lineup in Game 2 of the 2011 World Series. Lance Berkman is back in the cleanup role behind Albert Pujols:
Rafael Furcal, SS
Jon Jay, CF
Albert Pujols, 1B
Lance Berkman, RF
Matt Holliday, LF
David Freese, 3B
Yadier Molina, C
Nick Punto, 2B
Jaime Garcia, SP
With a right-handed pitcher on the mound for the Rangers, Tony La Russa has moved Berkman back into the slot directly behind Pujols, the better to avert having his best hitter persistently pitched around.
Berkman is a much worse hitter against lefties in his career than against righties, despite being a pinch-hitter. The difference is something like 23 percent. Therefore, were Berkman to have hit behind Pujols against southpaw C.J. Wilson in Game 1, Pujols might have seen very few pitches to hit than he did hitting in front of lefty-mashing Holliday.
As a result, a situation could arise in which Washington brings in a left-handed specialist (Mike Gonzalez the obvious candidate) to face Berkman after intentionally walking or otherwise dodging a confrontation with Pujols. If Allen Craig had not been used to that point in the game, might Tony La Russa consider pinch-hitting for start slugger Berkman in such a spot? That will be one interesting thing to watch as the game unfolds.
Rob Carr/Getty Images
Tom Pennington/Getty Images
The lineups are in for Game 2 of the 2011 World Series, and Josh Hamilton is batting third for the Texas Rangers. Here is the full lineup for the visiting Rangers:
Ian Kinsler, 2B
Elvis Andrus, SS
Josh Hamilton, LF
Michael Young, 1B
Adrian Beltre, 3B
Nelson Cruz, RF
Mike Napoli, C
Craig Gentry, CF
Colby Lewis, SP
Much has already been made of Hamilton's placement, with some on MLB Network questioning the decision to bat Hamilton so high against left-handed starter Jaime Garcia, given the injury issues Hamilton is battling right now.
At least in that regard, though, manager Ron Washington is crazy like a fox. Third is the most overrated lineup slot available, a position to which much honor is attached but which should really house a team's fourth or fifth best hitter. Right now, that's Hamilton. Meanwhile, with extreme fly-ball pitcher Lewis on the mound, Washington has wisely given his defense a major boost by shifting Hamilton to left field and starting the glove wizard Gentry in center. If he would only flip-flop Young and Napoli, he would have his lineup completely optimized for this key game.
This article is
What is the duplicate article?
Why is this article offensive?
Where is this article plagiarized from?
Why is this article poorly edited?